Slow, not entirely promising beginning, with a strong development and finish.
In between its major releases from Trinidad, Guyana and Damoiseau where it made its bones, Velier occasionally took time off to travel the more traditional route of the indie bottler, and issue one-offs like this one (and the 1997).  I consider it a curious addition to the oevre, and not entirely a rum so good that it rates admittance to the pantheon, though nevertheless deserving of praise.
I call it "curious": it was distilled in October 1995 and bottled in January 2008…but in between those dates, it was, like Velier's own Damoiseau 1980, stored in dead vats to cease the ageing, from 2006 on.  So it's up to us to decide whether the resting vat had any residual influence which would make it 12½ years old…or whether it didn't and it's just around ten.
(That's something that seems to be coming up more often in relation to older agricoles I've tried – a millesime (the year of distillation) is trumpeted to the heavens, but in some cases the makers aren't nearly as forthcoming about the date of bottling, and one has to have the sleuthing nose of a Poirot to ferret out these little nuggets.  Fortunately, Velier has always been pretty good about providing the info we need on its labels, and now you know what I do, so let's move on.)
Presentation was the usual bottle, enclosed in a dour blue box with bright abstract art on it. What I liked about it was that it didn't just say "Guadeloupe," as most independents would do on their labels, but "Basseterre", and further along, a notation of Distillerie Carrère in Petit-Bourge – that allowed me to delve more deeply into the history, which is further down for those who are interested in the provenance and background.
Right, tasting notes. The opening aromas were crisp and sharp, even a little uncouth, a little undisciplined – lovers of smooth and easygoing fare are likely to be disappointed here. Both salty with red olives, and sweet at the same time, yet also lightly perfumed with the scent of delicate florals (not much), mixed in with a nice white wine…a good Riesling, perhaps. As the minutes wore on it developed into a light and clear smell, the sharpness wore off and gave over to tree sap, green leaves, wet grass, some vanilla and faint smoke.  It was all pleasantly tied off into a bow with additional cherries and hard yellow mangoes.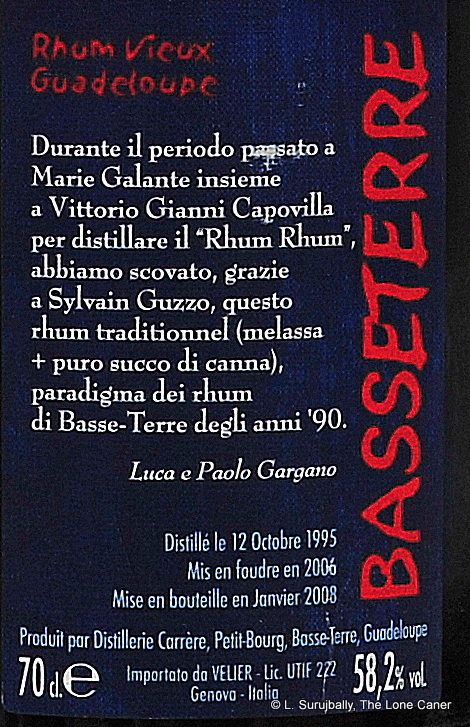 The Basseterre was an amber coloured rum, medium bodied, and bottled at 58.2%, and it hesitated not at all before skewering the tongue.  I was a little surprised at its unrestrained aggressiveness, to be honest (I was tasting it in conjunction with the Velier Damoiseau 1980, Chantal Comte 1977 and two Neissons, all of which were slightly smoother), and while I immediately tasted honey, walnuts and almonds, I put it away for a while to let it open up some more. This was the right approach, because it gentled out more after five minutes, and the shy flavours of flowers, tree sap and aromatic tobacco emerged, behind which coiled sharper notes of tannins, fresh-sliced unripe peaches, citrus and ginger.  In fact, the pendulum swung just a shade too much in the other direction as time wore on, and canned fruit syrup, yoghurt and whipped cream (I kid you not) started to take away from the initial freshness I liked.
The fade was long and spicy and complemented the palate very well.  Not much new going on except for some cereal and milk, more honey and nuts (cheerios?), and that lovely aromatic pipe tobacco finished things off with perhaps some ginger and citrus hanging in there.  
Looking back and considering the experience dispassionately, I must concede that this might actually be one of the few Veliers that didn't ascend to the peaks of their other (more popular, better known and higher-scored) rums…y'know, like the UF30E. It feels younger than ten years old, somehow. Still, the Basseterre got better as it glared around and opened up: it is a solid, strong, agricole, which started off a little poorly but came up to the finish line with good credentials.  Luca still hasn't replied to me with what the outturn was, and I paid €190 for mine – for the quality I got, I'd suggest it's a borderline purchase. If you're not into agricoles, it's unlikely this one will turn you into an aficionado…however, if you are, it surely won't disappoint.
(#251 / 87/100)
---
History
Guadeloupe is comprised of three main areas: the butterfly shaped conjoined landmasses of Grand Terre and Basseterre making up Guadeloupe proper, with the small island of Marie Galante to the south east. Petit Bourge is on the eastern side of Basseterre, and serves the Montebello distillery — when it was founded by the Dolomite family in 1930 it was called Carrere (named after an even smaller village nearby) but in 1968, after many years of declining revenues it was sold to a Jean Marsolle (whose brother owned the Séverin distillery a little to the north west). He in turn sold it to his sons Alain and Emamanuel in 1974 – they renamed it Montebello in 1975. It remains in the family to this day, and produces 500,000 liters of rum annually. They have the curious practice of not only casking their rums in oak, but then dunking the filled barrels into heated steel containers to accelerate the maturation.  Whether that works to enhance the resultant rhum I can't say, since I never bought or managed to try any.
---
Other notes
This is not an AOC certified rhum.