An agricole that bends the rules just enough to be original, without dishonouring its antecedents. What a remarkable rhum.
In between the larger and more well known independent bottlers lurk smaller operators pursuing their own vision. Some, like Old Man Spirits, or Delicana, fight the good fight without undue recognition or perhaps even real commercial success.  Others seem to find a more workable middle road. Chantal Comte is one of these, an eponymous company run by a bright and vivacious lady who Cyril of DuRhum interviewed earlier in 2015.  I first saw some of her products in 2014, bought some more out of Switzerland, and now keep an eye out for anything else the lady makes, because, almost alone among the independent bottlers, her company specializes in agricoles and pays no mind to the larger market of molasses based rums.  That gives her rhums a focus that seems to pay huge dividends, at the price of being relatively unknown and relegated almost to bit-player status in the broader rum community.
Born in Morocco into a family with West Indian connections, Ms. Comte started out as a winemaker in the early 1980s, in Nimes. Martinique influenced her interest in rhum, and through the decades she was mentored by two major players in the agricole world, André Depaz of the Mount Pelee plantation, and Paul Hayot (the Hayot family company took over the Clement distillery, you will recall). In the  mid eighties this interest developed to the point where she began blending and bottling some of Depaz's rhums (with André's encouragement) and stuck with a philosophy of blending the original vintages, sourced from all over the French West Indies, and bottled at natural strength…whatever was felt to be appropriate to the final expression.
What I had here, then, was a bourbon finished 46.5% amber-coloured AOC Martinique rhum…the questions for me were, which plantation and how old, because Martinique has quite a few different agricole makers and Ms. Comte bottles several. But then the fine print on the label showed it was L'Habitation Saint-Etienne, so mystery solved. How old?  No idea. The rhum is a blend, and comprises several different vintages from HSE: there is no detail on whether the blend was itself aged or not, and how long the bourbon finishing regimen was. It was probably an XO, six years old at least, and honestly, I felt it was likely older than that. On the other hand, I was informed that all vintages are derived from small creole column-still distillates (much like most of the French island agricoles) aged in limousin oak before final transferrence to bourbon barrels for the final finishing and blend.  No additions, no filtration, and the AOC designation remains.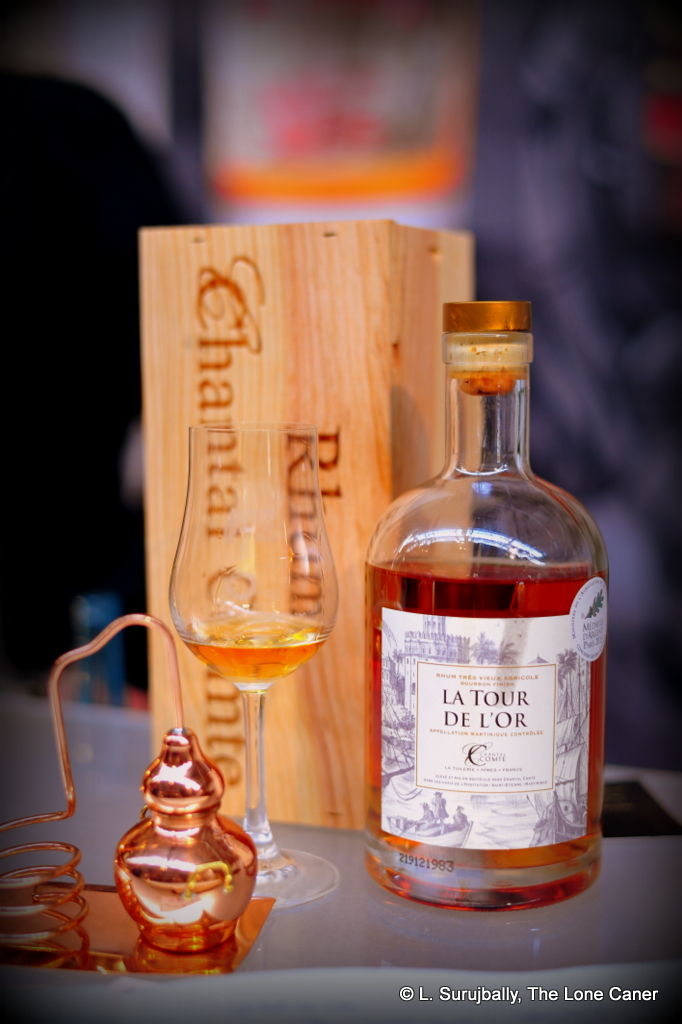 These days I don't write much on presentation unless there's something intriguing (or irritating – cheap corks and tinfoil caps are pet bugbears of mine).  Still, I'd like to comment on the beefy barroom bottle, similar to Rum Nation's, as well as the wooden box, which certainly gets my nod of approval, given the thing costs over a hundred euros – I've never discarded my feeling that when one pays a fair bit of coin, then one is entitled to a fair bit of bling, and here the delivery is just fine. (Note to wife: makes a great gift at Christmas).
On to the rhum, then.  Amber coloured, remember, and middling strength. Pouring it out was almost sensuous, it even felt thicker than usual.  It nosed well, and smelled heavenly – instant green lime zest mixed with softer vanillas, plus eucalyptus and that characteristic grassy cleanliness that so mark agricoles.  I remember looking at my glass in some amazement, wondering how the soft and the sharp scents could meld so well.  Trust me, they did. As it opened up cinnamon, rosemary and riccotta cheese came out, and there was a growing background of ripe fruits from the bourbon barrels tapping my tonsils to say "Oy…we're here."
For a rum this light in colour, it was also pleasantly deep (though not heavy a la Port Mourant or Caroni, it was too fresh and clear for that) – somewhat stinging initially, even harsh, so watch out.  And also, be warned…there's an opening salvo of cordite and firecrackers in here, a gun-oil kind of metallic note; not strong enough to overwhelm subtler tastes that were waiting in the wings, and they died away quickly…but it did make my hair curl for a moment.  More traditional tastes followed in swift, balanced unison, trip-trapping across the palate – semi-sweet fresh fruit, lemon-grass,  ripe mangos, papaya, vanilla, ginger (very faint). It began to trend towards driness as it trailed off, and the finish just confirmed that – fairly long, heated, arid, and last flavours of grass and mild zest to round things off.
Honestly, I don't know how they managed to meld the offbeat metallic notes with sharp citrus, clean grasses and soft fruits all at once and wrap it all up in a bow of tannins that were kept in check, but they did it, and the result is really worth trying. I liked it partly on the strength of that originality, and indeed, it was on the basis of this one rhum, that I bought their 1977 45% and 1980 58% Trois Rivieres editions as well. It's a little offbeat, marching to its own tune, and if it's not quite as insane as the certifiable Clairin Sajous, well, I guess they thought that they had taken enough risks with their client base for one day, and pulled in their horns
My experience with independent bottlers is that they usually come to rum after dabbling in the obscure Scottish drink and only later discovering the True Faith.  Ms. Comte took a different path, starting out with wine (she owns the Château de la Tuilerie which she inherited from her father, and until recently, ran the winery there).  It's debatable what specific skills can be transferred from one spirit to another: yet, if other editions put out by her company are on par with or better than this rather interesting and remarkable rhum, all I can say is that I hope more wine makers move over to rhums, and quickly.
(#233. 86/100)
---
Other notes
Big hat tip to mon ami Cyril of DuRhum, who not only wrote the initial interview with Ms. Comte, but proofed my initial post.