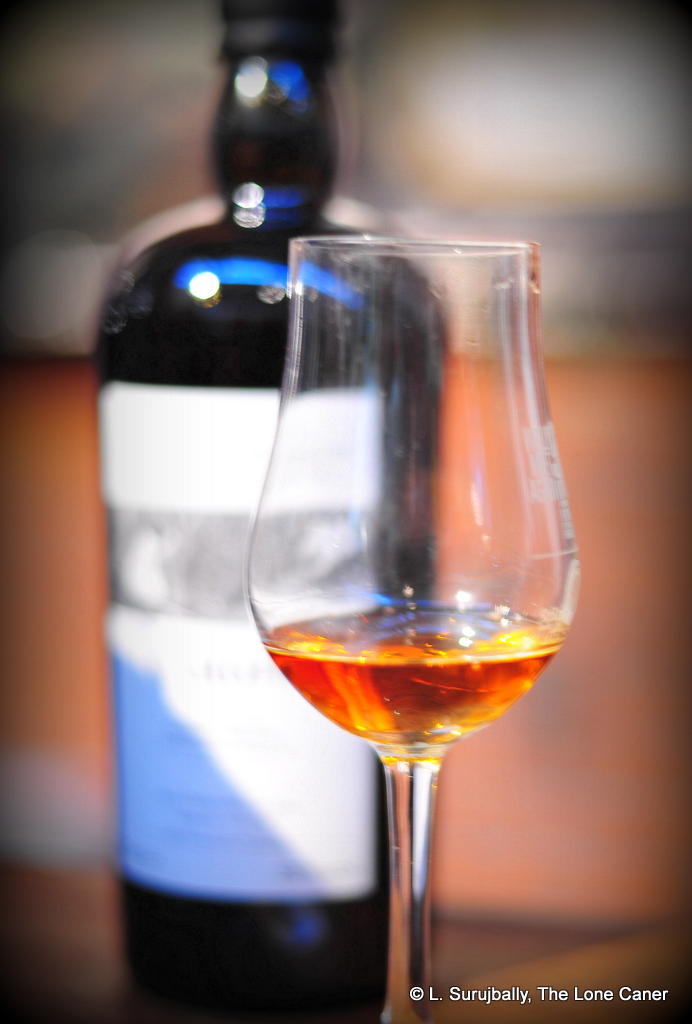 A brooding, dark exemplary Caroni with a slightly jagged ending..
We who chronicle our rum journeys make all the expected genuflections and obeisances to the great standards and stations of the cross…Appleton, Mount Gay, DDL, Four Square, Caroni, Trois Rivieres, Havana Club (the real one), J. Bally, Neisson, Flor, Diplomatico, and so on and so forth. Then we move to the independent bottlers as we broaden our ranges…and somewhere along the way, it's almost a given that we stop at La Casa di Luca for a bite.  I've done twelve so far, and believe me, there's no end in sight.
This rum from Velier is from 1996, 3000 bottles and 55% strength, and an 80% angel's share. Sometimes Luca confuses me with his expressions because he would issue the same rum at two different strengths just 'cause, you know, he's got 'em, he can, and he wants to (this heavy 1996 has been issued at 63% as well – Henrik from Rumcorner waxed rhapsodic about it here quite recently).  Frankly, I worry this may be the sad case of there being too much of a good thing. They are all very good, you understand, but finding a favourite among so many expressions that are actually quite similar is a job for someone with deeper pockets and a more discerning schnozz than mine.
The bottle and its enclosure conform to all the expected values Velier has espoused for so long: stark and two-colour presentation, the box showing a photograph of Luca's taken at the distillery (he's actually a very good photographer as well), and all the usual useful information you could want. About the only thing you're not getting was any notation on additives, but you can take it from me that Luca is a Spartan minimalist who cheerfully channels Josef Albers and Mondrian, is a proponent of pure rums in all senses, and is insistent that what comes out of the cask is what goes into the bottle. So rest assured, all ye puritans.
A darkish amber-orange coloured rum, it was, as expected, quite pungent and rich to smell, after burning off the more intense alcohol: immediate, dark scents of caramel and molasses duelled it out with musky tar, smoke, oak, leather, rubber and my son's plasticine collection.  As it opened up, these muscular smells were lightened somewhat by lighter, sharper, floral hints, and the oils you smell on your fingers after manually peeling an orange, and some additional citrus (not much)…and then the petrol and aniseed blasted back to show they weren't taking second place any time soon.  Heavy, thick and pungent, much like the 1994 edition.
The rum was a nocturnal, glowering Heathcliff to taste too (the nose wasn't lying). Scarily big and bold bruiser when I tried it first (neat): more oak, molasses, tar, I couldn't escape that signature profile, leavened somewhat with eucalyptus oil, dark chopped dried fruits, and raisins.  The harsher petrol and rubber disappeared almost entirely, and with a little water the thing became downright drinkable – certainly it was hot yet smooth all the way through, and the balance was quite extraordinary. Henrik loved the 63% edition: still, I could argue that the 55% is no slouch either, and may be more accessible than that other, stronger rum.  Just sayin'…
As for the finish, well, it was long, so no fault there: there was, I felt just a bit too much oak, and it was shade too bitter (nobody was more surprised than I).  I could make out the softer, fruitier notes that worked so well when I tasted it but here they were overwhelmed somewhat, and were only briefly discernible in the background before disappearing entirely.  So in that sense, not one of the very best of the Veliers for me, though none of this was enough to sink what really was a very good rum indeed.
Given that the sense of bitterness and oak was quite subtle, don't take my word for it. We should be wary of dismissing a rum this engaging just because it doesn't get up there on the soapbox and dance with the best of the best. It still stands pretty damn tall as it is, and I don't see that much competition on the horizon. It's a phenomenally well-made full-proof, big, thick and heavy, and it fulfills the latent misguided desire of just about any A-type who thinks a rum should match his junk.
(#224. 86/100)
---
Other notes:
The series of reviews on Caroni rums is one I should have completed ages ago. In late 2014 I bought a whole raft of them at once, ran them past each other, tasted them individually and in depth, and yet almost a year later I'm still not done the scribbling.  So next week I'll wrap up the last one (Rum Nation, for those who like sneak peeks).
The rums reviewed are: