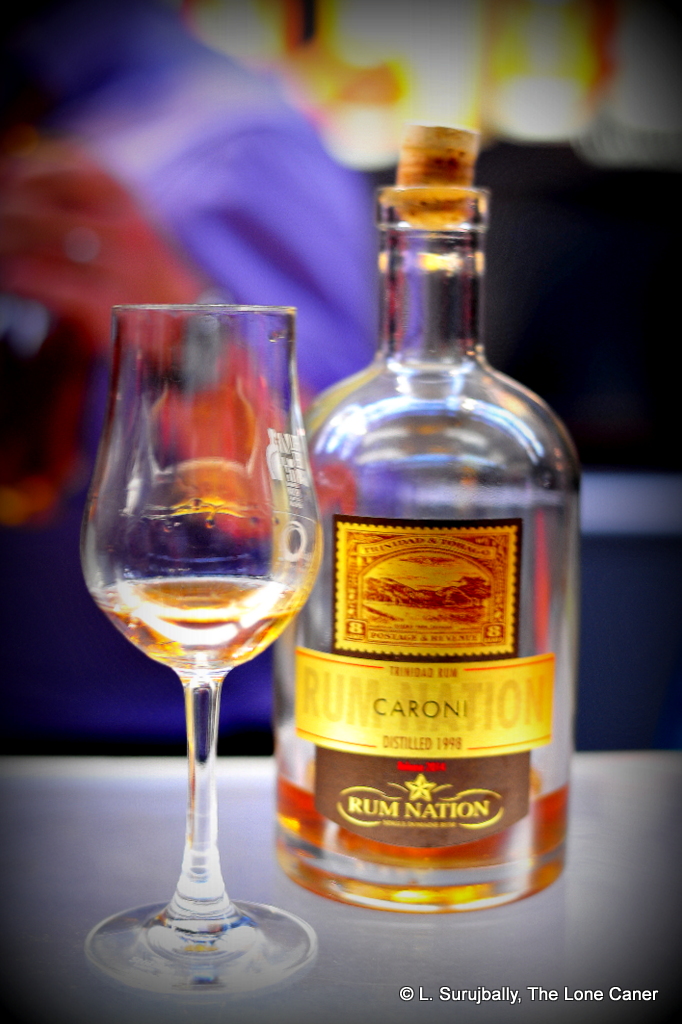 The last of the flight of seven Caronis I tried in depth back in 2014, and one of the better ones.
There are two extremes to the Caronis: the limited release bottling from independent bottlers which are usually less than a thousand bottles, and Velier with its huge stockpile and multiple issues…so much so that one always has difficulty figuring out where to start with 'em (the 12 year old 50% may be the best place).  I have a feeling that Rum Nation's take on the late great plantation's rum is likely to be one of the more accessible ones available to the average consumer, because the rums are (relatively) easily found, well advertised, and come on, let's face it – Rum Nation do rums well.
In this case Rum Nation double-aged the heavy rum (from column distillate) for nine years in Trinidad itself, before shipping them off to Europe for further seven years of maturation in some barrels that were ex-bourbon, and others that once held the Peruanao 8 year old (a rather light, sprightly and delicate rum with a character similar to Bristol Spirits's version, and also akin to the Millonario Solera 15).  The effect of the ageing regime in differing barrels and countries certainly added to its complexity and also its overall voluptuousness, I think…although I should note that some other writers refer to it as an intro to Caroni, rather than the real McCoy — Caroni "Lite," one might say.
Nosing a beefcake of 55% usually provides an intense intro, like one of those idiots who shakes your hand with a painfully overstrong grip to show he's a badass…the Caroni 1998 wasn't quite like that, but it was certainly powerful.  Pungent — if not quite in the league of the Jamaican Pot Still White which edged over into ferocious – and vibrant with initial scent of honeycomb wax and rubber and straw, like a frogman strutting around in a dusty hayloft. There was a lot more going on here all at the same time, mind you — after letting the glass sit for a few minutes, additional scents of freshly sawn cedar, tar, oak, vanilla and moist molasses-soaked brown sugar were joined by softer, muskier scents of coffee, nutmeg and licorice. It was one of those rums that proved why pushing past the too-oft self-imposed 40% limitation is absolutely recommended.  It was a phenomenal rum to simply enjoy smelling.
And no slouch to taste either. Licorice and tar led off, lots of it.  The rubber, happily, started to take a back seat (I like it, but often there's too much of a good thing and it's nice to see it a bit subdued).  Caramel and toffee and coffee continued to make themselves felt as primaries, with background hints of green tea, white pepper coiling around behind it all.  The balance between the softer, muskier elements, and sharper, more herbal tastes was really quite something.  Even the faint bitterness of tree sap and fresh sawdust was kept in check (I was reminded of the quinine derivatives I used to have to drink in my bush years, but that was memory, not necessarily a taste I clearly sensed, and what the hell, I'll mention it anyway). A touch of water smoothened things out quite nicely, but no additional flavours came forward that I could add to this already excellent smorgasbord.  I would like to point out that the rather brutally ascetic character I sense in many full proof Caronis (like the Veliers, for example) has been tamed here somewhat, and I attribute that to the 5g/L of sugar that Rum nation have added to the profile.  I'm not really a fan of such inclusions, yet must concede it works here.
The finish? Very long, heated and dry, really good – it released last sensations of molasses and caramel and angostura bitters (really!), with some of the  licorice and pepper notes coming over from the taste profile.  All in all, this is an enormously pleasant rum to play with and savour if you are into the Trinidadian profile, definitely one to share around.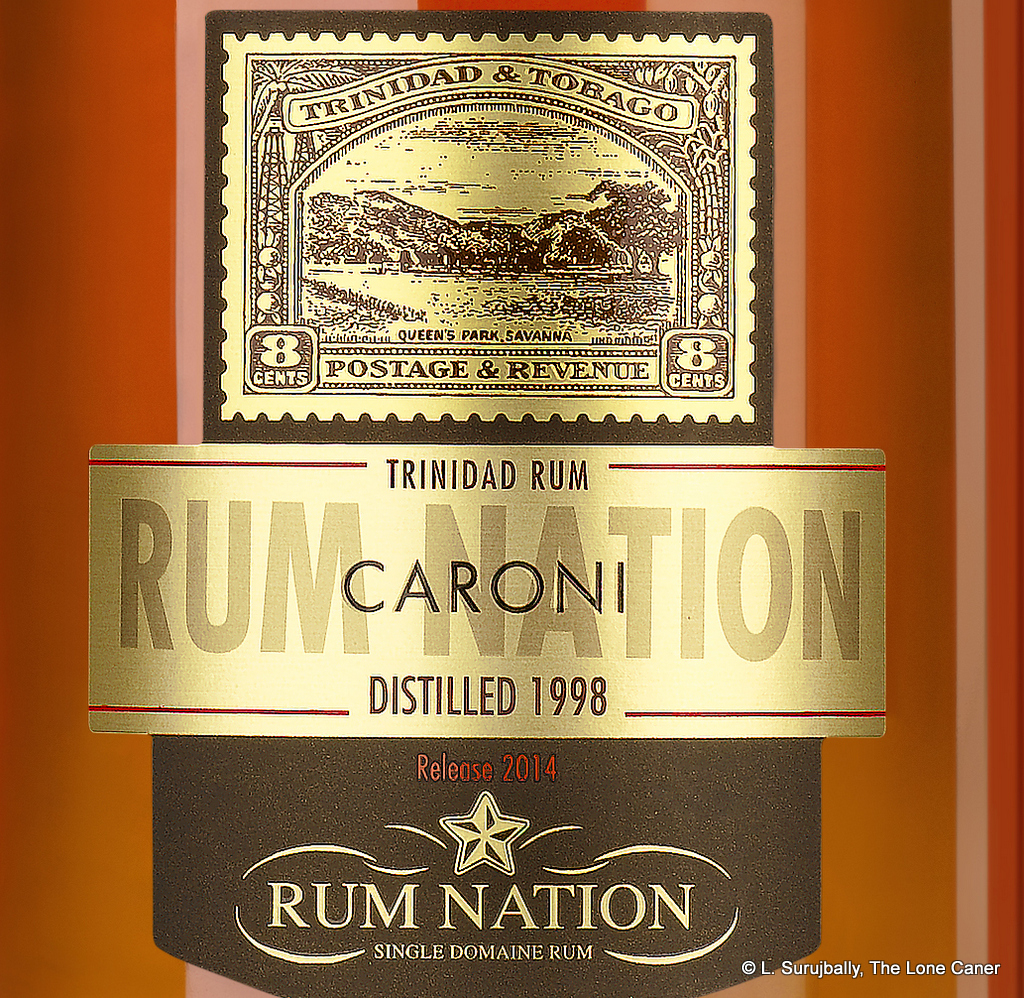 2014 was certainly an interesting year for Rum Nation.  In that single year they issued a new bottle shape (the squat one); they released their first white pot still rum (the Jamaica 57%); and for the first time they went over 50% in not one but two rums, the aforementioned Jamaica, and the amber-red medium-to-full-bodied Caroni 1998, the first batch of which I'm looking at here, and 3120 bottles of which were issued at cask strength 55% (or full proof, take your pick). They seem to positioning themselves in that relatively untravelled country between the craft makers with their few hundred bottles of exclusive full proof expressions, and the much more commercially orientated big distilleries who issue many thousands of bottles of aged rums at a lower proof point
I mentioned accessibility earlier. "Approachability" is just as good a word.  What I mean by this is how easy it is to get, how expensive it is, and how an average Tom, Dick or Harrilall would like it. With several thousand bottles of the Caroni on sale (and more batches to come), I'd say if you wanted this rum, you could find it; it's mid-priced — not student-cheap, but reasonably affordable; and the taste has been smoothened out and somewhat domesticated by that 5g/L of added sugar. For purists, this last may be a disqualifier, but I argue that for people who buy rums only occasionally and have less lofty standards (or who don't know or care), it would make a decent choice and introduction to higher proofed rums (to his credit, Mr. Rossi has never hidden the inclusions, but like many others, I wish a statement to that effect would be on the bottle front and centre).
In any event, a slightly softer, yet still intense taste profile, ready availability and a price your spouse won't scream at you for, makes this Caroni a tempting proposition when the time comes to buy one for yourself, or recommend a Trini rum for a friend. My love is give to the immense stable of Velier Caronis, of course, but that's no reason to pass Rum Nation's top-notch edition by. It's a damned fine exemplar of rum from a distillery whose stocks are shrinking every year.
(#225. 88/100)
---
Other notes
Steve James of the RumDiaries reviewed a RN Caroni 1998 bottle from the 2nd Batch, with some additional details on the distillery and methods of production.
Independent tests by various other reviewers and writers suggest the sugar content is closer to 12 g/L
I've looked at eight Caronis, most sourced in 2014. They are: