Schizoid, androgynous, curious rum. Too well made to ignore, but not appealing enough to collect.
Right during the tasting, before I had done a single bit of research or perused the label beyond the obvious, I looked at my glass, smacked my not quite toothless gums and opined loudly and dogmatically (if not quite coherently) to an empty house that this was a rum from the Foursquare distillery in Barbados.
You might well ask whether my snoot is that good (it's not), my memory that clear (it's not) or I knew it for sure (I didn't). It was more a process of elimination from the Bajan rum canon – it was too clear taste-wise — and not soft enough — to be a St Nicholas Abbey, lacked the discombobulated, raw nature of the Cockspur and sure wasn't a Mount Gay. That didn't leave much, no matter how or with what cask Renegade decided to finish it.
Take the opening: soft, flowery, dark sugars, bananas and unsweetened dark chocolate. A bit sharp (it was bottled at 46%, so, okay). Red grapes just starting to go off, bananas, orange peel (not anything sharper like grapefruit or lemon), and a final flirt of cherries, yet overall, the scents married uneasily, resulting in something vaguely androgynous, neither strong or puissant enough to be a bellowing buccaneer (it waved the cutlass to genteelly for that) nor weak enough to be an underproof…it was an uneasy mix of delicacy and clarity without strength of real character (did someone say "Prince Myshkyn"?).
No relief on the palate, however original it turned out to be. The medium bodied amber spirit was drier than I expected, and even a bit briny, and pulled an interesting rabbit out of the bottle…it tasted good enough, full enough, to seem more robust than it actually was. Bananas and white chocolate, a certain creaminess (like unsalted butter, really), white guavas and pecans. I know this sounds odd, but it almost seemed a shade…crunchy. It's the craziest thing, a sort of dichotomy between the taste and the nose that had heat and citrus-plus-grapes to sniff, yet more settled and softer to sip, finishing off with a sweet, dry exit, segueing into final notes of bananas, apricots and salt biscuits.
I have some mixed feelings on the Renegade here, admiring its professional make and the clarity of the various notes, without actually enjoying the overall experience due to a discordance in the overall marriage of constituent elements. It's not a bad rum at all, just not one I really felt like raving about to any who would listen. Yet I cannot help but admire how Renegade doesn't really care – they tried for something off the reservation, and they succeeded. It's original, that's for sure.
Unlike most of the Renegades I've tried thus far, the label gave me little to work with on the details (I like knowing as much about a rum as possible when doing the write-up). Nothing about the finishing which Bruichladdich usually likes to trumpet front and center, for example…I don't know why, so here's what my research (and the bottle) did bring up. Pot still origin. Finished in Ribero del Duero casks – this is a fruity red wine from north central Spain, which explained something of the profile. Yes, the Foursquare distillery supplied the rum, so I called it on that one…though it wasn't until I took a hard look at the label that I saw it self-evidently mentioned. I should get my glasses changed, or perhaps research before I drink, not after.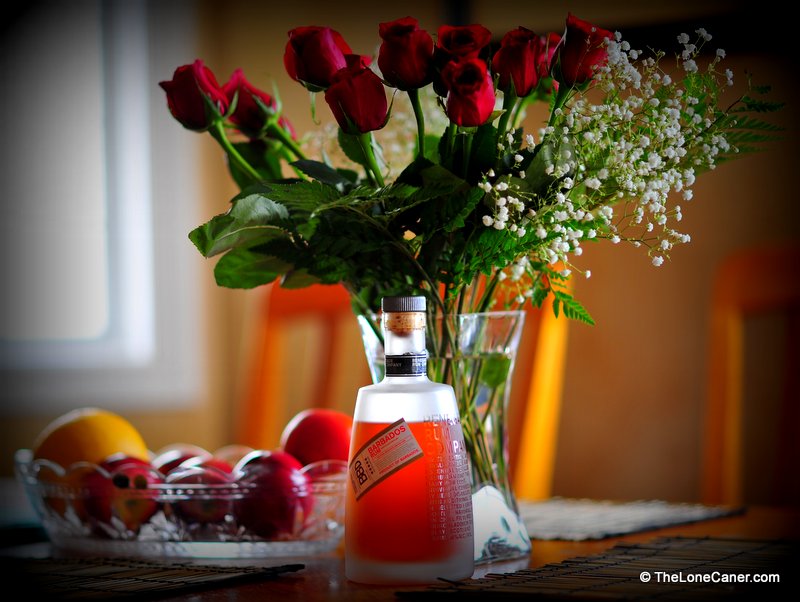 But it's not that any of this matters, really. I've said before that Renegades are something of an acquired taste, should never be one's first try at a rum, and are all quite fascinatingly different — this may be, as I've remarked elsewhere, because they are made by whisky makers for whisky drinkers with rummies perhaps as an afterthought. They fail to craft a consistent rum from one bottle to the next (the variations in the line are occasionally awe-inspiring) but they know that the best way to approach making any of them is with a bold and unapologetic take-that attitude that finds 'em swinging — hard — for the fences, every time, with a sort of giddy, joyous abandon one simply has to admire. So, the end product may not always be what we expect…but man, it's like watching a Sobers, Worrell, Lloyd or Lara on a weird day. It's never, ever boring.
(#161. 82/100)
---
Other Notes