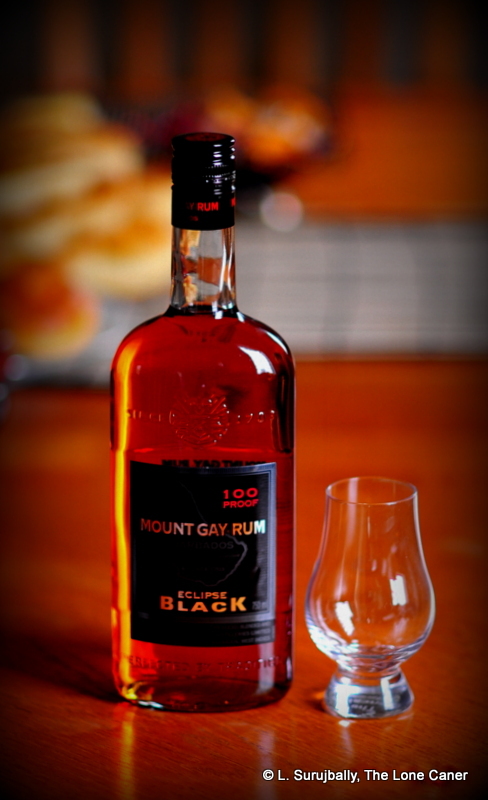 A serious rum contender for an middleweight-overproof title, but loses out due to a lack of polish and a glass jaw. The Cabot Town got this one by a TKO.
Much as I appreciate really good top tier, expensive and very old rums, I equally enjoy taking up what some might term lower ranked offerings: single digit rums, blends and hormonally unbalanced raging overproofs of any kind. In fact, as I've said on more than one occasion, I wish we could see more established distillers move away from 40% spirits, and exercise their muscles a bit with higher strength products. So when I stared at the shelves of Willow Park the other day, resolving to get myself something less pricey, my eye fell on the Mount Gay Eclipse Black 100 proof, which called to mind fond memories of the Cabot Tower 100 proof: and while the Mount Gay was nowhere as dark, 50% is 50% and I snapped it up.
As I've also remarked, presentation matters to me . And while I'm all for tradition, I admit to being quite attached to Mount Gay's new sleek bottle design: flatter, taller, simpler. Very zen. You get a really good look at the colour of the rum inside: which in this case was bright amber…almost bronze. Too bad it had a cheap-ass tinfoil cap on top. Grrr. Maybe I was expecting too much for a $33 hooch.
Mount Gay and other Bajan rums are noted for their banana hints on the nose; this one was no different. Faint bananas, toffee, vanilla, brown sugar and a hint of cinnamon were preceded by a strong and majestic oaken sharpness that took its own sweet time dissipating. About on par for a strongly proofed rum. Sharp, for sure. I tried it in conjunction with the Cabot Tower, and that one was well muted: the two compared like a slow fire (Cabot) to a quick burning match on the fingers (MG).
The body was surprisingly light for such a strong product, like a diminutive American football player after all the equipment is taken off. The arrival was deep and almost cognac-like, and here the body bulked up a bit after pumping some iron and settled out as a solid middleweight contender, spicy and oaken, with a good heat to it. Peaches and apples and cherries with faint nutty undertones all wrestled in a surprisingly gentlemanly fashion for control of the palate, fading (again, in its own sweet time…this rum was in absolutely no hurry to depart your senses) in a gradually reducing heat, with a last cheerily overhard slap of bananas, fleshy fruits and burnt sugar, as if to say goodbye. Very firmly.
Mount Gay is known as the oldest rum distillery in the world – while the company was formally created in 1703 (hence the date on the "1703" rum and each and every bottle), rum production has been recorded there at least fifty years prior to that. Owners of Mount Gay over the centuries also had association with the St Nicholas Abbey estate, whose products I have enthusiastically written about before. The refinery makes use of both column and pot stills in its rums, giving the products a bolder taste, and in this case there is somewhat of a higher percentage of pot still distillate in the final blend, which is a combination of single and double distilled rums aged between two to seven years.
Overall, I'd have to say it's a little too spicy: both the Favell's and the Cabot Tower (the only other 100 proof rums currently in residence on my shelf) have that power, yet neither tried to stab me quite as brazenly: their makers muted the initial sting and subsequent harshness by some subtle alchemy the Mount Gay lacked or never bothered to try working on. Maybe it was because it was a fullproof; even among rums there has always been a sort of sweaty, Brando-esque 'bad-boy' glamour surrounding the stronger rums, so who cares if they toss you against the wall a few times? Isn't that what they're all about?
I doubt many will seriously try the Eclipse Black as a sipping rum…most will use it as a mixing agent, and here perhaps the venerable coke or ginger beer are solid options before heading into subtler and more complex cocktails. If I had to make a comparison with other rums, I'd say the deeper flavours of the Cabot Tower appeal to me more, and the Favell's is also quite excellent in comparison, as is the Panama Red, largely as a result of a slightly smoother finish and darker, more complex profiles. Yet the Mount Gay Eclipse Black 100 proof is a solid accomplishment by any standard, and proves that before Mudlanders complain too much about the Bajans, the flagships of Demerara Distillers and Banks DIH could perhaps seek to make a few high-standard overproofs 1 as well. That might not shut anyone up, but at least then they would have equal bragging rights.
(#125; 76.5/100)
---
Other Notes
The age is not mentioned either on Mount Gay's own website page or the label. Both Spirits Review in an undated post, and Forbes in February 2020, noted it was a blend of components 2-7 years old.
The "Black" in the title comes from finishing it in heavily charred ex-bourbon casks. In 2013, the rum was rechristened "Black Barrel", but the blend, as far as I could tell, remained the same.
In February 2020, Forbes magazine (link above) reported that the Black Barrel (as well as the XO) would be replaced in April of that year with another blended formulation.  It was unclear whether the title would change also.
Footnotes