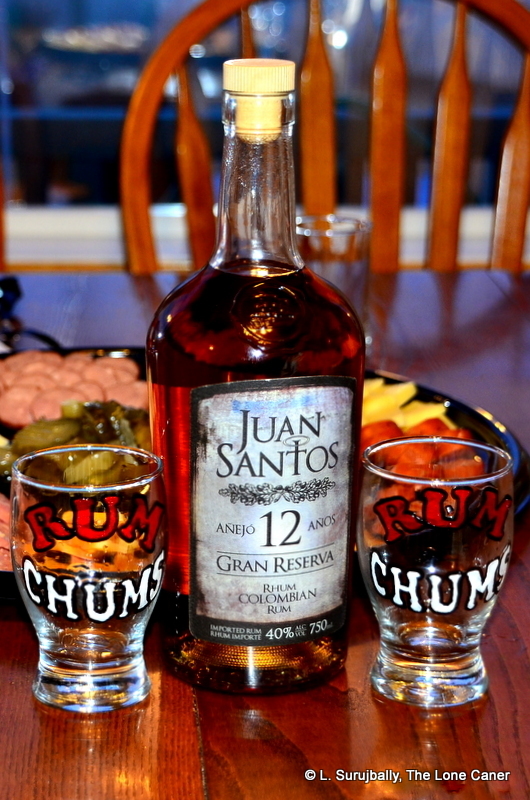 First posted 25 April 2011 on Liquorature
Smooth, soft and unprepossessing, this may be one of the best 12 year old you never heard about. Coming from a maker formed less than two decades ago, it's quite an achievement to create a rum of such overall worth. 
It seems that sooner or later one always makes a discovery both unexpected and wholly pleasant. In recent months since I first tried the excellent 9 year old, I've realized that Juan Santos rums have been one of mine, and with the exception of the coffee infused underproof, which I do not really regard as a true rum, they have, for each age, been quite and quietly superb. And yet they have a surprisingly low profile – they rarely get mentioned in online fora, reviews of their products are practically nonexistent (aside from web-shop listings with a note or two on flavour), and their rums are to be found intermittently at best. Odd for a rum this good
Here I had the 12 year old to take a look at.  The labelling and bottle shape are consistent with the 21, the 9, and the 5 – the Santana company has been at pains to ensure conformity across their line with only minor differences in the labelling – within a clear etched bottle possessing wide shoulders and a sloping bottom.  Plastic cork – I can't stand cheap tinfoil, and have recently concluded the plastic corks are pretty good for ensuring a tight seal that doesn't flake like old cork sometimes does, so this is all to the good.  And, oh yeah – a bunch of the Edmonton Rum Chums around me.  I was tasting this informally, in the company of the Arctic Wolf and some of his compadres, with a follow-up when I got back home two days later to formalize my rather incoherent notes.
There was a smooth and oily consistency to the dark golden liquor (darker then the 9) when poured into the glass; it sheened slowly down the sides and only later separated into fat plump legs. And the nose was like the 9 year old…but better.  No sting and medicinal nasties here, but a softness mixed with spice – faint caramel and sugar entwined with molasses and fruits and burnt sugar.  None of these aromas were in any way assertive or overbearing or dominating: they were each and every one distinct, clear yet subtle, and balanced in a way I had not yet experienced in a rum.
On the palate, the Juan Santos 12 year old  retained some of that clarity and medium bodied nature; and it was soft too – it seemed to be more like a ballet dancer, hiding strength and power behind a pattern of smoothness and elegant moves. The rum coated the tongue so well and was such a smooth spirit that one could easily get lost in the softness and never remember afterwards exactly what had been tasted – though for the record, the arrival was of caramel and burnt sugar, cinnamon and breakfast spices, and just enough sugar to marry these tastes together well.  It reminded me in its cleanliness of taste of nothing so much as very well steeped medium dark tea.
Where I'd have to say the rum fell down was, oddly enough, in the finish.  Not that it was bad.  Far from it. What it was, for me, was that it was cursory. It was too quick, and veiled itself too fast, as if, after all that excellent smell and taste, it suddenly grew shy and with a flirt of flavour it disappeared in a noncommital fade that left almost no taste behind, only a sort of buttery caramel, and a slight and expected alcohol sting. A shame after the overall worth of the beginning, but not enough for me to say it's bad, merely a tad disappointing.
The Casa Santana company was formed in 1994 in Columbia with the avowed intention of producing the country's premium rum.  Currently they produce the Ron Santero brand which is what the Juan Santos, relabelled for import to Canada by the Liber Group, actually is. A rose by any other name, is my response to this relabelling, and as far as I'm concerned, they're doing a good job with their rums no matter what the title, and I want more.  Aged in American bourbon barrels, the aged rums, as per Columbian nomenclature laws, state the age of the youngest rum in the blends, and for this also, I give them full marks.
It is, then, an excellent entry from Juan Santos into the middle aged category, and if perhaps it is not quite on the level of the English Harbour or the St Nicholas Abbey 10 year old rums, it is at the very least on par with the El Dorado 12, is a good rum to sip or mix, and in no way a bad rum, or a lesser one: and once again I'm thinking that we really should agitate to get more of these rums from Columbia on our shelves.
I must concede here that good as it was, the 12 wasn't solely responsible for the stellar evening I had with the Chums, for sure.  But it didn't hurt, aided quite a it, and just as some tastes and scents evoke specific memories, I don't think I'll ever be able to have this unassuming, unpretentious Columbian gem again without remembering a laughter filled evening of jokes and rum talk and the company of new squaddies, pleasantly found, enjoyably experienced and around whose table I felt right at home.
(#076. 81/100)
---
Background (Added in 2021)
Juan Santos rums are produced by Santana Liquors out of Baranquilla, a free trade seaport zone in the north of Colombia, on the Caribbean Sea. The company also makes various brands for other markets, like the somewhat better-known La Hechicera and Ron Santero labels (Ron Santero is the US brand name for Juan Santos, the latter of which is only sold in Canada). Their website and Forbes notes that they started operations in 1994 when their founders – assumed to be the Riascos business family – brought over some rum makers from Cuba, and an article in el Tiempo notes they are the only family owned (private) rum company in Colombia — all others are apparently part of the Colombian government monopoly.
However, it does not appear that they are actually in the business of distilling themselves, not are they primary producers of anything. They have no sugar cane fields, nor a refinery nor a distillery – at least not that they promote on their own materials and company websites –  unless it is the winery they also own and operate, which is where their barrels of rum are aged.  What they do, appears to be to act as third party blenders, much as Banks DIH does in Guyana. La Hechicera, their companion brand now distributed by Pernod Ricard who bought a stake in 2021, is often spoken about in rum circles as sourcing barrels and stocks of rum from around South America and then blending and bottling them in Colombia as "Colombian" rums. But they certainly don't make anything of their own on a distillery.
As an additional note, Juan Santos rums no longer appear to be available in primary markets and online web shops – it has been almost a decade since I sourced mine, so sometime in the mid-2010s I suspect it may have been discontinued.