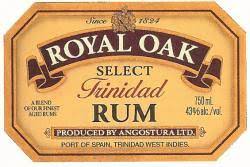 Original Post Date 01 December 2010 on Liquorature.
(#013)(Unscored)
Workable blend that makes for a perfectly solid mixer without shining in any other way, except to maybe pip the low-end Appletons. Best save for the 1919 version.
***
Royal Oak Select Rum is another one of those annoying rums that tell you nothing about how old it is, which instantly informs you it's a blend.  I don't care much for whisky, as my humourous posts have made clear (I think the Peat Heads are misguided, but innocently so, and may be dint of effort and tender ministrations be brought to understand the error of their ways), but I do appreciate the fact that every bottle has its age on it. As a rule of thumb, I assume that when this is not the case on rum bottles, then it is less than five years old. Cadenhead Green Label is an exception, of course.
A golden rum, Angostura is young (3-6 years, nothing more definitive), made in Trinidad by the same folks who are now producing the once-superlative but now downgraded Zaya 12 year old, but not a on par with that voluptuous lass. Like with all single-digit rums (SDRs, as I call them), it lacks the polish and finish of older siblings (yes, yes, with the exception of the fabled EH-5), and I think it is not distilled for the export market, really.  Therefore it may be best used as a mixer.
Still, even for young rum, this baby has its admirers, and I'm one of them.  I wouldn't drink it straight, since it's a bit too harsh on the tongue and throat for that – the younger parts of the blend certainly assert their prescence early on.  But the nose has an interesting hint of citrus, and intriguing caramel overtones develop more seriously on further tasting, together with coconut and a certain mellow spiciness.  The body is quite good, with a sort of oiliness that leads to a long lasting flavour.  The finish is medium short, quite a bit of burn, but the caramel sweetness remains, mixed with a faint nuttiness. It's a bit richer in flavour than I had expected, and while I don't expect that much from an SDR, its strength (43%) and dominating sugar-caramel aftertaste belie the light colour and make it a good choice to go head to head 1:1 with coke.
In summary, a decent mixer about on par with an Appleton V/X but with its own profile and a stronger taste and slightly smoother finish, so not as low-tier as the Bundaberg (which I have gone on record as not appreciating).  Anyone who buys this is not scraping the bottom of the barrel by any means.
Note: I must go on record to express my appreciation to Keenan who raided his pantry to provide me with this bottle to sample. He finds it highly amusing to watch while I try to stay sober and drink four of his rums at the same time.