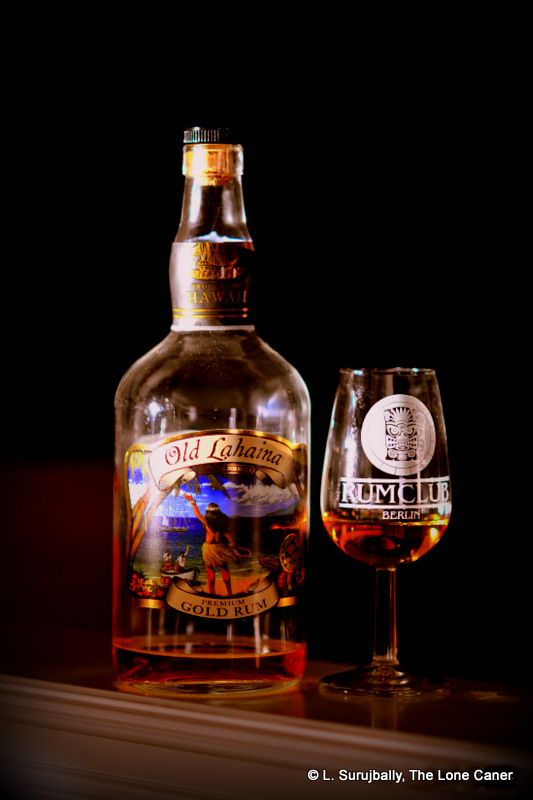 Light gold rumlet, lightweight in what counts, with an oddly discombobulated flavour.
Some time ago I reviewed an intriguing product out of Hawaii, the Kōloa Gold Rum, which impressed me by having some interesting (if thinner than average) flavours emerging out of an utterly unaged rum. The Old Lahaina "Original Formula" Premium Gold Rum is another in this vein, with a similar taste profile, yet somehow it failed to come up to snuff, where the Kōloa succeeded (both companies produced their first rums in 2009).
Maui Distillers began construction of their distillery in 2003 around Maui's plantation town of Paia, where the HC&S plantation leased them an old building on the site of the Old Paia Sugar Mill. According to their website, rum is distilled on two steam-fired 500-gallon pot stills originally built for the Boston New England Rum Company in 1946, one of which has a multi tray fractionating column added to it (I suspect to increase the output, and decrease variation in that output…the bugbear of pot stills' batch production methodology).
Anyway, housed in a thick bar-room style bottle, the Old Lahaina opened its presentation with a herbal, grassy nose that was a shade heated and yet oddly unaggressive at the same time. Delicate is a term I'd use. As it opened up I smelled citrus peel and freshly peeled tangerines mixed with white flower petals….and some faint honey whiffs. My boy, the Little Caner, took a sniff, compared it to the Kōloa and said "Same, Daddy…Lahaina is a bit stronger." (All he did was sniff, before you ask).
Ummm…okay. Moving along, the coppery brown and amber coloured Lahaina was surprisingly astringent on the palate, dry, sere, a shade briny, and not as sweet as most rums. I wondered whether it had been aged or not (I doubted it). Initially it was hard to pick anything out from under the briny backnote, but gradually vague tastes of vanilla and honey made themselves known, until they were overpowered by – get this – rye bread and creamy butter (I am not making this up!). I tried it again and again over three days, but no, there it was. It's a first for me, I assure you.
The finish was heated, and a little too raw, the exit too sharp, and much too short – you could barely make out more than a faint cinnamon spice at the back end. It wasn't bitchy, you understand, and didn't hate me or claw at me on the fade, it was just…indifferent. It shares a lot with the Koloa, which also had a fade utterly lacking in melodrama.
Really, this was just uninspiring. I liked that the scents and flavours were a shade stronger than the Kōloa, just not what the tastes actually were. Maui Distillers claim that each batch is hand blended and each variety (Dark, Gold or Silver) made from an in-house developed formula. Meh. What I have noticed is that these two rums, which I tasted side by side to effect a decent comparison, have certain characteristics in common: a mouthfeel more delicate than usual, some harshness, and an overall lightness that may either come from a lack of ageing, or the specific characteristics of the Hawaiian sugar and molasses used – or both. I make the comment because I've noticed that other rums from other lands outside the Caribbean or Central America (like Old Port Deluxe, Bundaberg or Tanduay) also have marked differences in taste that I sometimes attribute to the variation in base ingredients and cultivation…a sort of terroire-specific thing.
As a mixer the Old Lahaina Gold is pretty good and can do well in whatever bar serves mai-tais and tiki drinks (its relative lack of sweetness makes it particularly suited that way). Me, my evolution goes towards rums I can sip by themselves and enjoy alone without enhancement. So while I can make a very good cocktail with this so-called premium rum, were I to come upon it neat in a glass I'd probably scurry for the pantry hunting for the chaser right away, no matter what the website tells me about it being equally a mixer and a sipper. Because that one I really don't believe.
(#128. 75/100)