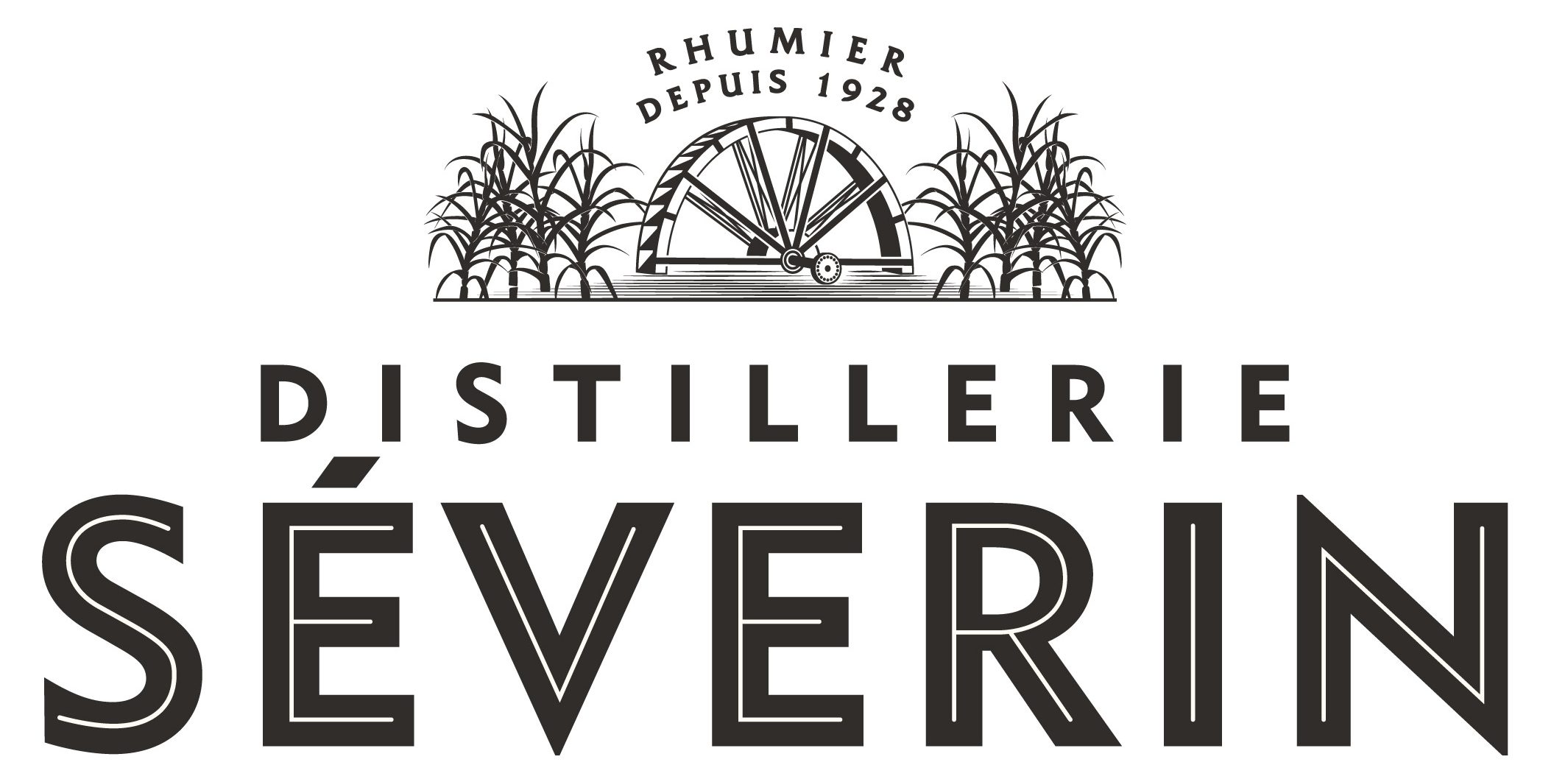 Quick, name five Guadeloupe rum brands.  Yeah, not that easy, is it? You could probably reel off Longueteau, Damoiseau, Bielle, Bellevue, Capovilla, Labatt, Reimonenq, Karukera, and then with some head scratching remember Gardel and Courcelles (which is closed).  And then there's this little guy in the mid-north of the left "wing" of the butterfly-shaped island called La Domaine de Séverin.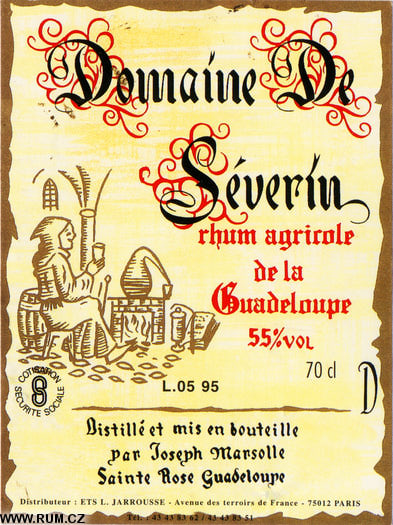 If you have not heard of it before, that's little surprise, as it is possibly among the least known French Island distilleries around (Bologne, Monte Bello, Simmonet and Mon Repos are others, and there are a plethora of small ops or brands known only to the hard core or residents, like Fajou, Ducarbet, Litee, Dormoy, La Pirate, Beauport — many are either closed or only make small local production volumes).
But let's not go down that rabbit hole, and stay with Séverin for now.  The distillery traces its antecedents back to 1800 when it was established as Domaine de Séverin (named after the founder), and became a pineapple cannery.  It changed hands (but not names) several times over the next century, and its modern history begins around 1920 when Madame Beauvarlet, bought it from Viscount Novion de Tourcoing and started to revive agricole rhum production (which apparently was in place before that but about which records are slim. She in turn inveigled her nephew Henri Marsolle, who was working at the Lise distillery in Bouillante at the time, to come work for her.  He did so, and proved successful and enthusiastic enough that in 1928 he in turn bought Domaine de Séverin from his aunt.
The Marsolles have been involved with Séverin ever since, with Henri's sons Joseph and Edouard taking over in 1952.  However, Edouard was unfortunately killed in a boiler explosion in 1964 and this made Joseph, who took over, work to modernize the distillery; among other things he replaced the original still with a Creole column with 19 trays (15 of stainless steel and 4 of copper), which produced a distillate of around 70% ABV. The rums produced were considered quite flavourful and sold well, and in the 1970s were joined by a range of punches to diversify the spirits range.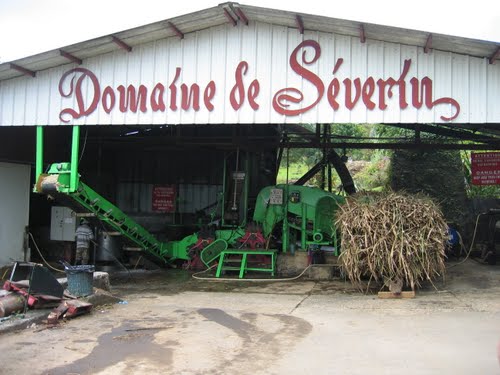 It's unclear how closely Séverin is associated with Montebello, but the Marsolles certainly are, so a brief side trip is in order: there is a family interest in the Carrère Distillery — so named for the area near Petit Bourg where it was located — which had been purchased in 1930 by the Dolomite family.  As with many distilleries over the next decades, the drop in price for sugar and the relatively small production facilities led to declining fortuned. After a failed idea to turn the place into a cinema (!?), it was sold off to Jean Marsolle and his son Alain. They upgraded the grinding facilities and installed a bottling line, and in 1974 Alain took over as full time owner (he bought the distillery from his father with the help of his brother Emmanuel, which leads one to wonder how familial financial relationships work over there).  In 1975 Alain in turn sold the distillery to his sons and it was renamed "Montebello", continuing its process of modernization. The distillery is still in operation, producing around 250,000 liters of rum a year, and remains under family control.
Back to Séverin. In the 1980s Joseph Marsolle's sons Thierry and Pascal joined the company and they continued the development of rums and the distillery, because by the early 1990s they replaced the still with a fully steel model, as well as beginning the regular release of aged rums.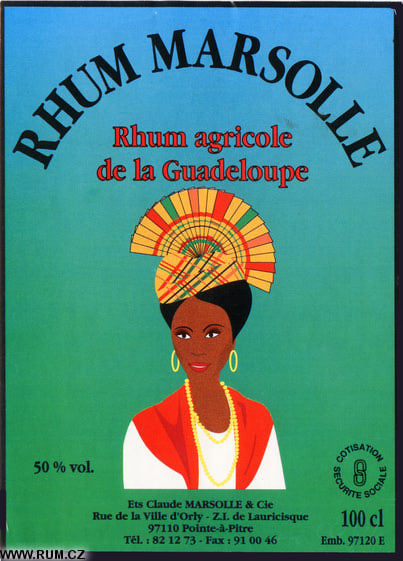 In the 1980s and 1990s, a series of rums marketed under the Marsolle brand name were issued — these were blends of rums from both Severin and Montebello, and I've seen references to Karukera rhums which note that they were bottled by "Claude Marsolle" of Point a Pietre's industrial zone, but what little I was able to unearth suggest it was a bottling operation, not a separate distillery run by another member of the family. Surprisingly, the family owned distilleries were never consolidated into a larger entity, which in a time of rising prices and falling revenues would have seemed a logical step.
Whatever their reasons, financial pressures continued to mount in spite of the movement of the company into other operations (the 2008 financial statements show that Séverin was barely breaking even), and in 2013, in order to find capital, the distillery portion of the estate  was sold to Jose Pirbakas, a businessman running a diversified group of companies on Guadeloupe (he is a minority shareholder and Managing Director of Poisson which makes the Pere Labatt rhums, and has some sugar cane estates as part of the portfolio of companies). The sale took place in two tranches, 30% in 2013, and a further 35% the following year.  Essentially, while maintaining control of the land, estate and buildings, for which they charged Mr. Pirbakas a rental fee, the Marsolles lost overall ownership and operating control of the rum making portion of their business.
Things began to unravel from there for a while. The Marsolle family and Mr. Pirbakas clashed over (among other things) the latter's decision to raise prices of all rums by 45% immediately, which he in turn claimed was necessary to bring the sale prices in line with production costs and general rates for rums of these kinds. According to the Marsolles, Mr. Pibakas kept demanding that he be sold the rest of the estate, the remaining distillery portion and the family house (a tourist destination for the Domaine), which they refused. The ongoing battle led to work stoppages, potential closure of the distillery, non-payment of property rent, and finally both parties appointed a mediator to settle their differences.  For some years up to 2017, Severin produced almost no rums at all, though it would appear that barrels continued to age in their warehouse. Since then production (or at least bottling) must have resumed or been redirected elsewhere (to another bottler or distiller or estate), for there are various aged and other expressions bearing the Severin moniker available in France, in sleek new bottles with redesigned labels (I was informed that these were designed by the old team, and launched just before the takeover, though this is unattributed elsewhere). The older label (see above) therefore reflects pre-takeover rums which are now discontinued.
In January 2019, a post and photo went up on FB where it noted that the distillery was being dismantled. Subsequent calls and investigations by interested commentators dispelled this notion. What has happened is that poisonous relationships notwithstanding, ownership is legal and cannot be changed – Mr. Pirbakas is 65% majority shareholder of the distillery. However, he does not own the property upon which it rests (or, apparently, pay rent).  Various comments by both parties on Facebook seem to make it clear that (a) rum will continue to be made and (b the equipment (grinders and the still) are being upgraded. However, most people think that the plant is moving operations to elsewhere on Guadeloupe (one might infer Poisson), and the question of who owns the name of Séverin is unanswered.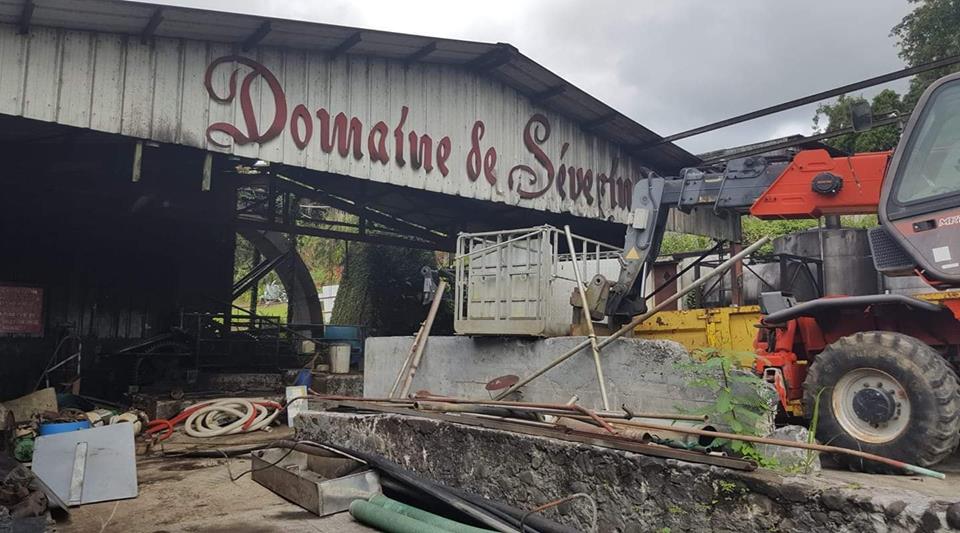 The Marsolles on the other hand, have no further involvement with Séverin as a distillery except as a minority shareholder, though they retain the land and the gift shop and the Grande Maison, so as a tourist destination it will continue.  They are investigating opportunities to make or blend rums and punches of their own going forward, and the old Marsolles brand name will be resurrected.
Change of management and ownership, consolidation, buy-outs and takeovers are the norm in this industry as in any other of course, and the name of Séverin as well as rhums slapped with their label, will continue under the new owners. But Séverin the quaint, small, family-owned and family-run business, the way it was known for nearly a century, is now gone.  
---
I'm indebted to the generous assistance of Christian Achatz, Alan Van Hal, Seb As Tieng and Valentin Cognito the FB Group La Communauté du Rhum Agricole, whose comments and remarks informed the most recent portion of this biography.
---
Current Rums in Production, Post-2014
Severin White Rhum 50% ABV
Severin White Rhum 55% ABV
Severin White Rhum 59% ABV
Rhum Ambre Severin 50% ABV (18 months, oak barrels)
Rhum Vieux Severin 4 YO 44% (oak barrels)
Rhum Vieux Severin 6 YO 45% (oak barrels)
Rhum Vieux Severin VO 3 YO 40% ABV (cognac barrels)
Rhum Vieux Severin VSOP 4 YO 42% ABV (Bordeaux barrels)
Rhum Vieux Severin XO 6 YO 45% ABV(cognac barrels)
Rhum Vieux Agricole brut de fut 2010 Edition Limitee
Domaine de Séverin Cuvée Henri Marsolle (Blanc) 59% ABV (released 2008)
Domaine de Séverin Cuvée Henri Marsolle (Rhum Vieux) 45% ABV (released 2008)
Original Distillery Rums, Pre-2014, now discontinued.
Domaine de Séverin Rhum Agricole de la Guadeloupe 50% ABV (1994)
Domaine de Séverin Rhum Agricole de la Guadeloupe 55% ABV (1995)
Domaine de Séverin Pur Vesou 50% ABV*
Domaine de Séverin Vieux 50% ABV*
Grand Rhum du Domaine de Séverin 50% ABV*
Grand Rhum du Domaine de Séverin Pur Vesou 50% ABV*
Grand Rhum du Domaine de Séverin Vieux 50% ABV*
Severin "Commemorhum" Bicentennaire 1789-1989 Rhum Agricole Pur Vesou 50% ABV
Domaine de Séverin Rhum Agricole Cuvée Spéciale du Jumelage 55% ABV*
Domaine de Séverin Rhum Agricole de la Guadeloupe 1998 50% ABV
Rhum Séverin Commémoration 150e Anniversaire Abolition de L'Esclavage 1848-1998 50% ABV
Domaine de Severin Vieux 1996 45% ABV (New bottle design)
Domaine de Séverin Raw Cask 2004-2010 Rhum Vieux Agricole 54.4% ABV (New bottle)
Domaine de Séverin Fût de Bordeaux 2004-2010 Rhum Vieux Agricole 45% ABV(New bottle)
Domaine de Séverin Fût de Cognac 2005-2010 Rhum Vieux Agricole 45% ABV (New bottle)
Domaine de Séverin Cuvée Pirla Fût de Bordeaux Rhum Vieux 10 Year Old 42% (New Bottle)*
*Dates of distillation or release are unknown
---
Sources