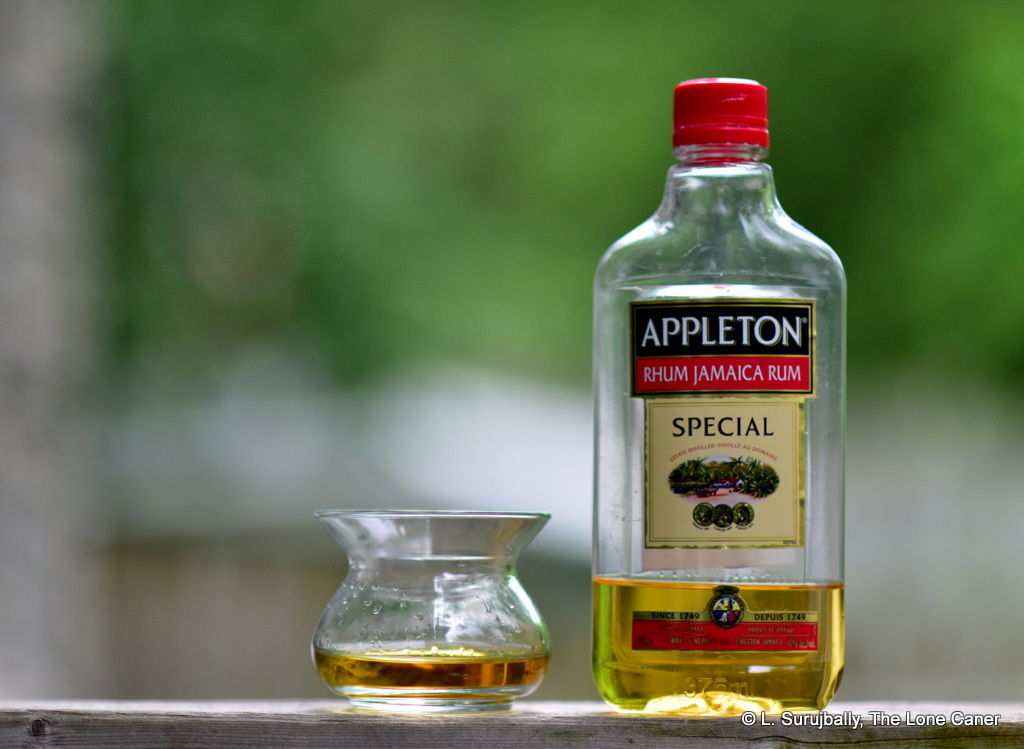 Rumanics Review #93 | 0607
The Appleton Special is not yet a true Rumaniacs rum, since it's still commonly available – it was, for quite a long time, one of the most common low-end starter rums available in North America and Europe, so it's more than likely that one can still find a bottle.
However, in 2016 it was retired from active service and put out to pasture, to be replaced by the not-quite-as good J. Wray Jamaica Gold rum – I think they tweaked the blend somewhat since the taste is almost, but not quite, similar.  So, since it is no longer in production and gradually will disappear, I include it in this series rather than the main body of the reviews.
As far as I know, this is a blend of very young rums (less than five years old, and my own feeling is  two years and less), pot and column still blend, and an entry level rum made for mixing with whatever you have on hand.
Colour – Gold
Strength – 40%
Nose – Funk and dunder, warm bordering on hot.  Bananas, brine, olives, plus citrus peel, flambeed bananas, some nuts, molasses and faint rubber. Sharp and light at the same time. I suppose one could add some water to bring out the nuances, but at 40% I didn't bother.  It's meant for cocktails, so that's where it shines more.
Palate – All the hits come out to play: vanilla, orange peel, watermelon juice, brine, avocados.  Some apple cider and green grapes, plus light underlying notes of bitter salt caramel and molasses.  Weak and undernourished, really, but they're there and the longer one sticks with it, the more pronounced they become.
Finish – Short, mostly caramel, brine, vanilla and funk
Thoughts – Oddly, I liked it better than the new J. Wray Gold.  It's a subtle kind of thing. Some of the rough edges the Gold retained were less evident here.  It was slightly better integrated, and it could – with some effort – be had neat (though I would not recommend that).  In fine, it's a fully competent mixing agent, with enough character to wake up a cocktail, yet possessing a fine edge of refinement that incrementally lifts it above its successor.
(74/100)
Update June 2020: It was announced that the Appleton Special and White would be rebranded as Kingston 62 in the UK, but with no changes to the recipe.