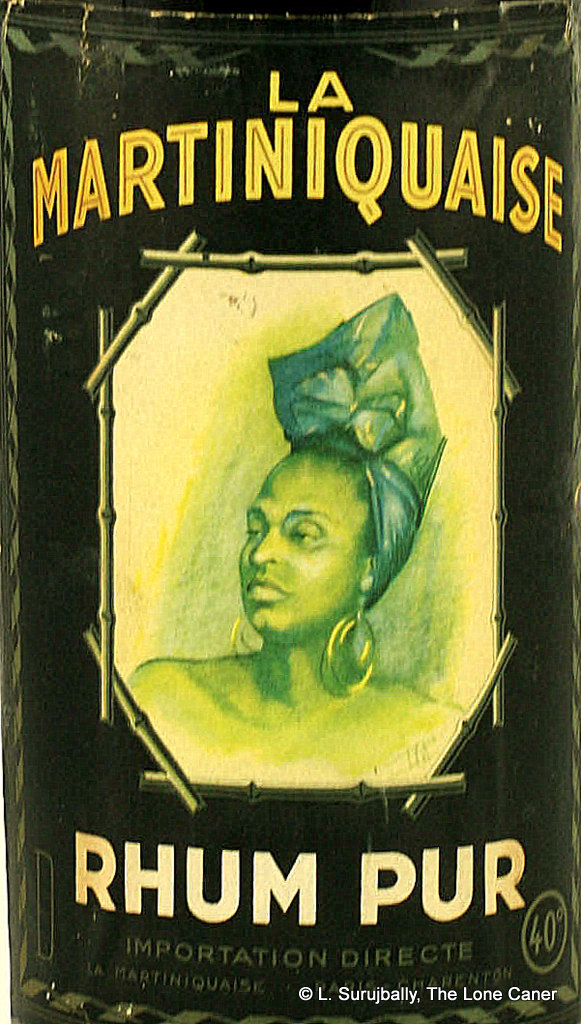 Rumaniacs Review 006 | 0406
This brand no longer exists, but the company (La Martiniquaise) formed in 1934, still does. My research turned up not only this photo from the 1940s/1950s edition, but an even older bottle from the 1850s (which sells for four thousand quid on oldliquors.com…ouch!).  Produced by L.M. Charenton le Pont from rhum imported from Martinique, then aged and bottled in France. The Sage said it was a 1950s rhum while others suggest 1940s, I trend to the latter here. 40%
Colour – Dark amber.
Nose – Rich, clean, warm.  Like a clear, clean cognac…nice. Earthy. Cinnamon, cloves, caramel and burnt sugar.  A sort of sharp thread of spice runs through this thing, added to honey and syrup over pancakes.
Palate – After the colour and nose, not quite as heavy as expected to taste. Still, maybe some molasses or syrup crept in here somewhere.  Smoke, sawdust, anise, licorice.  Cloves and caramel and more licorice emerge with a drop of water.  Aside from some raisins, fruity notes surprisingly absent.  Some green olives in brine.  At the back end, slight bitterness of gone-off caramel, vanilla and charred wood
Finish – Shortish, warm, smooth.  Caramel and vanilla dominate, with smoke and tobacco closing up the shop.
Thoughts – Really like this one. The depth and anise notes remind me of Damoiseau, or Courcelles. It may have been a rhum for the proles back in the day, but its quality is way above that. Wish it was a bit stronger….at 45% or so this thing would have been exceptional.
(85/100)
90 + : exceptional
85-89: excellent, special rums
80-84: quite good
75-79: better than average
70-74: below average
< 70 : Avoid