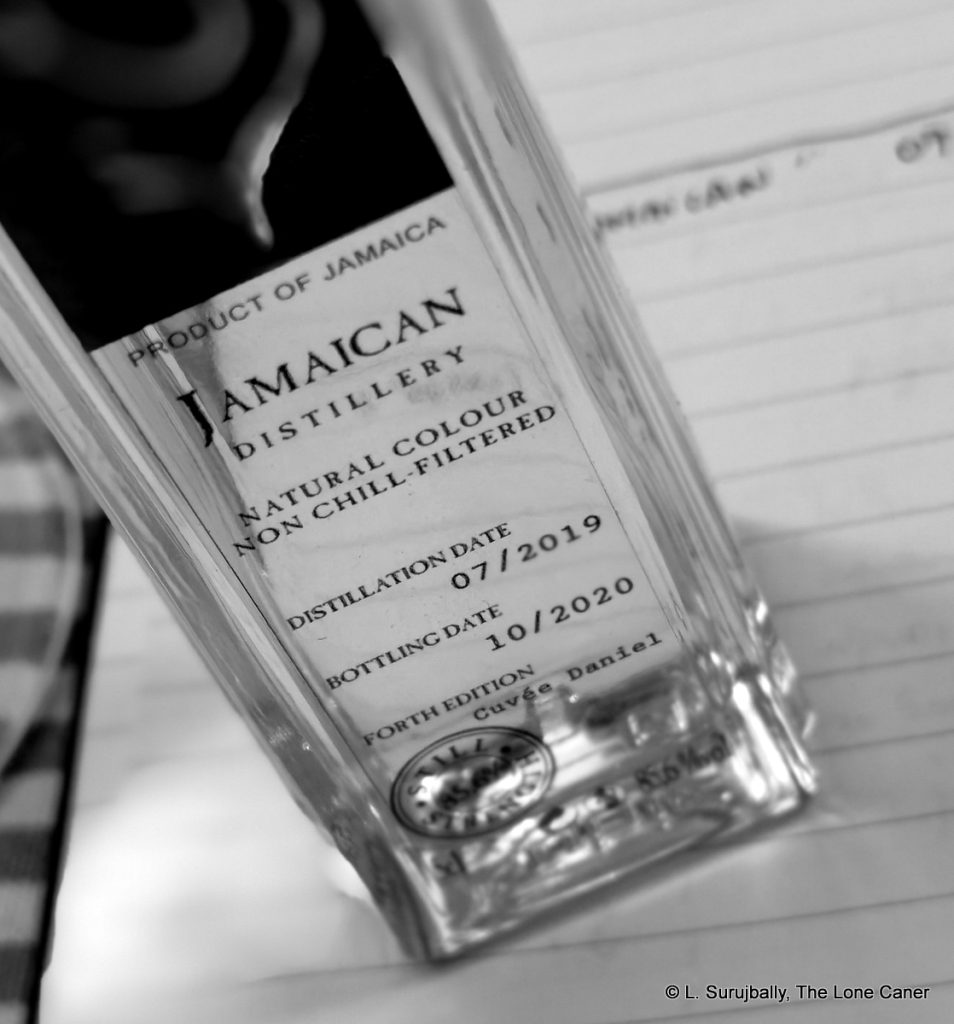 I view L'Esprit's unaged still-strength white rums the way I regard Mrs. Caner – with besotted love not unmixed with a little dread.  Treat her right and there's no end of the amazing wonders and complexities that will be provided; drink carelessly and you'll be belted into next week.  Seeing the stats, is clear to see why: the rum is distilled in 2019 in Jamaica, and taken at 85.6% as it dripped and smoked and frothed off the still, then released without any ageing into the wild, unfiltered and unadded-to, and completely, fiercely, joyously untamed. You get the nervous feeling that when you drink it, you can sense the Grim Reaper on your shoulder clearing his throat.
So you can understand both my awe and my trepidation. On the outside, as a white rum, it looks meek and demure (another similarity it shares with my better half), but hard experience with L'Esprit's recent outturns of this kind have taught me some measure of caution. The initial sniff showed why this was a good idea: it was a wild storm of competing, fighting, angry tastes from all over the map, starting with coconut milk with a touch of gaminess, vanilla, and flambeed bananas drizzled with hot bitter caramel syrup.  As if unsatisfied, it moved on to rubber and tar on a hot day. Glue, solvent, acetones, and behind it all, the rank meatiness of a midden heap, brine and hogo gone wild, into which somebody spilled a bucket of used engine oil.  If there were any fruits around, they were blattened flat by this huge wave of rumstink, and yet, for all that this reads like some kind of crazy, it's still somewhat better and more interestingly assembled than the Long Pond TECA.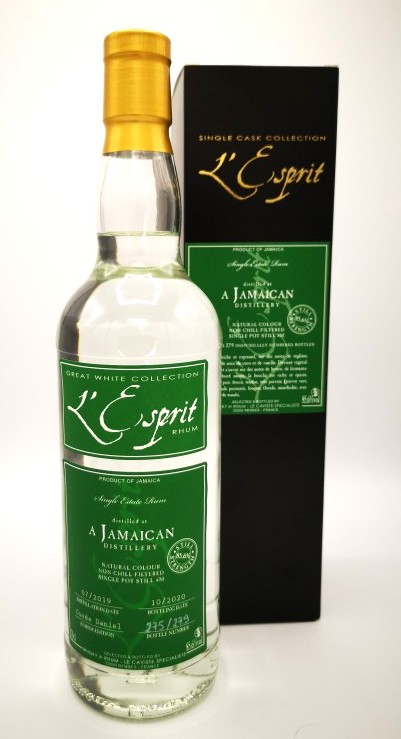 And at that strength, when sipped, well, it provided all the acres of hurt one can expect from that huge pail of proof. It was hot, spicy, initially reeking of stripped out gears and a burnt clutch on an old Land Rover – this was brief and dissipated swiftly, being replaced by ethanol, medicinals, a tart sort of sweetness (yoghurt, citrus, green apples, grapes, strawberries) and sourness (miso soup, Thai sweet chili, soya)…and then it really got going. There was the bitter clarity of licking a copper penny. It tasted of hot and very strong unsweetened black tea, on the good side of being bitter. And then it got more creamy and spicy and warm at the back end, before relaxing into a finish that was long, sweet, salty, sour, bitter – as if all taste receptors got switched back on at once — coughing up citrus, juniper, quinine and mineral water to go with the pears and green apples that closed the show.
Damn, but this was one serious rum. It's just this side of excessive, and is the sort of thing a resident of Trenchtown would splash on before heading to the local rum shop for a duck curry and a brawl. The tastes are completely off the scale, they're all over the place like a half-drawn roadmap leading to an undiscovered country and it's a small miracle that they work together as well as they do. And admittedly, it's too fierce on the attack: the lips are numbed, the tongue paralyzed, the taste buds burnt out in a bright flash of heated sulphur and brimstone, and this will not be a rum that finds favour with many except Los Extremos who inhale this kind of thing with their morning wheaties.

And yet, and yet…it's not entirely a bad product : once it settles down it's a really quite interesting piece of work, in spite of its undiluted demon-piss vibe. What it does, better than most with similar specs, is unashamedly channel trashy 1980s Ahnuld, Sly, Chuck and Dolph Lundgren action movies of the sort we remember fondly today. It drops massive taste bombs, huge sharp congeners, sweat, harsh language and liquid gelignite left right and centre the way those stars dropped one liners and cool kills. I'm not sure that's a description or a profile that'll appeal to everyone, but for those who are willing to park their doubts, I think L'Esprit's Jamaican white brawler is simply one to beware of, treat with respect…and maybe, once one adjusts to its fierce character, even to love.
(#954)(86/100) ⭐⭐⭐⭐
---
Other notes
It's not stated but as far as I know, it's Worthy Park distillate.

"Cuvée Daniel" refers to (L'Esprit's owner and founder) Tristan Prodhomme's second son; the Diamond "Cuvée Edgar" MPM unaged white referred to his first. He made these rums to commemorate them, which I think is a sweet gesture.

As always, I must commend the sleek little sample bottles L'Esprit favours, which fit nicely into a presentation box and are just cool as all get out.

Pot Still, 279-bottle outturn. Rested between July 2019 to October 2020 in inert tanks.