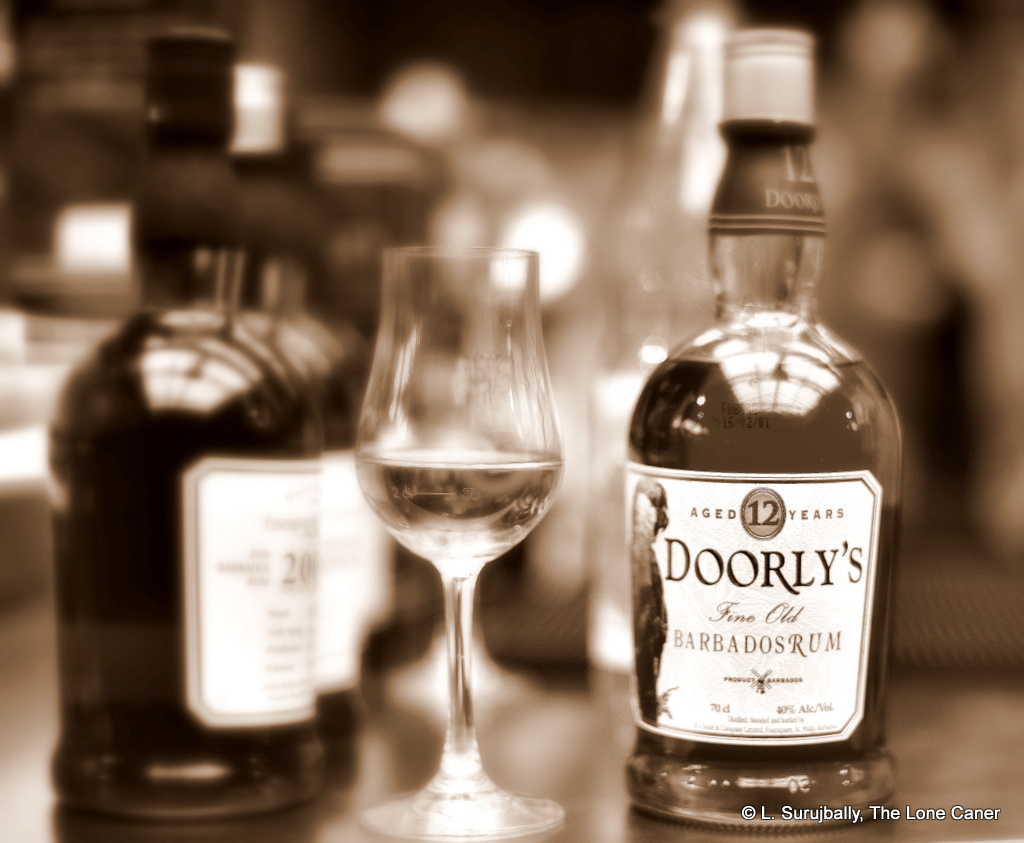 In my own rather middling 2017 review of the Doorly's 12 I remarked "It's a well-made, serviceable, standard-proof rum for those who have never gone further (and don't want to)…and remains a rum of enduring popularity."  Rereading that review, re-tasting the rum, and thinking about all the developments in the rumworld between then and now, I would not change the review – but must concede that it works precisely because of those things that at the time I sniffed at, and retains its widespread appeal to both new drinkers and old in a way that cannot easily be discounted.  
We're living in a rumstorm of Foursquare. I've never seen anything like it in all the time I've been writing about the subject.  Just about every single day, someone writes on social media about picking up this or that Exceptional Cask bottling or one of the Habitation Velier collaborations, gets a flurry of likes and comments, and the next day there's another one. New releases are now online events in themselves, and while few now recall how startling this seemed just a few years ago, it's almost a accepted wisdom nowadays that when  they go on sale they sell out five minutes before the shop pulls the trigger. 
All of this has turned the Face of Foursquare, Richard Seale, into the nearest thing the rum world has to a rock star (minus the leather pants). His ongoing online engagement, his irascible turn of phrase, his near-legendary inability to crack a smile, his take-no-prisoners approach to discussions, his highly vocal opinions, his fierce advocacy for protected status of Barbados rum, the quality of the rums he's putting out the door, his amazing generosity in handing them out at festivals, the commitment to keeping his rums affordable — all these things have elevated him into the "must-meet" stratosphere of any rum festival he chooses to attend.  And have brought his rums to the attention of an incredibly wide audience, including those of whisky aficionados — Fred Minnick famously referred to Foursquare's rums in the aggregate as the "Pappy of Rum" in 2017, and Matt Pietrek's review of the rise of Foursquare in  a Punch article in 2018 made a similar reference.
Such publicity and the ongoing releases of cask strength rums in the Exceptional Cask Series (Key Rums in their own right) and the Collaborations leaves faithful old standbys in something of a limbo (much like the El Dorado 21 was), even occasionally dismissed. They are issued at close to standard strength and lack a clear signature kind of taste such as distinguishes Demeraras or Jamaicans, the sort of profile that allows even a novice drinker to take it blind and bugle "Bajan!" without hesitation. That is both the draw and the drawback of the Doorly's line and the Rum 66, and the R.L. Seale 10 year old, though I contend that this should in no way stand in the way of appreciating them, not just because of their un-added-to nature and their age, but because on a price to quality ratio they're great buys. People have been bugling the praises of the Doorly's rums of all ages on both sides of the Atlantic for decades, and with good reason.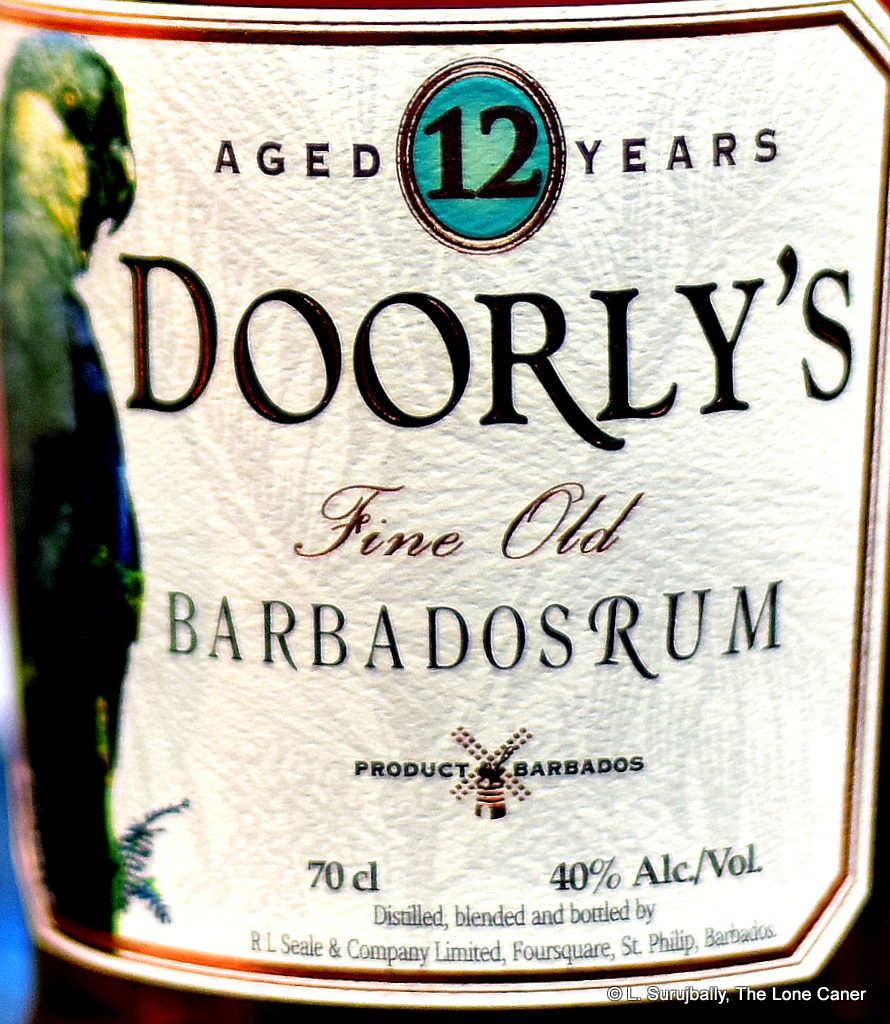 In spite of their being eclipsed by the new hot-snot Foursquare ECS and collaboration rums everyone froths over, in the last years I've deliberately sought out these standard, aged Bajans – multiple times – just to get a grip on what makes them so unkillable…because, like the El Dorados and low-rent Appletons, they sell gangbusters year in and year out, always come up for mention sooner or later and everyone has either tried one, recommended one, been recommended one or reviewed one.  I mean, everyone. Perhaps the key to their appeal is that In their own quiet way, they define not so much Barbados (although they do), but a single operation, Foursquare. The Doorly's 12, is, in my opinion, one of the foundation stones of much that came to prominence in the last years – a blend of column and pot still distillate some of which was aged separately in Madeira casks, tropical ageing for the full 12 years, yet not torqued up to full proof, just serenely and calmly itself, at living room strength.
Consider the nose, for example. Not a whole lot of exceptional going on there, but what there is is clear, crisp and exquisitely balanced – it has an initial nutty, creamy and salt caramel attack, a touch briny and, set off with some molasses and vanilla. There's a lightly citrus and fruity component coiling behind it all, made up of both sharper and sweeter elements (though it should be noted that the rum noses rather dry and not really sweet) like orange peel, bananas and raisins.  But this is an hour of effort speaking – for the most part, the average Joe will enjoy the vanilla, caramel and fruitiness and be happy with the no-nonsense approach.
The palate is where the rum falters somewhat, because the 40% ABV isn't quite enough to showcase the varied elements (note that the rum is sold at 43% in Europe and other areas).  It has quite a bit of caramel ice cream, vanilla, white chocolate, crushed walnuts and light molasses. With more time and concentration, one can tease out the soft flavours of flambeed bananas, papaya, toffee, offset by spicy oak and citrus peel notes.  There's even a touch of olives and brine and strawberries.  But it's weak tea compared to the firmness of slightly stronger rums: 43% would be – and is – an improvement (I've tried both variations) and 46% might just be perfect; and the indeterminate finish – oak, vanilla, toffee, cinnamon and almost vaporized fruits – is too short and effervescent to leave a real impression.
Tasting notes such as these describe why I'm not entirely won over by the "standard" lines of rum made in Barbados, which are aimed at a broad audience.  Even in my earlier years of writing, I was ambivalent about them. My tastes developed towards more clear-cut rums displaying more defined and unique profiles. The Doorly's 12 YO to me is not so much indifferent (because it's not), as undifferentiated (because it is).  It's very well made, tastes nice, has wide applicability, can be gifted and recommended without fear or favour, and you can tell it has age and solid production chops – I'd never dream of trying to dent its reputation on those aspects.  What it lacks is a certain element of real individuality. But I repeat that this is just a personal preference, an aspect of my own private proclivities (of all the writers I know, only one or two others share this opinion) — it has nothing to do with the wider world and its generally positive relationship to the Doorly's line in general and the 12 YO specifically.  And now, after so many years of going back and forth among the various Barbados rums made by the various makers on the island, it's time to cave, concede these are not flaws as I did before, but real strengths…and admit it to the canon.
Because, all the waffling aside, it's almost the perfect rum for any enthusiastic amateur with some rum knowledge with which to wet his whistle.  Yes the 14 YO is stronger and the 5 YO is cheaper, but this one is Goldilocks's little bear, strikes a perfect middle, perfect for a beginner to start their journey away from sweetened rums so many still regard as "premium." It's really affordable and of good quality for those who don't taste a hundred-plus rums a year and have a slender budget with which to make careful purchases. It pleases reasonably on all levels. It almost always figures on a list of "what to start with" for the newcomers. It's unadulterated and its age statement is real.  In fine, it's one of the best midrange rums — on price, on age, on quality — ever made, by anyone. 
By that standard, there aren't many rums that can exceed it. And therefore I do believe that it deserves a place on anyone's shelf, either as a marker for one's appreciation of well made rums that don't ascend to the stratosphere, or a stopping point beyond which it's tough to go without shelling out a lot more money. How can that combination be beat?  Short answer, it's almost impossible.
(#825)(82/100)
---
Other notes
The rum re-reviewed here was the 40% version which I own.  I have added more notes to it from subsequent informal tastings at rumfests in both Paris and Berlin in 2019. The 43% edition is slightly better, but it was not what this essay is based on (though it would not change the sentiments expressed).