If you want to know why American supermarket rums (sometimes called "value rums" which is two lies at once) get such short shrift from so many rum folks, one like this is enough to explain the general indifference. It's milquetoast, vague, with not a single point of interest, and that's including the equally lackluster promotion that surrounds it.
Let's start at the beginning.  What is it, who makes it, where's it from? We must begin with the label, which unfortunately just makes me want to cringe.  No really. 
For starters, it's noted as a "Caribbean Style rum". That's about as useful as perfumery to a hog, as Tolstoy once remarked. Clearly the makers assume a level of ignorance of their customer base that is off the scale, since exactly what is that?  Even Dave Broom in his seminal book "Rum" where he addressed that very question, backed away in horror at lumping all rums from the region together as "Caribbean." So, we talking Guyana, Cuban, French Island, Jamaican, Barbadian? Nope. Won't work. Useless.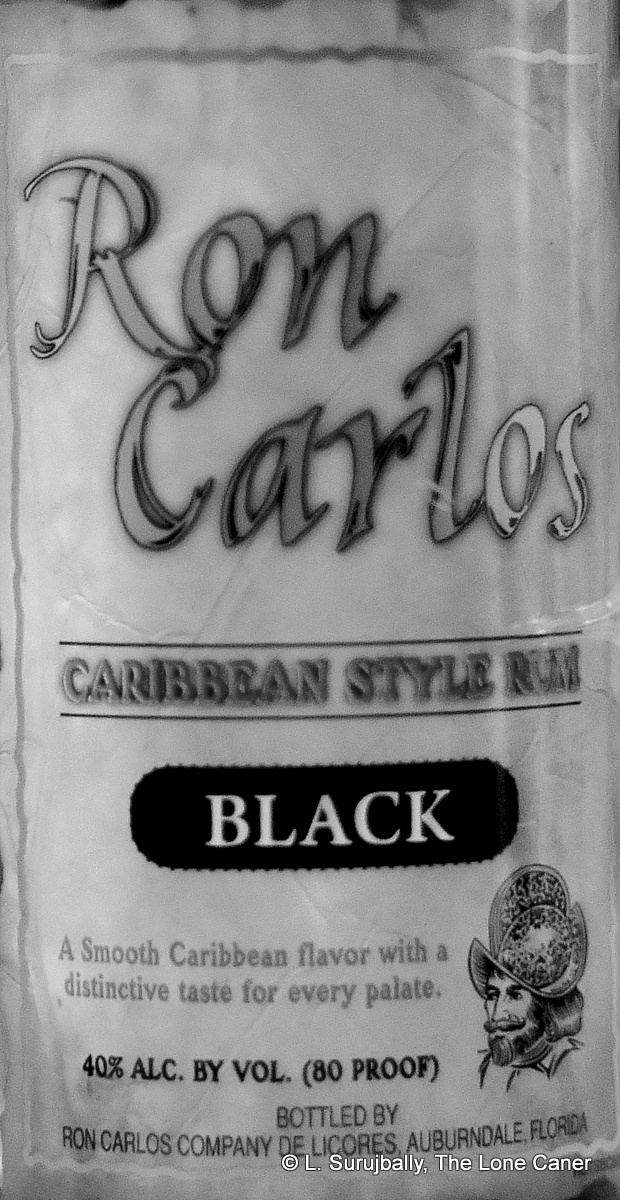 Next word: "Black". Baby Rum Jesus help us.  Long discredited as a way to classify rum, and if you are curious as to why, I refer you to Matt's takedown of the matter, and anyway – the rum isn't black, but dark brown.  Then "A smooth Caribbean flavour with a distinctive taste for every palate." Clearly we're living back in Henry Ford's time, where you can have any taste you want as long as it's black.  The irony of the statement is compounded by the fact that if it's really distinctive, it cannot by definition appeal to every palate. 
About the only thing we can take as a reasonable fact is the bottom part, where we see the rum is bottled by the "Ron Carlos Company de Licores, Auburndale Florida.".  Excellent. Who're they? Google it and you'll be directed to Florida Caribbean Distillers which is a massive industrial facility producing 188 proof near-neutral spirit (from various sources including cane) and reselling as bulk that around the world. And if the company name sounds familiar, it should be – this is the same multi-column-still factory contracted to make the Noxx & Dunn 2-4-5 Florida and the Florida Old Reserve rum I wrote about a year or two back.
Clearly this does less than enthuse me, but the Caner is nothing if not moronically persistent in the face of absurdity, so I gird up my loins and hoist my trusty glass and take one for the team so that you lot won't have to.
It starts off in unspectacular fashion with very light caramel, chocolate, coffee and flambeed bananas.  Some molasses pokes its head up like a gopher scanning for predators, then disappears, and there's some citrus chittering waway in the background, too faint to make any kind of statement or balance off the thicker aromas in any significant way.  You can sorta kinda sense some bubble gum and soda pop, sweet and fleeting, and that's about it. About par for a 40% column still rum, to be honest.
The palate sinks the rum further.  Oh, it's so bad, so weak, so thin, so forgettable. All the notes from the nose prance and clump around with cement overshoes and no balance – chocolate, coffee, nougat, caramel, molasses and some raisins, and after a few hours (here's where I started to reach out in desperation) some kiwi fruit and papayas. It's a near neutral, all-neutered spirit, and whether they aged it or not is irrelevant, really – it's just plain boring. As for the finish, well, it's finished.  It's so faint as to be nonexistent, and I'm at a loss to tell you what it is I just had.  
There's something going on here under the hood – I think.  It's really a question of whether you're sensitive enough to spot it and then, if you scale that hurdle, can identify what it is you got, 'cause this sucker isn't giving up anything easy.  You'll strain long and hard to make this rum wannabe surrender its unexceptional secrets, and frankly, I don't think it has much to give up in the first place (except maybe a dash of alcohol into a cheap punch). Even if you're on a budget, you can find better for the same price, and as for me, if I was in a bar this was all they had, I'd pay 'em to make me not drink it.
(#682)(72/100)
---
Other notes
On

proof66, in a 2018 comment

, it notes that "All Ron Carlos Rums now are being made in Puerto Rico by Club Caribe Distllers and bottled in Florida." The poster opined that they're better now than they were, and give Bacardi a run for its money.  I chose to doubt that. 

As a point of interest, FCD controls the Caribe Distillery. Their primary market for rums is cruise lines, duty free shops, bulk sales elsewhere and contract rum creation (like Scheer does), alongside many other distilled spirits and brands.

Given the absence of current references to the Black rum reviewed here, it's possible that it morphed into the "Dark" and was further rebranded into the "Gold", but evidence is somewhat lacking. I still have not been able to ascertain whether it's been aged, but from the profile, I would suggest maybe one or two years.

Neutral alcohol, neutral spirits spirits, or rectified spirits, are generally  considered to be alcohol at 95% ABV or greater.