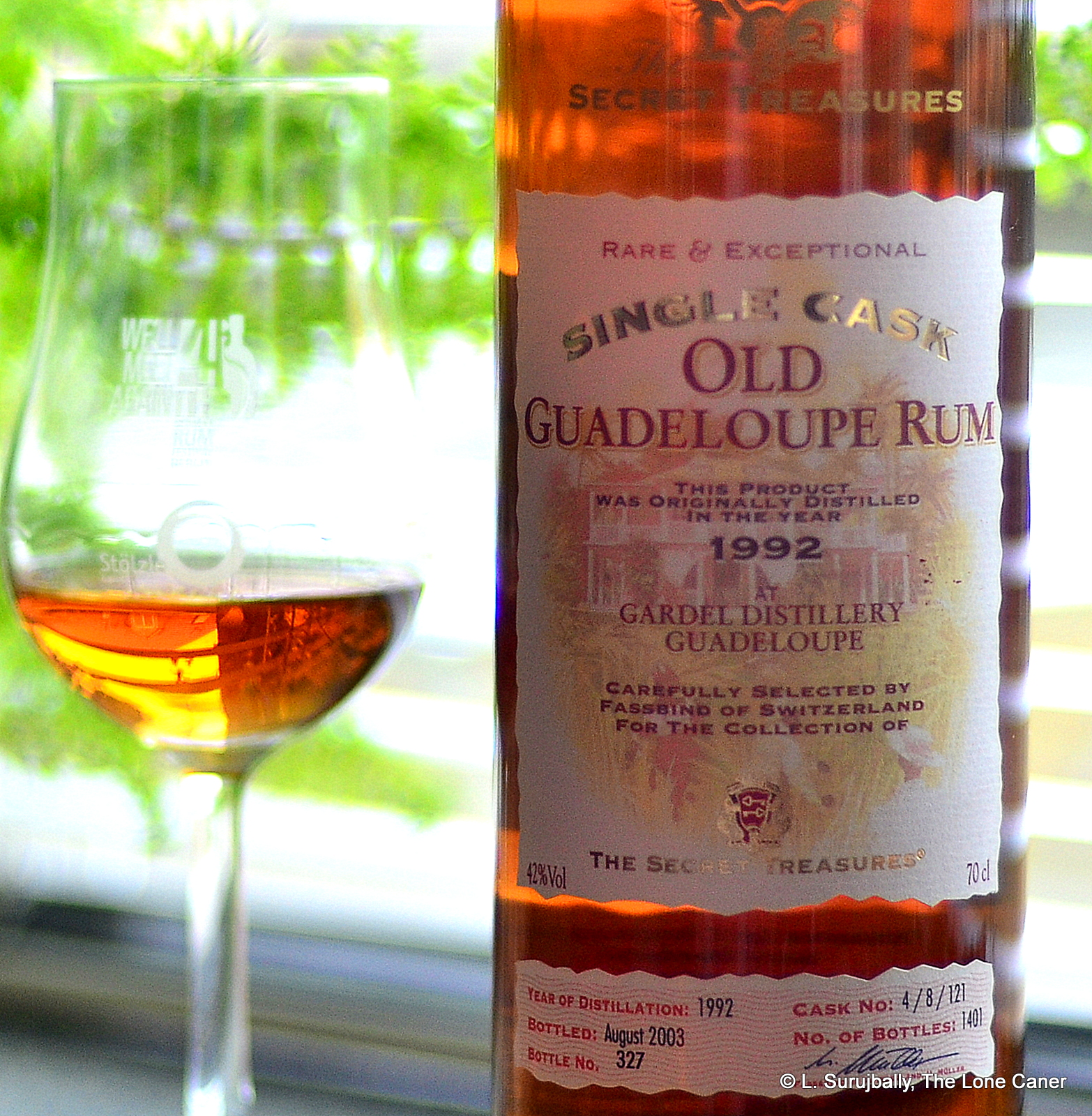 #380

The independent bottler Secret Treasures is no longer the same company it started out as, and this particular and delectable Guadeloupe rum was selected by the Swiss concern Fassbind before they sold off the brand to Haromex in 2005.  So although Haromex is now making a new line of rums under the ST label (like the St Lucia Vendome and John Dore still rums I've looked at before), this rhum predates them and is part of the original line up.  
Guadeloupe is, of course, somewhat general a term so let me expand on that by saying the rhum originates from the Gardel Distillerie located in the north-east of Grand Terre in the commune of Le Moule.  Gardel, owned by Générale Sucrière, a major player in the global sugar refining industry, is one of two distilleries in Le Moule (the other is Damoiseau) and earns some of its distinction by being the sole sugar refinery on the main island.  I don't think Gardel makes any rhums of its own but sell rum stock to brokers and others – however, there is maddeningly little information available except this one: Gardel ceased distillation in 1992, so this rhum is among the last that actually derived from its column stills. Afterwards it is conjectured Damoiseau used the "Gardel" title for some 1998 rums, like Renegade's.

Some basic facts on the rhum then, just to set the scene: it was from the Gardel distillery, distilled 1992 and bottled August 2003 from three casks which provided 1,401 bottles (this was #327).  It was issued at a relatively unadventurous 42% which would have been fairly standard at that time, and one can only wonder what it has been doing for the last fourteen years and why nobody ever bought the thing.  Since I had and retain a sneaking appreciation for Secret Treasures ever since I had their excellent Enmore 1989, there were no battles with my conscience to buy a few more from their range.  Note that it is labelled as a "rum" (not rhum) and I have no absolute confirmation whether it was truly cane-juice derived, or where exactly it was aged (the now-defunct Reference-rhum, that online French-language encyclopedia of rum brands, says "molasses" with a question mark under its entry, while the 2021 entry for it under RumX says "molasses" with no evidence of doubt).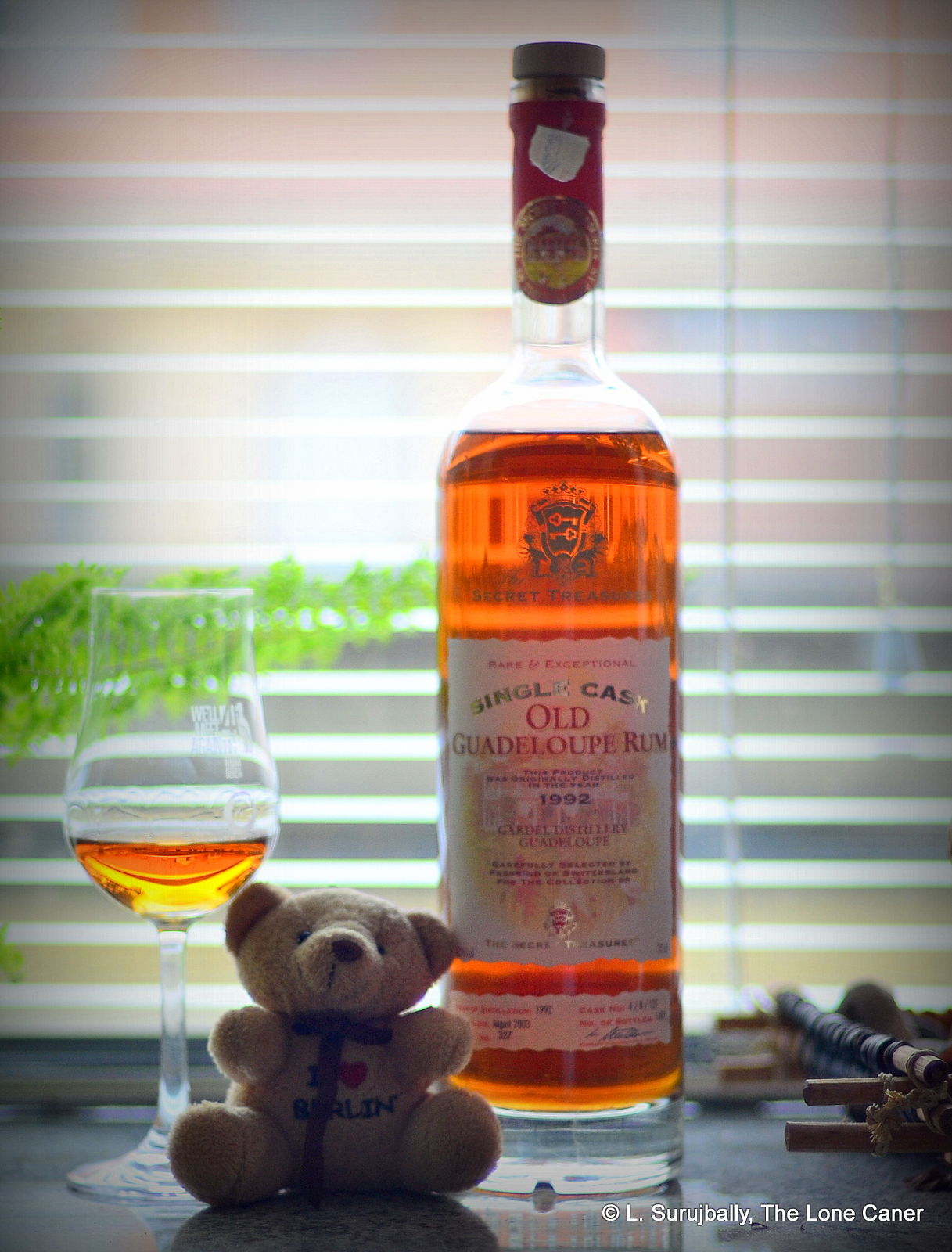 In any event, whatever its ultimate source or point of ageing, I thought it was a zippy and sprightly rhum of initially crisp clarity and cleanliness.  Coloured orange-amber, it nosed in surprisingly bright and clear fashion, immediately giving up aromas of honey, flowers and 7-Up (seriously!); over a period of minutes a more solid briny background emerged, accompanied by perfectly ripe fleshy fruits – peaches, apricots, sultanas and raspberries.  Not particularly fierce or savage – it was too laid back and standard strength for that – but a very enjoyable nosing experience, the sort of easy going yet sufficiently assertive profile to have one curiously going deeper into it just to see where the rabbit hole led.

Aside from a certain lightness to the profile, the palate provided a soft series of tastes, which were fruity, floral, musky and delicate all at the same time.  It was hard to know what to make of it – initially there were flowers, fudge, salty caramel, coconut, and vanilla, counterpointed with lemon zest, green apples, grapes and peaches.  After a while additional flavours evolved: maple syrup, aromatic tobacco and vague coffee.  Some of the crispness of the nose faded into the background here, and overall it did not present the sort of complexity that would advance it to the top shelf, but it was distinct enough to grab the attention, and at the very least it was intriguing, and for sure quite pleasant to drink.  Perhaps the finish was the weakest part, being short and easy and light, mostly reminding one of caramel, light fruits, and raisins, which goes some way to making me wondering whether it was a true cane juice distillate (it lacked the distinctive herbal grassiness of such a product), or from molasses.  One thing was clear though – it was nicely made, and wore its middle age well, without any kind of raw edge or jagged sharpness that distinguishes extremely young bottom-tier rums.

So: trying this clean and playful Guadeloupe rhum in tandem with the L'Esprit Bellevue 58% 8-year-old and the Longueteau 6-year-old VSOP, I felt the last two rhums were remarkably similar, though I liked the soft honey and maple-syrup notes of the Secret Treasures just a little more, and the L'Esprit better than both, which just goes to show that ageing isn't everything, especially in the world of agricoles (remember the spectacular Chantal Comte 1980?).  Be that as it may, there's nothing at all bad about the ST Gardel 1992 rhum, and in fact it makes me really interested to try the 1989 variation, just to see how it stacks up. These days Fassbind is long gone from the scene and Haromex is making changes to the labels and the line up – but for those of you who come across some of the original bottler's expressions dating back from the eighties and nineties, you could do a lot worse than pick one of them up, if for no reason than the pure and simple enjoyment of a well-aged rhum, well made, almost forgotten, and tasting just fine.

(84.5/100)

---
Other notes:

The Gardel plant, also known as Sainte-Marie, is the only sugar plant which still operating in Guadeloupe. It was founded in 1870 and its first owner was Benjamin François Benony Saint-Alarey, who chose to pay homage to his paternal grandmother in his naming of the factory. In 1994, the sugar sector in Guadeloupe underwent major restructuring, leading to the closure of all sugar factories on the island except Gardel which is currently composed of an agricultural part with a 1000 hectares and an industrial area. It produces nearly 100,000 tons of sugar per year. Information about the distillery is much more scant, unfortunately, though there's a note by Ed Hamilton on the original Ministry of Rum forum, that it was closed by 1994…and the label for Renegade Guadeloupe 1998 mentions both a column still, and 1992 as the last date of any distillation.