A rum that comes together in unexpected but ultimately satisfying ways
#331
Finishing remains a hit or miss proposition for rum makers. Rum Nation's finished Demeraras are pretty good, El Dorado's 15 year old expressions in various wine finishes kinda work (in spite of the sugar adulteration), while neither the Legendario's muscatel reek or the Pyrat's orange liqueur nonsense ever appealed to me (and never will).  So what's there to say about the port finished 2005 issued by Foursquare as part of their "Exceptional" series?
A few good things, a few not-so-good ones.  FourSquare is far too professional, too competent and too long-lived an outfit to make a really bad rum, though of course they do make some rums to which I'm personally indifferent.  Here the good stuff lies in the preparation and core stats, the less than good comes from the proof and a bit of what comes out the other end. But all that aside, I believe it's a waypoint to the future of FourSquare, when taken in conjunction with the Zinfadel finished 11 Year Old (43%), the 2004 Cask Strength (59%), and the 2013 Habitation Velier collaboration (64%).
The stats as known – column and pot still rum, nine years old, distilled at FourSquare in 2005, bottled in June 2014, having spent three years in bourbon casks, and then another six in port casks, some caramel added for colouring, with an outturn of around 12,000 bottles, issued at 40%.  One wonders how ⅔ of total ageing time in port barrels can possibly be interpreted as a "finish" of any kind, because for my money it's a double-aged rum, something akin to the Dos Maderas 5+3 or 5+5 rums – but all right, maybe it's merely an issue of terminology and I'm not a total pedant in these matters, so let's move on.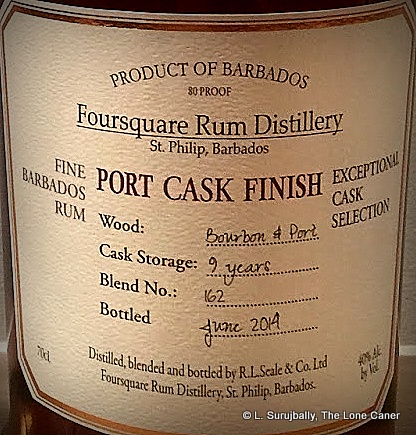 Starting out, the smell suggested that it was made at right angles to, and amped up from, the more traditional FourSquare rums like Rum 66, the R.L. Seale's 10 Year old or even the Doorley's. To my mind it was a lot of things that those weren't, perhaps due to the unconventional (for FourSquare) ageing and cask regimen – everything here was more distinct, clearer, and a cut or two above those old stalwarts.  Initially there were some faint rubber and acetone notes, after which the fruit basket was tossed into the vat – black grapes, citrus zest (orange or tangerines, not lemon), prunes, plums, vanilla, toffee and a dusting of earthy grassiness, cinnamon and maybe nutmeg.  Not as forceful as a cask strength monster, no, yet pleasant to experience.
Most drinkers take their spirits at living room strength and won't find any fault with 40% but for me the decision to bottle such an interesting rum at that ABV suggests a lack of confidence in whether to take the plunge by stepping over the full proof cliff, or continue with tried and true profiles, tweaking just a bit to sniff out the market reaction. The downside to that decision is that some of the awesome promise of the nose was lost.  The smorgasbord of the fruit remained, dialled down, delivering prunes, dark ripe cherries, plus bananas, coconut shavings, nuts, brine, and the deep sugar cane aromas from fields that have just been burnt, all in well controlled balance and warming the tongue without assaulting it, leading to a quiet, short finish that lingered without presenting anything new.  So – good…but still underwhelming.
What is perhaps surprising is that the rum works as well as it does at all – 6 years in port casks would normally be excessive since it's less a finishing than an entire profile switcheroo – WhiskyFun, tongue in cheek as always, remarked it might better be called a bourbon start than a port finish. In fine, it all comes together well, and it is a lovely rum, which is why the encomiums roll in from all points of the compass.  But since I know FourSquare has more up its sleeves than just its arms, I also know they can do better…and in the years between this rum's issue and now, they have.
The 2005 is therefore not a rum I have problems recommending (especially for its very affordable price point). I simply posit that it's a scout to the beachhead, a precursor, an exercise in the craft, not the ultimate expression — and scoring it to the stratosphere as many have done, is giving consumers the impression that it's the best buy possible….which it isn't.  
Because, like its zinfadel cask finished brother, what this rum really is, is the rum equivalent of John the Baptist, not trying to garner any of the laurels for itself, just waiting and preparing the way for the extraordinary rum that was yet to come. 
In August 2016, it did, and that'll be the subject of my last review for 2016.
(82/100)
---
Other notes
In 2020, I named the entire Exceptional Cask Series as "one" of The Key Rums of the World.

I let my glass rest overnight, and it developed a milky, cloudy residue after several hours.  Maybe it was not filtered?  I'd like to know if anyone else had a similar experience with theirs.