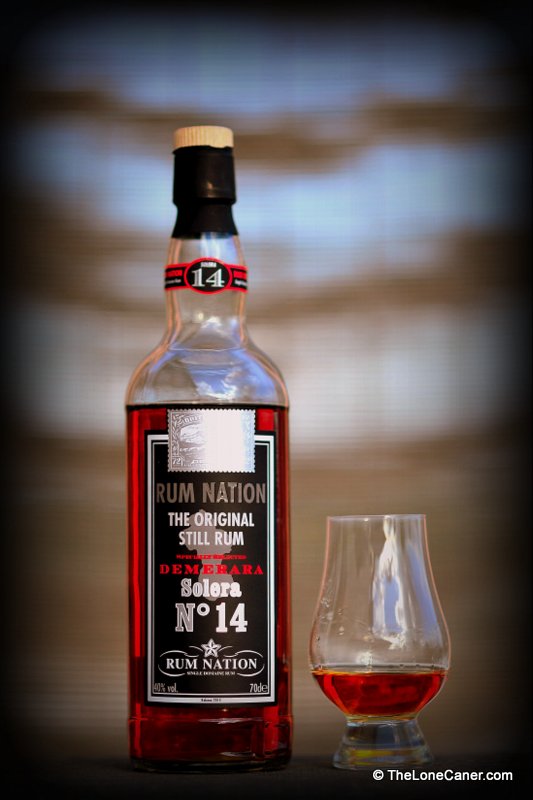 A Demerara rum that may not be a true solera in spite of its name. Lovely, affordable, interesting rum.
(#172. 84.5/100)
 ***
With this review, I have finally, after nearly two years of getting around to it, come to the end of the Rum Nation 2010 line of rums I bought all in one fell swoop, after being introduced to the series at Kensington Wine Market's Raucous Rums tasting back in 2011. Since that time I have become quite a fanboy of Fabio Rossi's products, and wish I could get more of his yearly releases: largely because I have not tasted a single one that was anything less than impressive (if occasionally different), and this one is no exception.
Bottled at a standard 40%, housed in a barroom bottle and surmounted by a plastic capped cork, the first impression as I nosed it was actually that it reminded me a lot of the El Dorado 21 year old: smoke, rich dried dark fruit (dates, raisins, prunes and black grapes), some oak sap and some burnt sugar and cinnamon, all warm and pleasantly put together. As soon as I noticed the similarity, I hustled downstairs to retrieve my 21 year old. That one proved to be subtly richer, deeper and more complex, as well as a shade drier, but the similarities were quite striking.
The congruence of the two rums' profiles continued on a tasting. I could taste the relative youth of the No. 14 rum – it lacked something of the supple depth and mastery of the 21 which derived from its ageing. And while it was a solid medium-bodied dark rum of warmth and not fire, it evinced its own character quite handsomely too – the aforementioned flavours of toffee, butterscotch and caramel, prunes and grapes, intertwined with a faint citrus, licorice and baking spices, some woodiness…and an odd, light dancing note threading through the back end, some kind of cashew fruit (not the nut) and (you may not take this seriously) the fire of vinegar soaked red peppers, barely perceptible. In point of fact, it reminded me a lot of more traditional navy rums, like Pusser's, or even a much improved-upon Lamb's. The finish was medium long, just a shade dry, and quite clean on the exit, with soft heated velvet caramel and licorice notes to end things off.
So, an ED21 it's not, though quite good in its own way; it expresses its own differences well, being both original and tasty, a rum which will not piss you off by going wholeheartedly off into its own domain, just sideways enough for you to appreciate it on its own merits. Think of it as a good accompaniment to the El Dorados (12, 15 or 21) without actually being one…each one enhances the others.
If I had an issue at all with the rum it was in the labelling. Rum Nation bought a few barrels of blended bulk Demerara rum from DDL, which contained Port Morant (PM) and Versailles (SV) rums aged around four to six years. The barrels were taken to Italy and transferred into sherry (PX and Oloroso) butts for just over a year of further ageing, after which a few litres of 1997 Enmore rum was added (that comes from the famed Enmore wooden continuous Coffey still now housed at Diamond estate). That final blend was what I was sampling, and therefore for a true age statement based on the youngest portion of the rum, I guess it's best regarded as a five year old. The question is whether that process of blending constitutes a solera system…in this case I'd suggest not. This doesn't make the rum any less than what it is, but for those who really prefer a solera and want that sweeter, slightly thicker profile, the implication of the label may cause concern.
Rum Nation regards this rum as something of an entry level product, much as they did the Barbados 2001 10 year old. Based on the price, that is all well and good, I suppose. But you know, I enjoyed the rum, think it is a good blend of the Guyanese rums that constitute its core DNA, and for what it cost, it's a pleasant, impressive sipping-quality rum that I drank quite a lot of and would highly recommend for those on a budget who like darker fare. It may be 40%, it may not be a true solera, and it may just be $50, but if you like navy rums in general and Demerara rums in particular, you wouldn't be out to lunch by springing for this lovely dark product.
Other Notes
The No 14 moniker in the name is meant to state that the oldest rum in the blend is 14 years old.
The "Solera" title on the label will be omitted from future iterations