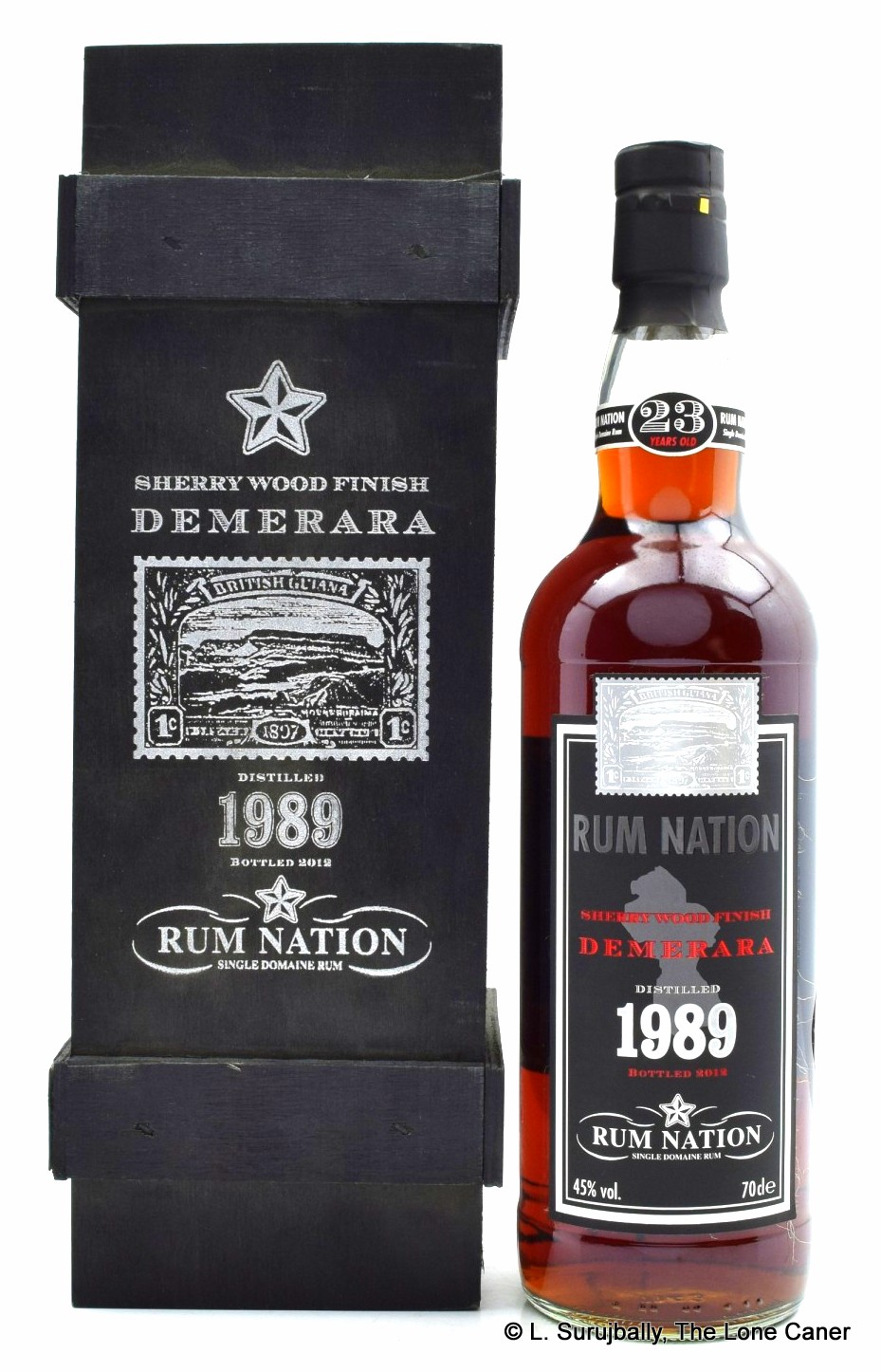 Desert island quality, a hardcore, tasty, subliminal man's rum of rums. I'd ditch the mermaid for this one, no problem.
Rum Nation have done it again, upping the ante on the already brilliant Demerara 1985-2008 23 year old which I so admired before, and issuing a 2012 edition which is something like, oh, the Bugatti Veyron being overtaken by the Bugatti Veyron Super Sport…just not as expensive. And look: they upped it to 45%, which regular readers would know is the area around which I am becoming convinced lurks the best proof point of top end rums.
With a rum about which so many good things can be said, where do I even begin? Let's start with the presentation. No changes were made to the wooden box and jute sacking of the 1985 I bought two years ago, and a decent plastic tipped cork surmounted the standard barroom shaped bottle, which decanted a dark amber, almost ruby-red liquid lazily into my glass. Thick, slow, dark, lazy legs promising depth and flavour rolled serenely down the sides.
No real bronco-bustin' Alberta cowboy would ever be enthused about the initial scents arising from a glass of this: white chocolate and estery-floral harmonies, buttery toffee, and a lovely kind of chewy creaminess, all preceded by that characteristic feinty and rubbery note that would make the unwary swear off rums forever. But before the sniffing extravaganza was over, those scents, good as they were, transmuted into a sort of musty driness, almost like the well-oiled leather of an orderly tack room just off the stable, through which golden seams of early morning sunlight spear the motes of dust hanging in the air. It's at this point you can almost see the rancher coming back for a second look (maybe to see if he dropped a Trojan).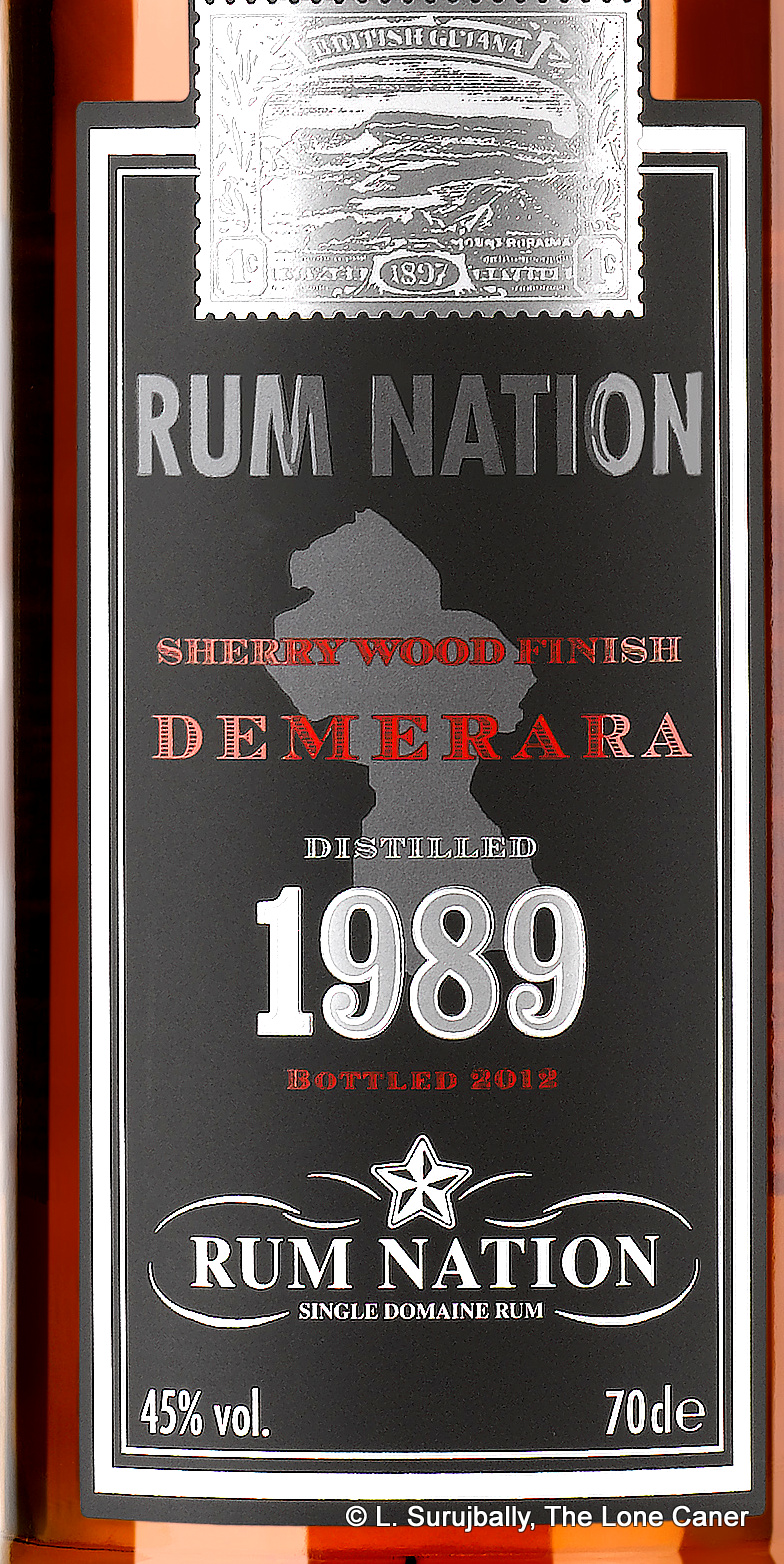 The taste on the palate was stunning – I tried it side by side with the 1985, and it equalled, nay, superceded it, with a rich, thick body of a rodeo horse that wants to bite you married to deep dark notes of caramel, dried christmas cake fruits and toffee, some spices I could not quite classify (licorice, maybe black tea, I thought), all enveloped in the working-stiff background of fresh smoke and sweat-soaked, well-used, well-cared-for old leather. And at 45% it had just enough power – and just enough sweet – to it to balance out these various competing flavours, ending with a medium long finish redolent of cafe-au-lait, chocolate, faint dust and smoke. You could put a stetson on this rum and let 'er rip: no hard-riding, hard-working cowpoke would be ashamed of slugging back a neat glass of this baby after a tough day, trust me. Even before he had a bath. This rum is all man…hairy chested, smelly, and reeking of burnt motor-oil goodness. Drink a shot or five before heading to the nearest beer garden for fries and a fight.
The 23 year old has a real fruitiness to it, and originally I suspected that it came from the same high ester still with which DDL makes the Pyrat's XO and Cask 23 stocks. Rum Nation informed me that no, this was sourced from the Port Mourant double pot still, aged for about a year in Guyana, another two in the UK, three years in an oloroso sherry butt (aha!!) in Bristol, and the remainder (same butt) in Piedmont, ending up in 947 bottles. Consider the difference this ageing made when compared to the Pyrat's: none of that over-candied orange liqueurishness; none of that syrupy consistency of a well put together cough medicine. Just a smooth, dark melange of complex flavours and luscious mouthfeel, a palate and a finish that, I dunno, exceeds even the loveliness of the 1985 23 year old. How does Fabio do it? Can't say, but I sure hope he doesn't stop anytime soon.
So: superb; stunning; superlative. Yes, I know I'm a Rum Nation fanboy, but the thing is, the rums they make are good. Some people complain about rums getting too expensive and boast about restricting themselves to the excellent younger products that hit their self-proclaimed sweet spot of price and quality. Guys, you're welcome. You're probably even correct (partly, anyway). But don't ever try to convince me that every now and then, when a slightly more pricey rum comes sashaying smoothly through the door and you taste it, and you realize that here is the babe you've been waiting for and its quality is so good you're just left gaping…don't ever try to convince me you won't (a) love it and (b) buy it. Maybe even twice. Because if you love rums (as I do), you simply should not ignore a piece of artistry like this, or leave it alone on the shelf…and if you do, it's my firm belief that you'll never forgive yourself when it's gone.
(#136. 90/100)
---
Note: Publicity photographs courtesy of Rum Nation
---
Other Notes
Fabio Rossi bought three ex-bourbon casks of this rum from a vendor in the UK in 2002 – all bore the PM designation, i.e., Port Mourant. These were transferred into a sherry butt (Oloroso N. 61) in 2004 and were left to age in an underground cellar in Bristol, England. This cellar was unfortunately closed in 2007, and the rum was brought to the Piedmont area of Italy where was aged until 2012 when it was bottled (in Italy). Since it's unclear what the vendor had done in the UK prior to purchase, we must err on the side of caution and assume that it was all – or at least mostly – aged in Europe.