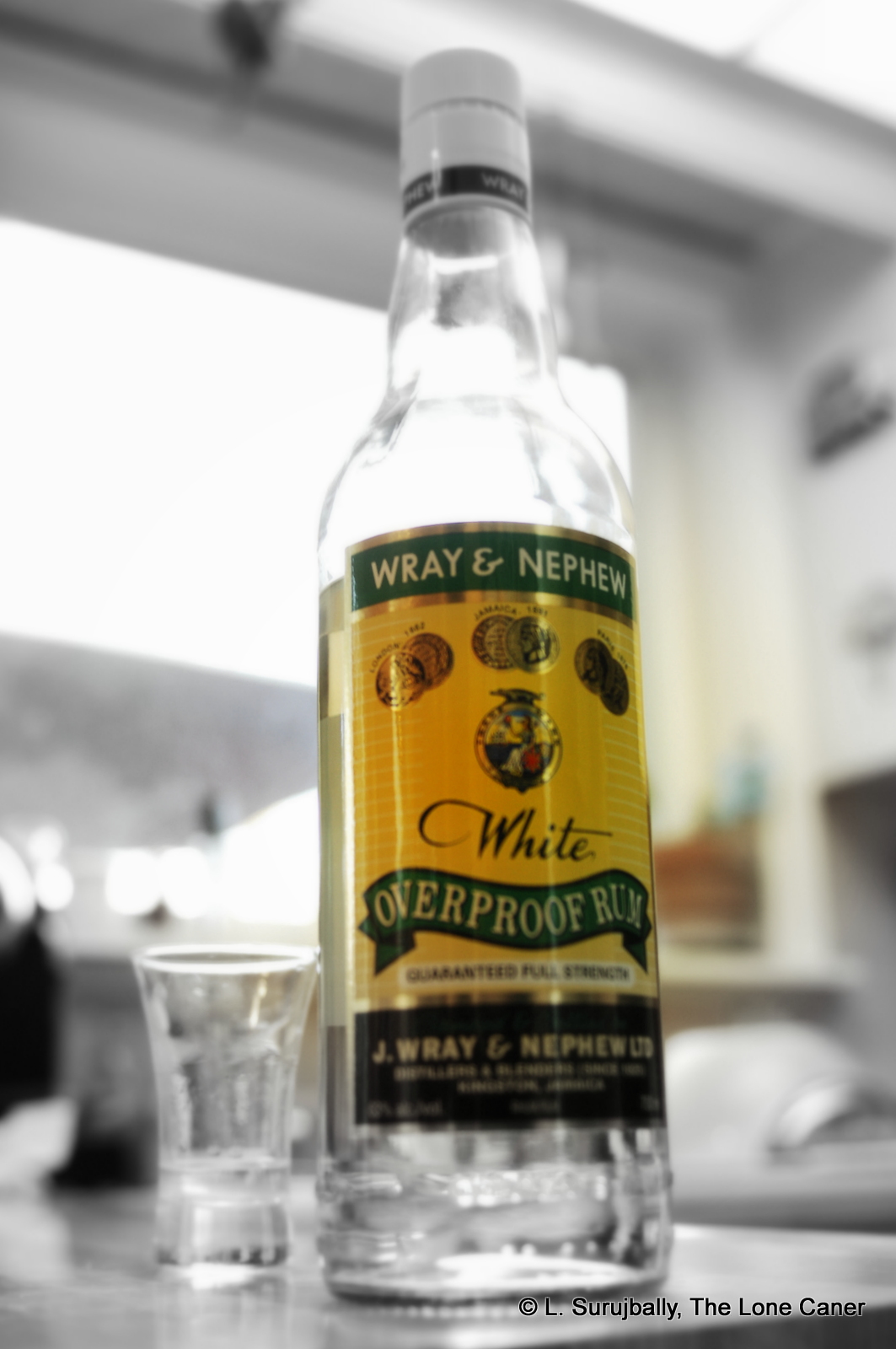 First posted 01 November, 2010 on Liquorature
Raw white overproof, fun to drink mix or celebrate with…as the Jamaicans have long since known.
To be honest, I'm not entirely clear why people – aside from binge drinkers, students and serial alcoholics, whose motives are clearer — bother to drink white overproofs straight on a regular basis.  The taste is simply too raw for real appreciation, in my opinion (though I have had several "full proof" rums which avoid this sharp stiletto to the palate, so it's by no means a hard and fast rule).  But I suppose they're like those long distance runners who believe that twenty six miles is for sissies, and run ultra marathons instead. Tail end of the bell curve, or something like that. Or maybe they got used to in their youth in an old-country beer garden, or some trading post-cum-rumshop in the backdam; or believe it makes them more macho; gets them high faster; mixes better.  Who the hell knows? If it's one thing I've discovered in writing these reviews, is that there is as wide a variety of tastes as there are rums, and what is derided by one may be equally praised (fulsomely so) by another.
Whatever the case, there is actually a pretty good market for overproof rums among drinkers: overproofs are supposedly for cocktail bases and cooking purposes, but that never stopped anyone I ever met, male or female: one of my most enduring memories of working (and boozing) in the bush is a young Amerindian girl, passed out dead drunk on the Baramita airstrip, a bottle of Brazilian 99% alcool clutched tight in her left hand, and I know men who simply pace themselves better with strong spirits than with weak ones.  That said, as I was researching and reading online readers' fora about Stroh 54 (and 80), Bacardi's 151 and the Clarke's Court Pure White, knowing what I knew about Guyanese "High Wine" and now writing about the J. Wray & Nephew White Overproof, it seems to me that some people simply prefer it. And that's perfectly proper.
The white I discuss here is bottled at a relatively mild 63%, which would make scotch drinkers quite happy, I suppose.  It is, as any rum aficionado can immediately tell you, manufactured by the Jamaican boys who make Appleton Estate rums: and while the Appletons are easily purchased the world over, I get the impression that this white lightning is not easily or commercially available outside the Caribbean – which is indeed where my Torontonian squaddie John had picked it up on one of his sojourns to the Islands.  It may be the single most popular rum in Jamaica, and mostly drunk mixed.
Therein lies the rub.  Drinking an overproof of any kind is not a matter of sipping it neat, or even on ice.  The J. Wray variant in this review is pretty strong, searing stuff without question: a massive, raw, ethanol delivery system that could knock a platoon out by breakfast time with one quick inhale.  At the inception the white has almost no taste: it's pretty flavourless beyond some kind of smoky, oil-fire kero tang coiling behind the nasty burn, which means that it'll take on the flavours of whatever you chose to mix into it. Sure you might get some hints of orange peel, licorice and a peppery kind of spiciness at the back end (nose?  what nose?), but truly, the only way to get any enjoyment at all out of something like this is to mix it, because all tastes are burned to a crisp by the spirit fire fairly fast (and in the distance I can hear the sneers of the Maltmonster as he delicately noses his favourite Ardbeg, neat).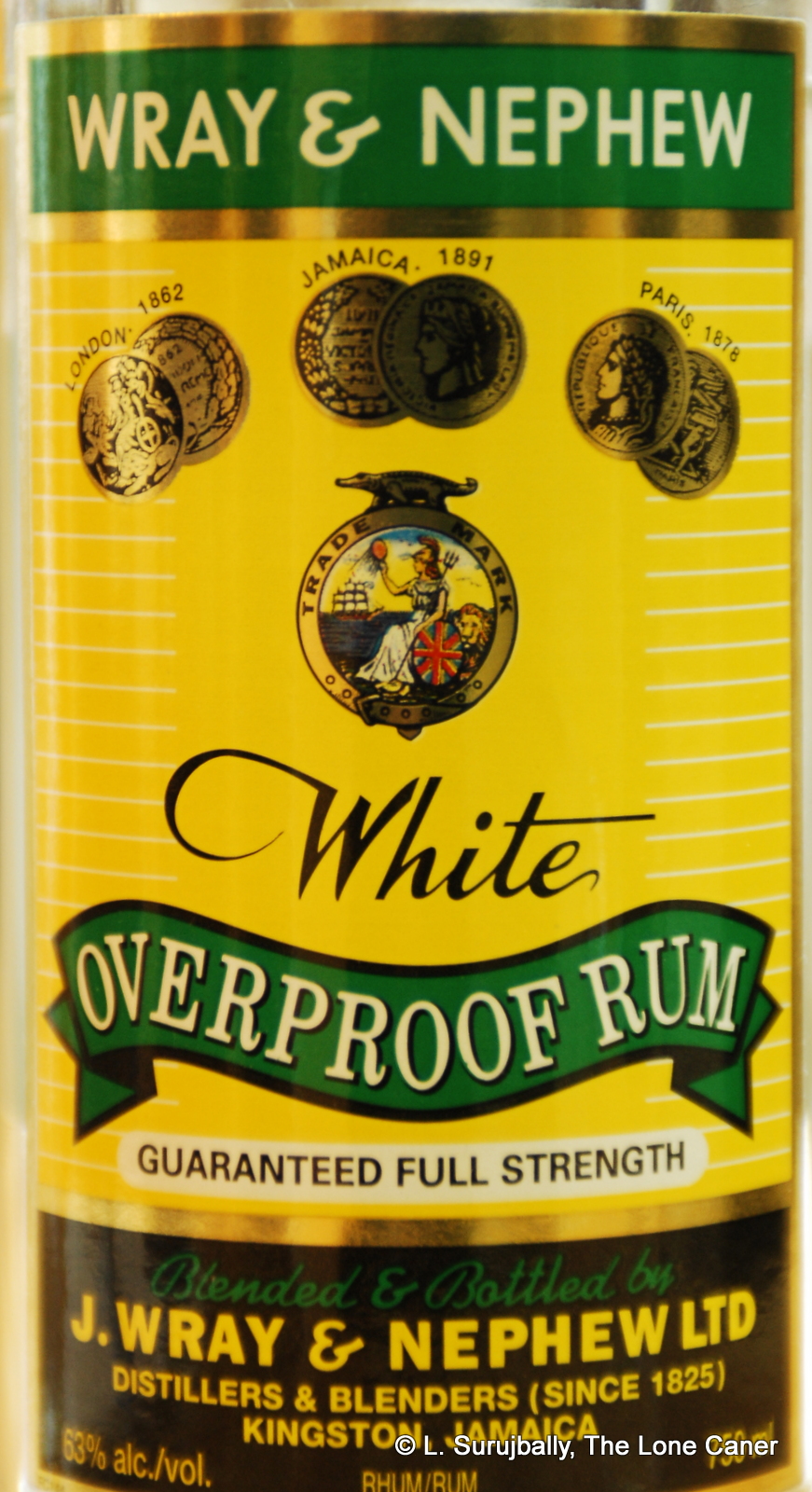 Do that and this transparent medium body rum fares rather well, I thought (not without a little surprise). It makes a mean bastard of a Cuba Libre, a deep and strong Mai Tai that kicks the crap out of you in labba time, and I can almost guarantee that there isn't a household of Jamaicans – expatriate or homeboys – who don't have a bottle of this stuff kicking around.  Like Guyanese with their XM five, it has all sorts of social connotations: crack a bottle and immediately you pour a capful on the ground to return some to those who aren't with you; have a housewarming, and grace the floor with a drop or two; touch of the rheumatiz? – rub dem joints with a shot; mek a pickney…put a dab 'pon he forehead if he sick; got a cold…tek a shot and rub a shot.  And so on.  Of course, it must be noted that all the usual safety advisories are in order as well, given the flammability of something this close to pure ethanol.
I have gained a sort of sneaking appreciation for overproofs, including this one, because while it lacks the subtlety of a more refined 40% variation (subtlety? don't make me laugh…the thing is like a charging brontosaurus on steroids at rutting time), it makes an intense, strong, powerfully tasting mix with whatever you decide to chase it. Try adding cola to a 40% low-ender and then to the White Overproof and try and tell me this one doesn't have more character, more taste, more…well, cojones. It absolutely is not afraid to charge the gates and get the hell off the reservation.  When you drink J. Wray's clear hooch, reader, there's no ifs, ands or buts — you know Elvis has left the building; and didn't just exit, he took off with rocket-powered, turbo-charged steel-toed boots. And a jet pack.
So if you believe that major rum producers have pussied out and are producing too many high end, over-sugared, liqueur-tasting sweet drinks (like spiced rums, underproofs or Pyrat's) for the masses of the unwashed and the hordes of the rabble (like myself); and if you think your chest lacks sufficient cylindrical, keratinous filaments; and that you are swinging a pair of weighty ones that should be addressed by a man's drink — well, then it's entirely possible that you are just waiting to buy a gallon or three of this popskull, made by one company that remembers its roots and continues to distil a real rum.
Always assuming, of course, that you do not already own some.
(#045)(Unscored)
---
Other Notes
Ten years down the road of the rum journey, I came around to seeing this rum more clearly and appreciating it more — and named it one of the Key Rums of the World