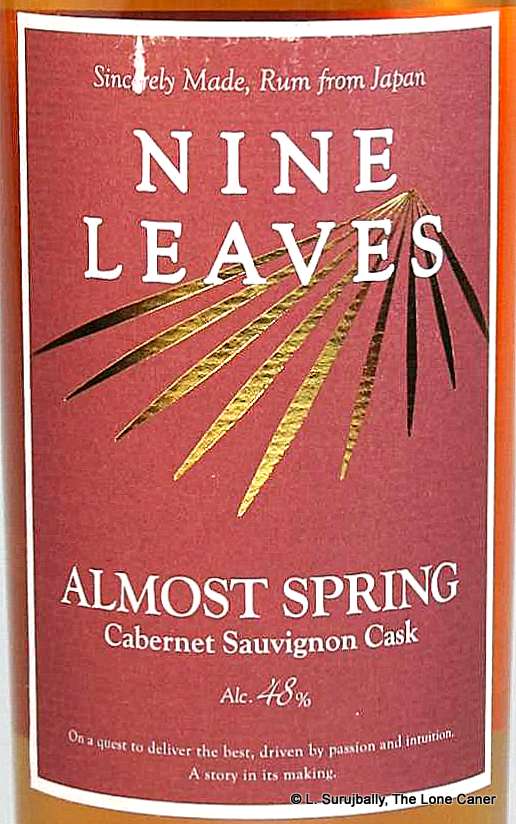 #366
Nine Leaves, for whose intriguing rums I have always retained a real fondness, remains a one man operation in Japan, and while I have not written much about them of late, they continue their regular six month release regimen without pause, and have become must-stop booths at the various festivals they exhibit at on the Circuit.  Every now and then they issue an expression somewhat at right angles to their regular "six-month-aged" line, such as the Velier 70th Anniversary edition from 2017, the two-year-old "Encrypted" from 2016 and this one-year-old from 2015, which was the commercial 48% variation of special 58% 60-bottle run for a Japanese hotel, aged in Cabernet Sauvignon wine casks instead of the regular American or French oak.
So, this is a pot still rum, aged for one year, bottled at 48%, and aged in red wine casks.  How active or soaked these casks were, or how much residual wine there was, remains an unanswered question.  The real question for me was, did it work?  Nine Leaves, after all, have made some rather above-average rums by bucking the trend and staying within some very short time-frames for their ageing, but now this one seemed to be inching towards the line that the Encrypted stepped over the following year.  How was it?
Well, nose first.  It moved on quite a bit from the 2015 Clear (which I enjoyed for other reasons). Though it began with some rather startling waxy paraffin aggressiveness, it was not as pungent as the Clear was, and seemed somewhat more tamed, more soothing.  In fact, it presented very much like a young agricole with a few extra aromas thrown in.  The winey notes were there, kept well in the background – more of an accent at this stage, than a bold and underlined statement – and the smell exhibited a sort of clear, sprightly friskiness, of fanta, grapes, cinnamon, ginger and light florals.
That clarity of aromas was very evident on the palate as well.  Even at the slightly beefed up strength it remained light and clear and crisp.  Flavours of light flowers, vanilla, green grapes, lemon zest and olives in brine mixed it up with salt butter and cream cheese. The wine background came forward here, and if it wasn't bottled at such a proof and had so many other interesting rummy sensations, it might even be considered a port of some kind.  It was quite intriguing and quite interesting, though the finish was a bit of a let down, being very spicy, quite dry, doing something of a turn towards harshness, and didn't give much up beyond some green grapes and grass, and a few breakfast spices.
Although it was a decent rum, I think it may be a bit too ambitious, and could best be considered an experimental attempt by the playful for the curious (and the knowledgeable), to make something at odds with better known profiles.  The real success stories of such rums seem to be more with finishes than the entire ageing cycle. To some extent it lacked focus, and the wine background, while making its own claim to uniqueness, also confuses — and although I kinda liked it, the amalgam of rum and wine doesn't gel entirely. If you recall, Legendario and Downslope Distilling went down this road before, much more unsuccessfully – it's a tough balancing act to get right, so kudos to Nine Leaves for doing as well as they have.  
Anyway, to wrap up, then– points for the effort, a few approving nods for originality, but ultimately also something of a headshake for not succeeding entirely.  Given that there has never been another major attempt to issue a wine-aged young rum from the company, it's possible that was and remains an experiment which was left alone after the initial release, which is a shame, really, because I would have enjoyed seeing where Yoshi-san took it after a few more tries.
(84/100)