Rumaniacs Review #043 | 0443
Leaving aside the independent bottlers, the agricolistas from Guadeloupe and Martinique seem to like producing a specific year's output with much more enthusiasm than most molasses based rum producers, who (until recently) preferred to release specific "recipe-style" blends that changed little from year to year.  There's something to say for both ideas – consistency of taste over time, versus the individualism of specific date points – which just supports my thesis that even in writing about a social spirit, larger philosophical issues about our world can be discussed using them as an example.
In this case, we're not moving too far away from the Bally 1993 written about in R-042, but the price has definitely gone up (to over three hundred bucks) – and that's even without knowing precisely how old the rums is, though I maintain that it, like its brother, is around 3-5 years old.
Colour – Amber
Strength – 45%
Nose – It's initially more hesitant in its profile than the 1993 (and the others), or perhaps just more focused.  Both a strength and weakness, methinks. Salty molasses and caramel notes, green grapes, segueing over time into something darker, deeper: chocolate, cereal, wet cardboard.  Some herbal, grassy notes, just not very clear. There's also a musky  tinge here, something like rain falling on very hot earth, and at the last, flowers, honey, biscuits. Actually reminded me of a miso soup.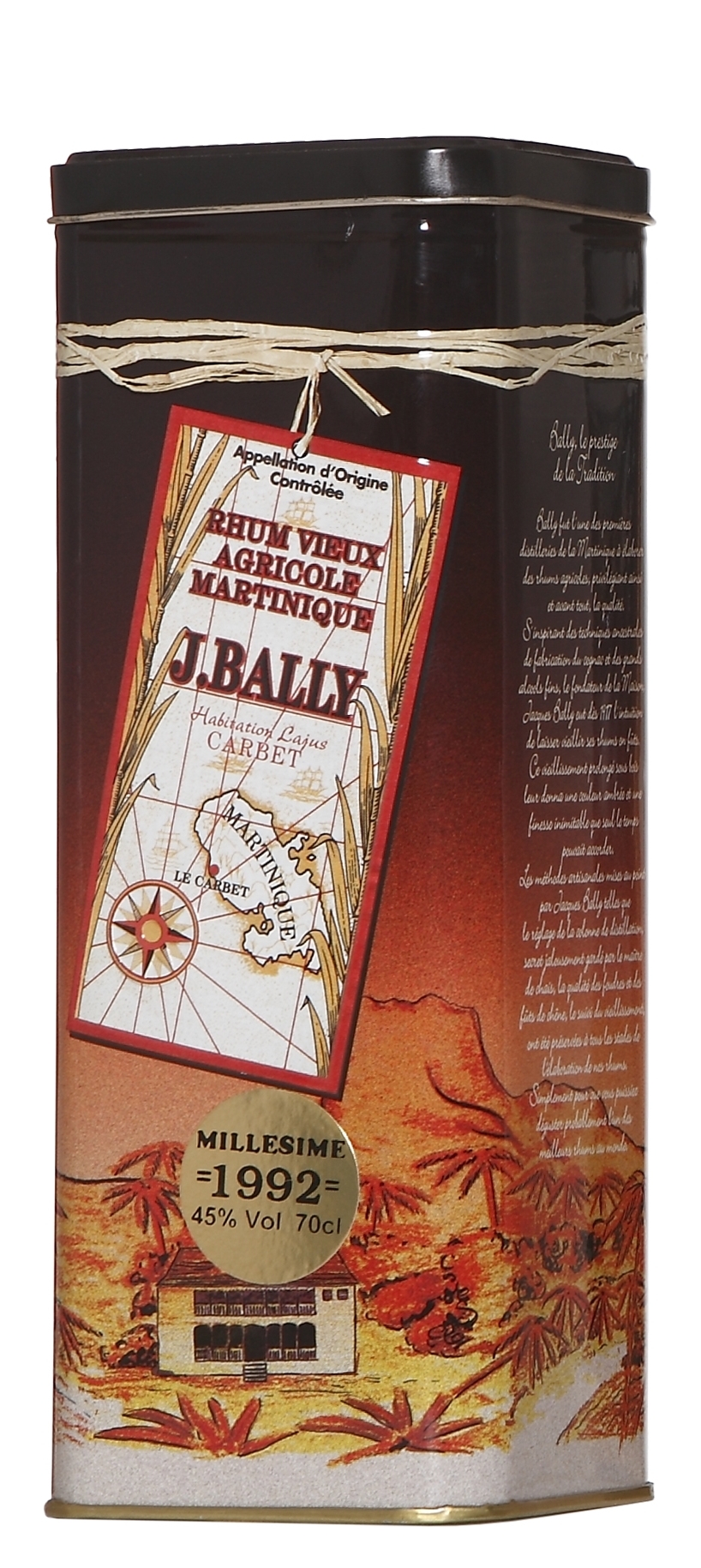 Palate – Crisper, saltier, cleaner.  Something of a right turn from the way it smelled.  Olives, guacamole, brakfast spices, and vegetables more so than the fruits (which came later).  The cardboard and attic-level stuffiness and wet earth make a return bow.  Some jams and citrus notes follow on but don't claim the high ground from the vegetals.  Not sure this entirely works for me.  It may just be a matter of taste.
Finish – Green grapes, cinnamon, brine, olives, avocados – it took time for the caramel and fleshy fruit to close things off.  A bit too much wood here, I thought, though anise – sensed more than experienced – was a good background.
Thoughts – More individual than the 1993, more oak, more vegetables, less fruits…somewhat less "rummy."  Bit of a schizo rum and didn't have that little something extra that I would have preferred – still, that's a personal opinion, and overall, it's still a good dram for something so young.
(83/100)
Some of the boys from the Rumaniacs have also taken a crack at this rum, and their reviews can be found in the usual spot.