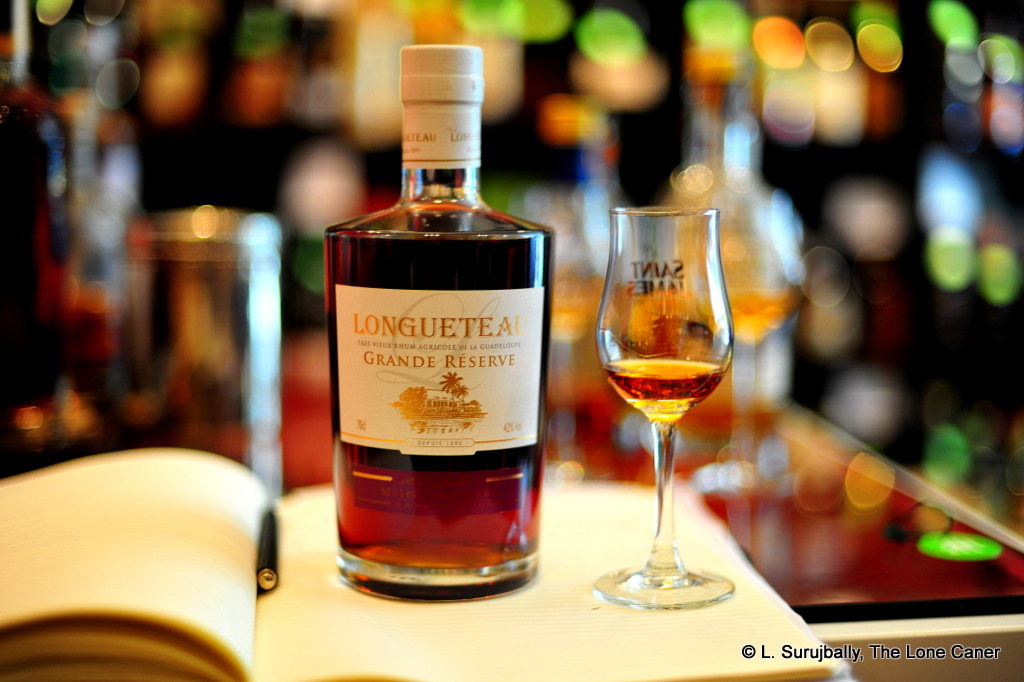 Strong beginning, fine development, chokes on the backstretch
(#277 / 85/100)
***
There are many things about agricoles that I slowly learned to appreciate: the clear profiles, the subtleties of their ageing, the differences and similarities with the molasses based rums that some almost indifferently dismiss as 'industrials.' So far I seem to be leaning more towards Guadeloupe rhums than those from Martinique, and while the Grande Reserve I sampled in Paris in April 2016 wasn't one of the shining stars of the firmament, it wasn't all that bad either and I had several hours to come to grips with it properly
Longueteau distillery has been around since the end of the 19th century, and is located in Domaine Espérance Belair, Sainte-Marie (on a SE corner of Basse-Terre) – it produces the Karukera and Longueteau lines.  Originally the whole estate was part of the the property of the Marquis de Sainte Marie, but the poor chap dedicated himself somewhat excessively to the pleasures of the nobility that came with his station – wine, women and gambling, all the expected high points — and was forced to sell out to Henri Longueteau in 1895 to cover his debts. The notary handling the sale, so local legend has it, passed it to Henri on trust, since that worthy didn't have enough money either, and that faith seems to have paid of handsomely. Four generations of the family have kept the estate going ever since.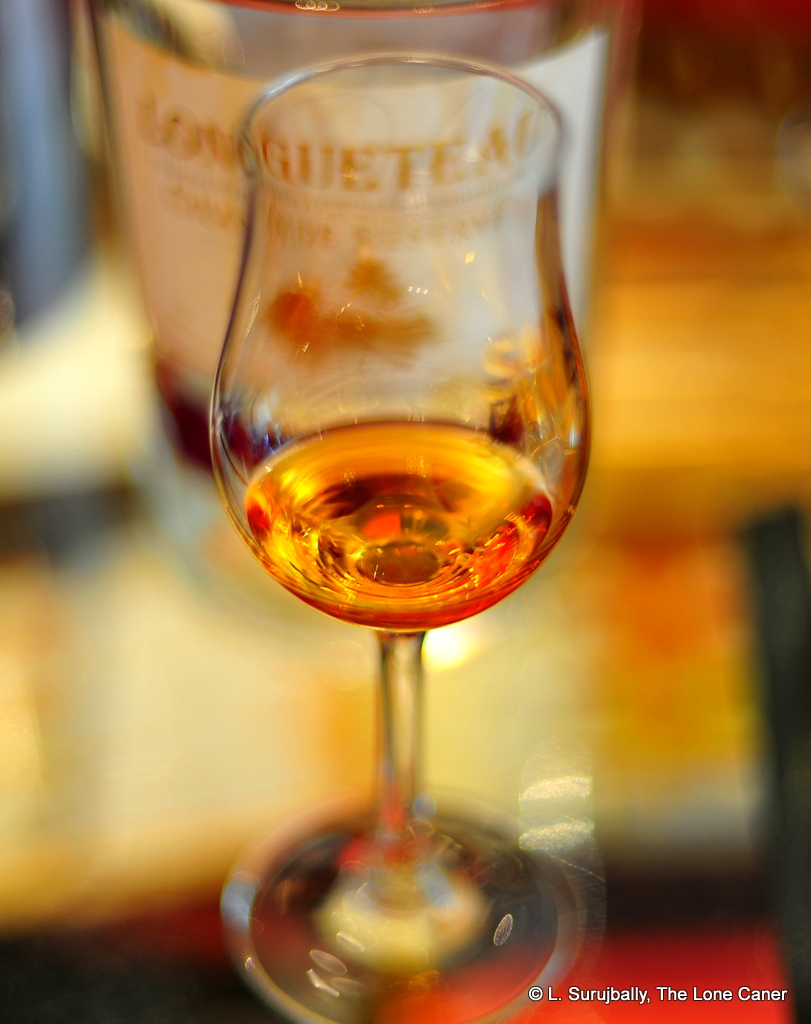 This dark orange-gold ten year old began well on the nose: phenols, acetone, caramel, sweet red licorice, wet cardboard, it gave a good impression of some pot still action going on here, even though it was a column still product. Then there was some fanta or coke — some kind of soda pop at any rate, which I thought odd. Then cherries and citrus zest notes, blooming slowly into black olives, coffee, nuttiness and light vanilla.  As a whole, the experience was somewhat easy due to its softness, but overall it was too well constructed for me to dismiss it out of hand as thin or weak.
That thin note of acetone and nail polish remover came and went as fast as a man through the window of his paramour's house  when the husband comes through the door.  Thick and almost full bodied, warm, welcoming, non-aggressive.  Herbal and grassy notes, much less prevalent than in a true agricole (or a white) and I got the impression, right or wrong, as I do with many Guadeloupe rums, that this was a molasses based rhum (which it isn't).  With water there was more fanta and soda pop, bubble gum, plums and prunes.  Certainly fruit, without the tartness of unripe mangies but something more subdued, like ripe black cherries and soft apricots, and some of that watery soggniess of watermelon just starting to go. But hey, I liked it, and to be able to pick out that much from a living room strength rum is no small achievement — maybe it was the cognac barrels in which it had been aged. The finish was more problematic – short, nutty, giving up hints of salty caramel.  The fruity notes were there but just, I dunno, evaporated.  Nice enough, just the weakest part of the whole experience, which was a shame after noting how well it all started.
So where does that leave me?  Feeling pretty good, all in all, because it is a very well assembled rhum, with few faults except a certain lack of heft, and the finish which seemed in a hurry to either get me to put the glass down, or to refill it.  It shared many points of kinship with another rhum I had that day, the Damoiseau 1989 20 Year Old (which was better).  Part of the issue might be the 42%.  Perhaps it was filtered, I don't know.  For your average Tom, Dick or Harrilall it would work pretty well, and I would recommend it to anyone who wants to start working his way around to the French islands' products, without hesitation.  It's a very good rhum for that — even if for me, it's not one to add to my pantheon of great rums.
Other notes
Distilled Mar 2004, bottled April 2014