Australia's sugar cane industry is concentrated in the east of the country, so it comes as no surprise that many of the small distilleries that make rum (one cannot firmly state they are always rum distilleries) are located in the states of Queensland, New South Wales and Victoria, usually near some kind of built up infrastructure, though sometimes on the outskirts of some small town or other. The small one-man distillery of Riverbourne is a bit more rural and remote (a relative term) in that there really isn't much between it and Canberra, the capital, which is an hour's drive away.
Riverbourne is another one of those craft distilleries that have sprung up in the last decade, and its founder and proprietor – Martin "The Kid" Pye – is the closest thing to a scientist I've seen in researching these little outfits. The man is a third generation pharmacist and has studied microbiology, biochemistry, chemistry and mathematics in his career, suggesting he possesses a medieval alchemist's mindset, and likes seeing how things work, how they're made, and what makes them tick. He founded his small operation in 2015 and took the time to learn from Redland's Distillery in Tasmania (one of the few completely "paddock-to-bottle" distilleries in the southern hemisphere, it is said), sourced a 900-liter steam jacketed copper pot still (named "Tilly") and set about making whiskies, which he occasionally named after various titles in the Ludlum universe.
Rums, alas, were and are not a major priority, yet the mere fact that there is a #8 at all implies seven prior ones – the first was released back in 2018 and has been joined by a spiced version and a gin. It's the dark sipping rum we're discussing today, and since the website makes little mention of the technical aspects, here are a few facts I've gleaned. The rum derives from food-grade molasses from Northern Rivers, pot-still distillate using Caribbean-sourced yeast for the 14-day fermentation, and is aged for three and a half years in and blended from an ex-French-oak red wine cask and an ex-bourbon cask. The outturn is of course quite small – 100 to 200 bottles, give or take.  Oh, and it's bottled at 48% which may be the distillers attempt not to scare off to many potential rum drinkers with some cask strength monster only a mother (or a rum dork) could love.
Within that rather sparse background we find a rum that has an intriguing profile…if a little uncoordinated. It starts off with a nose that channels brine, olives, flowers and a miscellaneous mishmash of fruits that is hard to separate. Pineapples, mangoes and a sweet habanero or two do stand out, yet overall, it is not particularly sweet. There's a peaty, grainy – a whiskey-like – aspect to this that is not normally something I care for, but here it actually works rather well.  Overripe bananas and orange peel, some burnt rubber of doughnuts made by overenthusiastic teenagers on their father's porsche, a bot of caramel, dates and butterscotch, and that's the nose for you.
My attempt to describe the oddity of the rum's initial palate will not resonate with – let alone appeal to – many, but I have to state that the first reaction I had was to mumble "salt soap?" to myself, because that's what an initial taste is like — the red soap which many of my generation and earlier used in Guyana to wash dutty bukta in a standpipe or down by the river (don't ask). Yet, once it calms down and breathes, the rum isn't bad at all: here the sweeter notes stand out more forcefully: butter-rich pastries, pancakes and syrup, dates.  Also fleshy and ripe fruits – cashews, red guavas, soft mangoes, and perhaps some apricots.  It's sweeter than the nose implies, and one senses the taste of licorice, wet sawdust and a sort of sour-sweet teriyaki without ever coming to grips with it. The finish is long and dry and warm, but adds little to the party – it doesn't actually provide much of anything except a lackluster recap of what came before, mashed together, dampened by a sweetness that hides subtler notes (though it is thankfully not cloying).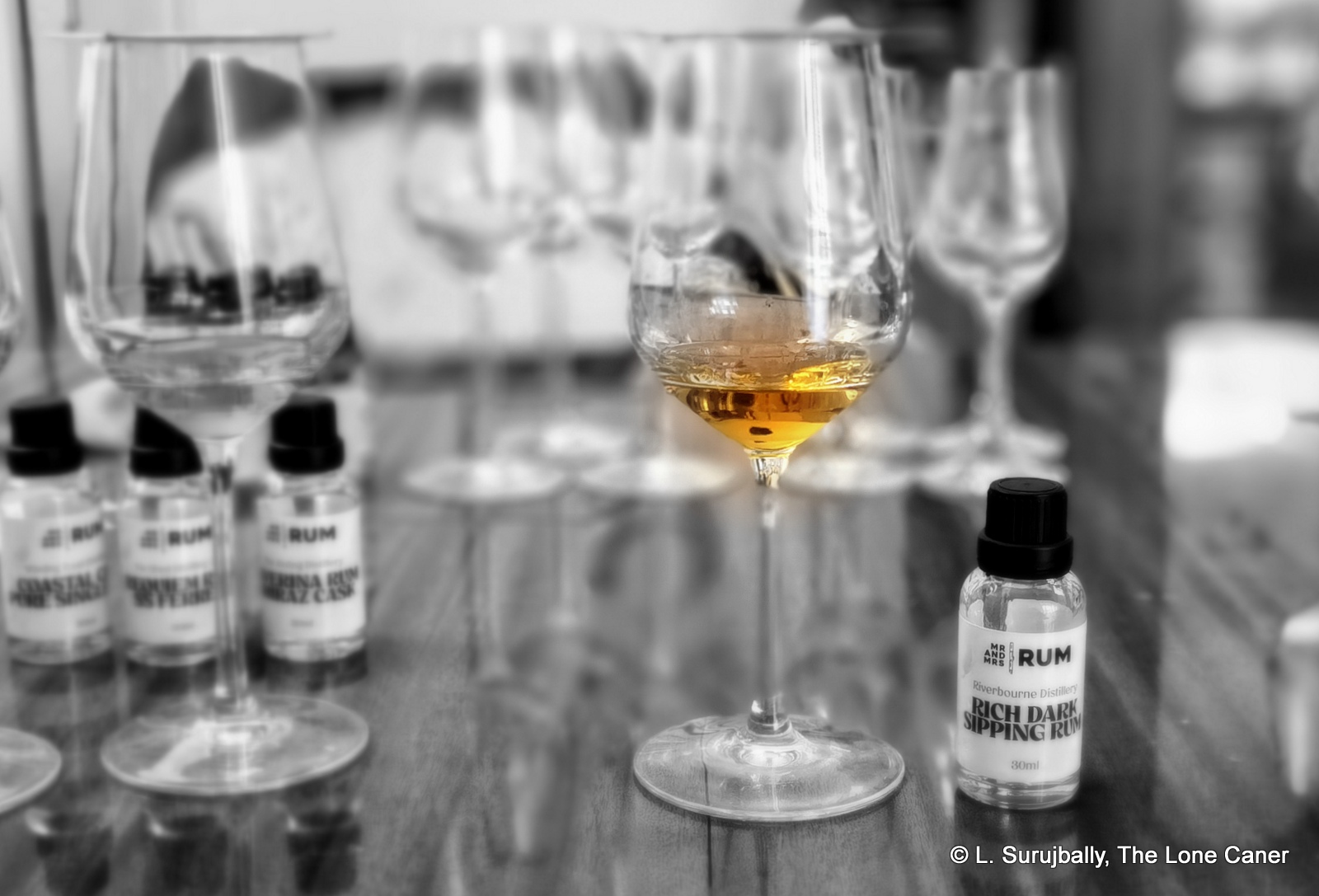 Riverbourne's love is clearly the whiskies, and they make no bones about that – rum and gin are therefore made to defray costs and round out the portfolio, not the results of dedicated rum nerdiness and rumlove that defines, say, Killik, Soltera, Husk or Winding Road. Within that restriction, however, they haven't done too badly with the Rich Dark Sipping Rum #8. Sure, the tastes are somewhat muddled, lack precision and it's hard to tease much out beyond generalities (e,g, "fruit" or "sweet" which is not very useful)…yet somehow, the No.8 kind of works.
Perhaps that's because it tastes like what it is, because it never pretends to be anything else: a rough and ready soldier's rum, one for the proles, the worker bees, the cubicle drones — one that is simply, strongly and unaffectedly made with a straightforward lack of frippery…Australia's own version of the El Dorado 5YO. maybe. I thought it was a nice and unprepossessing middle-ground product, the kind often overlooked in our current fascination with uber-aged Caribbean rums or overproofed white agricoles. Occasionally it takes one like this to remind us that there is a place for unpretentious blue collar rums that are competently made, enjoyably drunk and always in the backbar. This is one of those.
(#919)(81/100) ⭐⭐⭐½
---
Other Notes
As always, thanks to Mr & Mrs. Rum for the samples contained in their 2021 advent calendar, from which this rum originates.