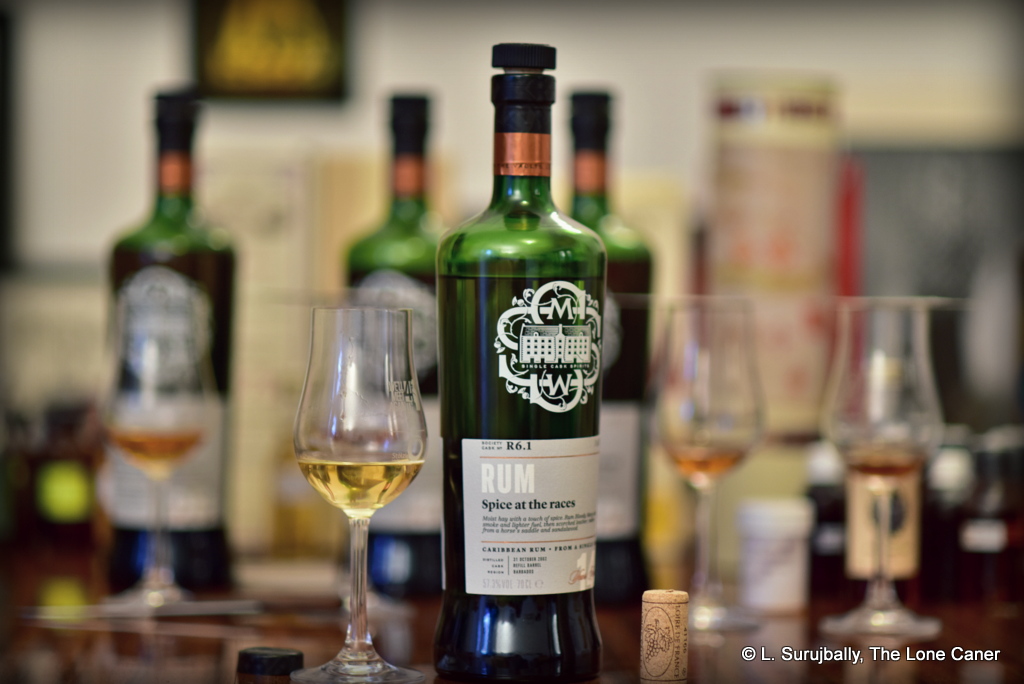 Back in 2013 when I wrote about the Scotch Malt Whisky Association's release R3.4 Barbados 2002 10YO "Makes You Strong Like  Lion", several people went on FB and passed the word around that it wasn't a Foursquare rum, which was hardly needed since I noted in the review that it was from WIRD, and the (mythical) Rockley Still. Four years later the SMWS did however, decide that the famed Barbados company shouldn't be left out and bottled an aged rum from Foursquare (the first of two), named it R6.1, and gave it one of their usual amusing titles of "Spice At The Races." One wonders when they're going to try for a Mount Gay distillate, though I'm not holding my breath.
Now, for years, every rum geek in the observable rumiverse (bar a few of my acquaintances who don't drink kool aid) has formed up behind the oft-repeated idea that there is no way a continentally aged rum is the equal of one left to sleep in its island or country of origin. I've always taken that statement with a pinch of salt, for two reasons: one, its adherents always talk about taste and age, yet it's actually touted for social and economic reasons, which is a point often lost in the shuffle; and two, I've simply had too many aged rums that ripened in both places for me to be so dogmatic in my assertions, and I've seen as many failures as successes in both. Ultimately, it's the taste that counts no matter where it's bottled.
This pale yellow rum cost around £75 when initially released, was 57.3% and with a 210 bottle outurn, aged for a solid 14 years old (yes, in Europe) , illustrates the problem with making such sweeping "four legs good, two legs bad" generalizations, because it's a really a fine rum in its own peculiar way, and one I enjoyed a lot.
Consider first the nose, which opens with the firm assertiveness of my primary school teacher wielding her cane. It smells of sawdust, dusty cardboard, glue, has an odd medicinal touch to it, and also a nice smoky-sweet sort of background. Then the fruits begin their march in: orange peel, strawberries, bananas, pineapple, some light cherries and peaches. The citrus line, augmented with other sharper aromas of persimmons and ginnips provide a lovely through-line, and the smokiness and leather lend an intriguing edge.
The taste is admittedly odd at the inception; my first notes speak of a pair of old, well used, polished, leather shoes (with socks still in 'em). This is not actually a bad thing, since it is balanced off by ginger, mauby and some rich fruit notes – apples, guavas, almost ripe yellow Thai mangoes – and these make it both tart and delicately sweet, gathering force until it becomes almost creamy at the back end, with a sort of caramel, port, molasses and vanilla taste to it. This is one of these cases where the finish lingers and doesn't do a vanishing act on you: it's slightly acidic and tart, with vanilla, oak, smoke, unsweetened yoghurt and a touch of delicate florals and fruits. Nice.
So, a couple of points.  Marco Freyr of Barrel-Aged-Mind, who was sampling it with me, and who has an encyclopaedic knowledge of the various Bajan rum profiles, wondered if it was even a Foursquare at all (I chose to disagree, and accept the rum as stated).  Also, It's unclear from the labelling whether it's a pure pot still distillate, or – more consistent with Foursuare's own releases – a blend of pot and column.  Rum Auctioneer classed it as a pot-column blend.  The bottle remains silent. The Rum Shop Boy, one of the few who's reviewed it, noted it as pot still only in one part of his review, and a blend further down (and didn't care much for it, as a matter of interest). However, he further noted in an earlier Kintra Foursquare review some months before, that Mr. Seale had confirmed some 2002 pot still 4S rum had indeed been sold that year. My own initial take was that it was a blend, as I felt it lacked the sort of distinctiveness a pot still distillate would impart and I didn't think Mr. Seale shipped his pot still juice over to Europe. However, Simon's quote from him, and Seale's subsequent note on FB put he matter to rest – he confirmed it was a pot still spirit.
All that aside, it was a really good rum, one which shows that when they want to, the SMWS can pick rums with the best of them, especially with more familiar and more famous distilleries – that said, their track record with less known and less popular marks is a bit more hit and miss.  If various laws and regulations being pursued stop indies from getting continentally aged juice in the years to come (though this is unlikely given the extent of Scheer's stocks), I think the Society can still rest comfortably on its laurels after having issued a rum as fine as this one, young as it may be in tropical years.
(#804)(86/100)
---
Other notes