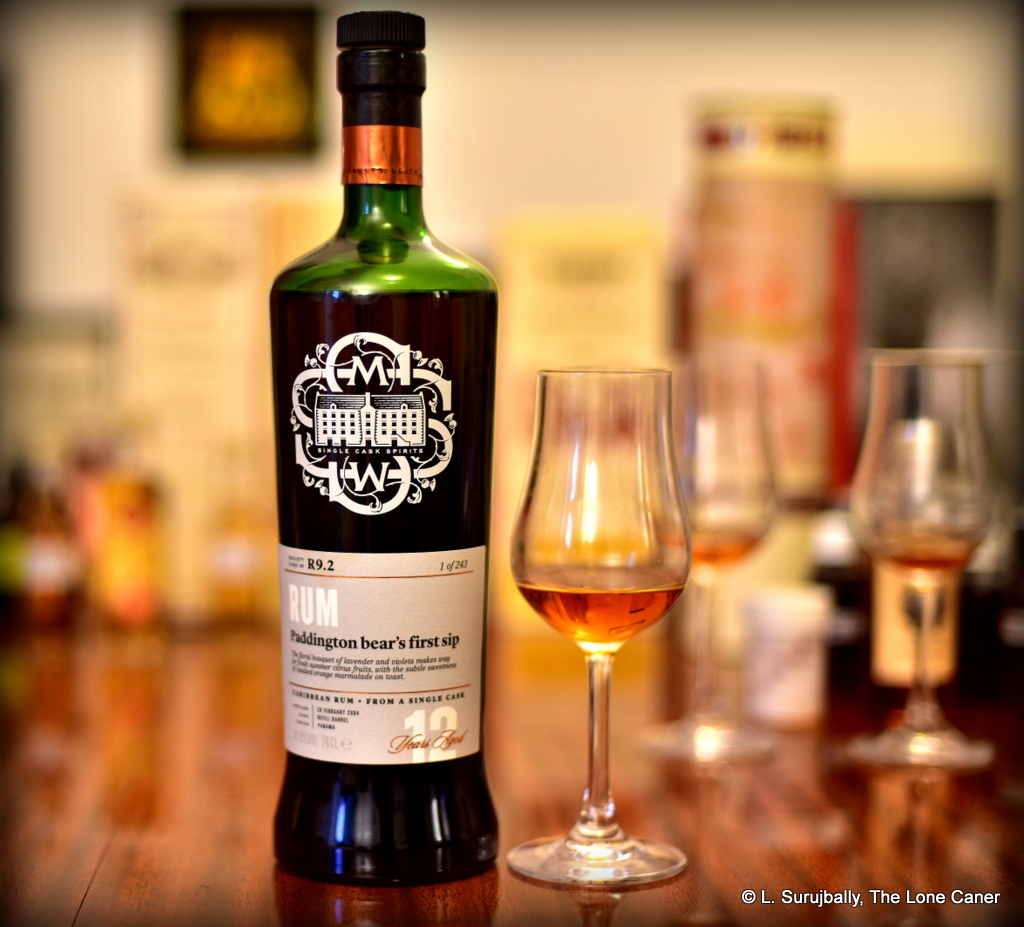 The Scotch Malt Whisky Society (SMWS) has always had a peculiar turn when it comes to labels and tasting notes. The original bottlings didn't always have permission to use the distillery names on the bottlings — at the time, blends were big, and distilleries did not always want their names to be associated with some off-the-wall, left-field bottle from a strange outfit, when this might shed a poor light on what they were more famed for…the consistency of their blends. This led the SMWS to the use of numerical identifiers for their outturns, and a whimsically titled name that had no relation to reality, really (almost every reviewer makes some reference to how they ignore those names, or don't understand them).
What that does, though, is force the buyer / drinker / reviewer to actually pay attention to the product and discard preconceived notions at the door. Most will deny this to the heavens, but I firmly believe that few can divorce their expectations of a rum based on the label it sports, from the experience they expect to have, and then actually have. Which makes sense: if you see "Port Mourant" on a label, you expect to drink one, not some weird agricole or a Spanish style ron and your mind will bend that way. SMWS takes away this crutch – not completely, because by now everyone knows what the numbers mean – but enough so that the rums stands or falls upon your relatively clean experience.
So we walk into this rum, knowing only it's from Panama. We don't know if its from PILSA / Las Cabras or Don Jose / Varela Hermanos, the two main distilleries (my research suggests the latter); it has a 62% strength and 12 years of ageing in refill ex-bourbon barrels that resulted in 243 bottles. And that's it.
But what these bare-bones notes don't tell you is how impressive the dram actually is.  You'd think an industrial column still mass-produced swill can't aspire to something greater than its origins, yet here it tries hard, it really does. The initial column-still blandness it starts out with is rescued by good barrel activity and some serious cask strength. Notes of coconut, caramel, some boot polish, licorice waft up from the glass, some blancmange, bon bons, chocolate mints and there's even the hint of an old, well-loved and much-abused leather sofa.  After resting, it opens up to some nice truffles and chocolate notes, vanilla and florals, pineapples, oranges.  Pretty good for a region that has much fallen from favour in the last years as the New Jamaicans, Bajans and other distilling regions forge ahead.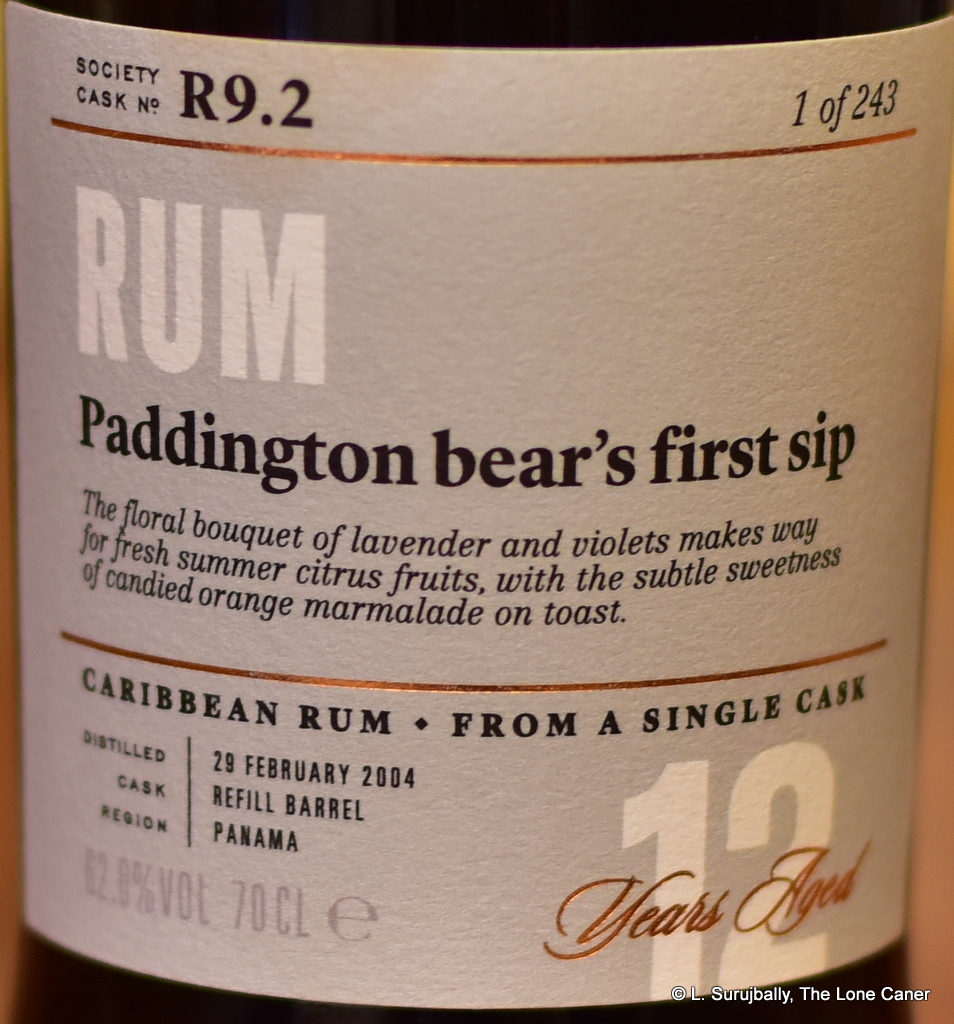 In spite of the high ABV, which lends a fair amount of initial sharpness and heat to the tongue until it burns away and settles down, it's actually not that fierce. It becomes almost delicate, and there's a nice vein of fruity sweetness running through, which enhances the flavours of apples, cider, green grapes, citrus, coconut, vanilla, and candied oranges. There's also some of that polish and acetone remaining, neatly dampened by caramel and brown sugar, all balancing off well against each other. It retains that delicacy to the finish line and stays well behaved: a touch sweet throughout, with caramel (a bit much), vanilla, fruits, grapes, raisins, citrus, blancmange…not bad at all.
I've been indifferent to Panamanian rums of late.  My initial enjoyment of their rums from the first years of this site's reviews — of the Rum Nation 18 and 21 year old rums, the Abuelos (especially the Centuria) and the Panamonte XXV, none of which I would now score as high as I did back then — have given way to a more critical and rather impatient judgement as I see them treading no new ground, not issuing anything particularly interesting and staying with the same old song. These days I don't buy many and the way Las Cabras has become a distiller-for-hire for small time brands who don't themselves produce anything ground-shaking or innovative has done little to change that opinion.
Yet somehow the SMWS seems to have bucked the trend of milquetoast anonymous blends produced by the tankerload by equally anonymous brands and third parties. This 12 year old rum strikes me as a midpoint between the soft voluptuous sweetness of the Abuelo Centuria and the rather sterner and more focused AD Rattray, and is really a fine rum for anyone to try. Unless the great Panamanian distilleries up their game and go in different directions it's unlikely they will every recover my unbridled affection from the early years – but this one gives me hope that the potential for good rums remains.  Even if it's only in the occasional single barrel, ferreted out by some enterprising indie in Europe. We can hope, I guess.
(#789)(86/100)
---
Other Notes
Serge Valentin of WhiskyFun

didn't dislike it, but wasn't entirely blown away either and awarded it 78 points. Simon, over at

TheRumShopBoy

was more enthusiastic, to the tune of 88.

As usual, the name is a challenge.  Paddington is a bear beloved of British childrens' books dating back from the 1950s, but his origin was clearly stated to be Peru, not Panama (though neither, as far as I know, have bears of any kind). So how the SMWS got from that to this is anyone's guess…perhaps it's his love of marmalade sandwiches, as Simon slyly pointed out.