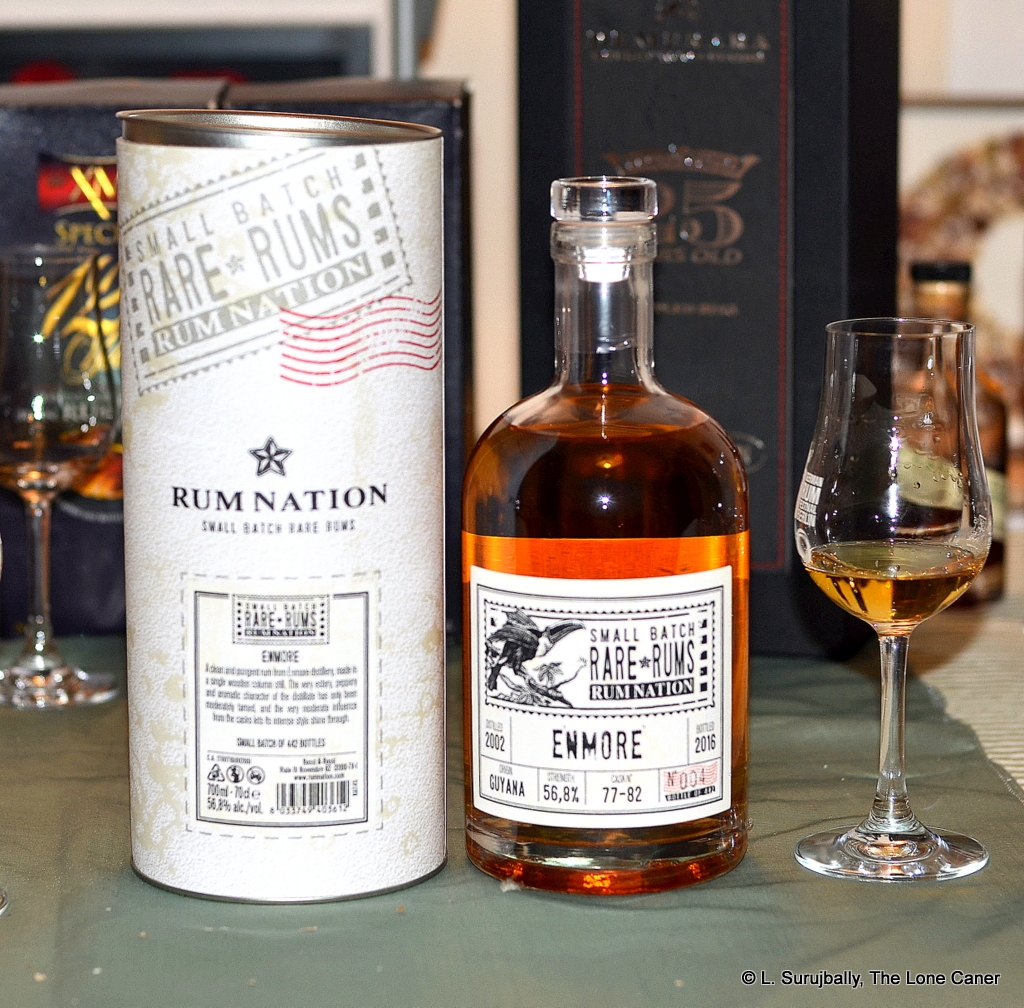 ***
#328
It really is amazing how many different ways there are to express the outturn from a single Guyanese still, Enmore or Port Mourant or any of the others  We might have to approach them like James Bond movies (or Sherlock Holmes short stories)…enjoying the similarities while searching for points of variation, which gives us the rare rum equivalents of  masterpieces like Skyfall versus occasionally indifferent efforts like A View to a Kill.
Rum Nation's first serious foray into multiple-edition small-batch cask strength rums probably deserve to be tried as a trio, the way, for example, DDL's three amigos from 2007 are.  Each of the three is unique in its own way, each has points that the others don't, and if one is weak, it's made up for with strengths of another and they work best taken together.  Of course, that'll cost you a bit, since rums made at full proof are not cheap, but to have rums like this at 40% is to do a disservice to those famous stills from which Demerara rums are wrung with such effort and sweat.  Even DDL finally came around to accepting that when they issued their own Rare Casks collection earlier in 2016.
Of the three Rum Nation rums I tried (in tandem with several others), there was no question in my mind that this one sat square in the middle, not just in the trio, but in the entire Enmore canon.  Personally I always find Enmores somewhat of hit or miss proposition – sometimes they exceed expectations and produce amazing profiles, and sometimes they disappoint, or at least fall short of expectations (like the Renegade Enmore 1990 16 year old did)….another property they share with Bond movies  However, it must also be said that they are very rarely boring. That wooden still profile gives them all a character that is worth trying…several times.  

Take this one for example, an interesting medium-aged fourteen-year-old, almost lemon-yellow rum, with an outturn of 442 bottles from six casks (77-82).  It was distilled in 2002 and bottled this year, the first batch of Rum Nation's cask strength series, with a mouth watering 56.8% ABV…now there's a strength almost guaranteed to make an emphatic statement on your schnozz and your glottis.  And before those of you who prefer no adulteration ask — no, as far as I'm aware, it wasn't messed with.
The nose demonstrated that the colour was no accident; it was sprightly, almost playful with clean notes of hay, planed-off wood shavings, lemony notes.  Not for this rum the pungent, almost dour Port Mourant depth – here it was crisper, cleaner. Gradually other aspects of the profile emerged – old, very ripe cherries, apples, cider, vanilla.  As if bored, it puffed out some mouldy cardboard and cherries that have gone off, before relenting and providing the final subtle anise note, but clearer, lighter, and nothing like the PM, more like a cavatino lightly wending its way through the main melody.
Certainly the nose was excellent – but the palate was something of a let down from the high bar that it set.  It was, to begin with, quite dry, feeling on the tongue like I was beating a carpet indoors.  It was less than full bodied, quite sharp and hot, with initial flavours of polish, sawdust and raisins, a flirt of honey; it was only with some water that other flavours were coaxed out — wax and turpentine, orange chocolates, dates, vanilla and Indian spices (in that sense it reminded me of the Bristol Spirits 1988 Enmore), and some eucalyptus, barely noticeable. It was the sawdust that I remember, though (not the citrus)…it reminded me of motes hanging motionless in a dark barn, speared by seams of light from the rising sun outside.  The finish was pleasant, reasonably long, repeating the main themes of the palate, without introducing anything new.
Overall, this is a rum that, while professionally executed and pleasant to drink (with a really good nose), breaks little new ground – it doesn't take the Enmore profile to heights previously unscaled.  Yet I enjoyed it slightly more than the RN Diamond 2005 I looked at before.  Partly this is about the character of the whole experience, the way the various elements fused into a cohesive whole.  My friend Henrik, who also tried these three Small Batch Rare Rums together, was much more disapproving – he felt the Enmore was the weakest of the three, with light woods and citrus being all there was. My own opinion was that there was indeed less going on here than in other editions I've tried, but part of what I enjoyed was the way that what there was melded together in a way where little failed and much succeeded.  And if it did not come up to the level of other Enmores like the Compagnie des Indes 1988 27 year old (91 points), or the Velier 1988 19 year old (89 points), well, I felt it was still better than others I've tried, and by my yardstick, a damned good entry into the genre. Something like, oh, Thunderball or Goldeneye – not the very best, but far, far from the worst.
(87/100)
---
Other notes
To provide some balance for those who are curious,see the links to two other sets of reviews:

As with all expressions where there are differences in opinion, trying before buying is the way to go, especially if your personal tastes
I'm waiting on Fabio to tell me where the ageing took place – I have a feeling a good portion was in Europe.