This Caroni isn't the strongest one in the rumosphere but it conforms to most of the expectations taste-wise – a shade more dark and it could probably be used to surface a road somewhere. A good to great exemplar from the closed distillery.
This is one of five or six rums I bought in an effort to raise the profile of the now-defunct Caroni Distillery from Trinidad. That it was made by Velier didn't hurt either, of course, because almost alone among the rums makers out there, Luca Gargano has the distinction of making just about all of his rums at cask strength, and everything he's made thus far I've liked.  And at 55% ABV, it may just be accessible to a wider audience, assuming it can ever be found in the jungle of Caronis Velier makes (I bought mine from Italy for a lire or two under €80).
Because Caroni has now been closed for over a decade, its products are getting harder to find as stocks run down — when we start seeing expressions dated from the year 2000 and greater, the end is near, and purely on that basis they may be good investment choices for those inclined that way.  Bristol Spirits and Rum Nation and some other craft makers have issued rums from here before, but Velier probably has the largest selection of this type in existence (sometimes varying strengths from the same year), and I know I'll never get them all…so let's stick with this one, and waste no further time.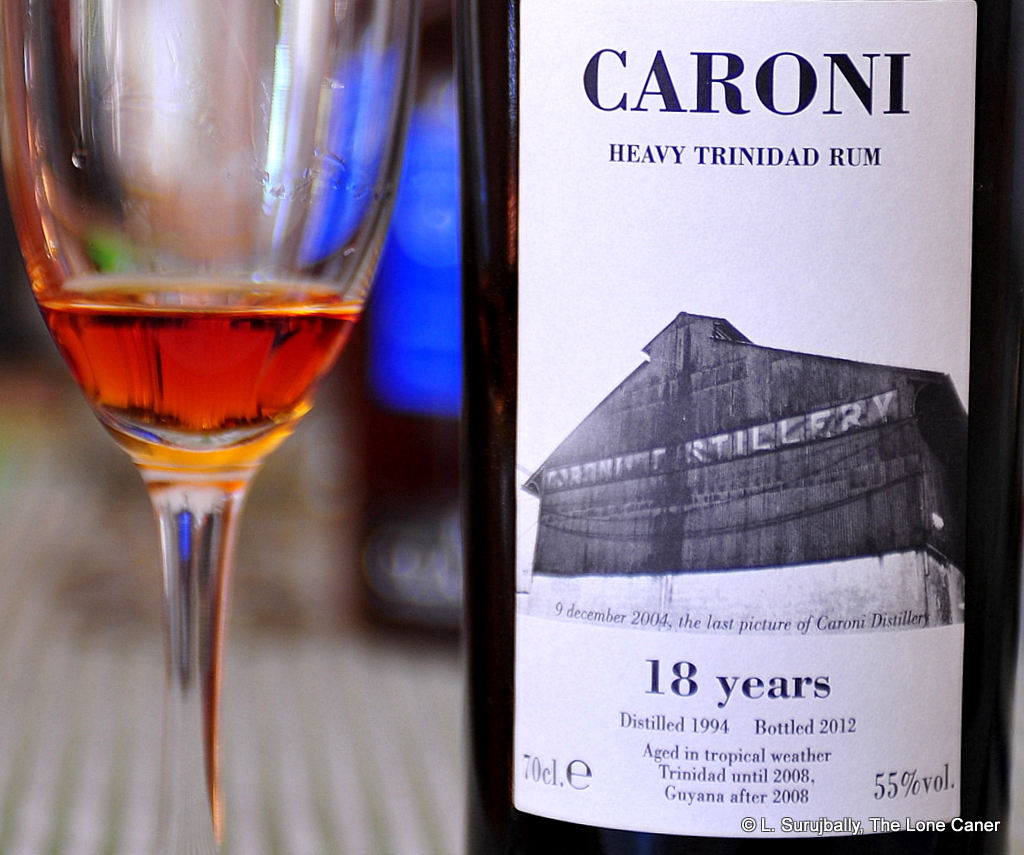 Presentation is slightly different than the stark zen minimalism of the Guyanese rums; here it came with a black and white box, nice graphics, and all the usual useful information: distilled in 1994, aged 18 years (fourteen in Trinidad, thereafter in Guyana), bottled 2012, 6943 bottles from 23 barrels.  Plastic tipped cork (these are coming into their own these days, and are hardly worthy of comment any longer except by their absence), black bottle, decent label, and, I have to mention, when I poured it out, it was quite the darkest Caroni I'd tried thus far, which had me rubbing my hands together in glee.
I appreciate higher proofed spirits topping 60%, yet I couldn't fault what had been accomplished in this instance with something a few points lower: the rich aromas of this dark blonde rum led off immediately with licorice and candied apples, strong and full fruity scents mixing with sharper tannins of oak; there was some burnt rubber and plastic hiding in there someplace, like a well insulated rubber truncheon to the face.  It was pleasant and full and rich, pervaded by a both deep and heated lusciousness.  The longer I let it stand, the more I got out of it, and recall with pleasure additional notes of burnt sugar, rosy, floral scents, cedar and pine…and, as if to tip me a roué's leering wink, a last laugh of mint flavoured bubble gum (no, really – I went back to the glass four times over two days to make sure I wasn't being messed with).
As if to make up for its mischievousness, the Caroni 1994, aged for eighteen years in oak barrels in Trinidad and Guyana, turned serious with a hint of mean on the palate.  Sharp, salty, briny tastes led right off. It was a spirituous assault on the tongue, so bright and fierce that initially it made me feel like I'd just swallowed an angry blender.  Fortunately, that smoothened out over time, and became gentler (if a term like that could be applied to such a concussive drink) – a buttery, creamy profile emerged from the maelstrom, merging seamlessly with oaken tannins, licorice, vanillas, aromatic pipe tobacco, some fresh tar; and more caramel and burnt sugar  tastes, that were stopped just shy of bitterness by some magic of the maker's art.  And the long and lasting finish was similarly bold and complex, bringing last memories of nuts, tannins and hot black tea to leaven the caramel and anise I detected.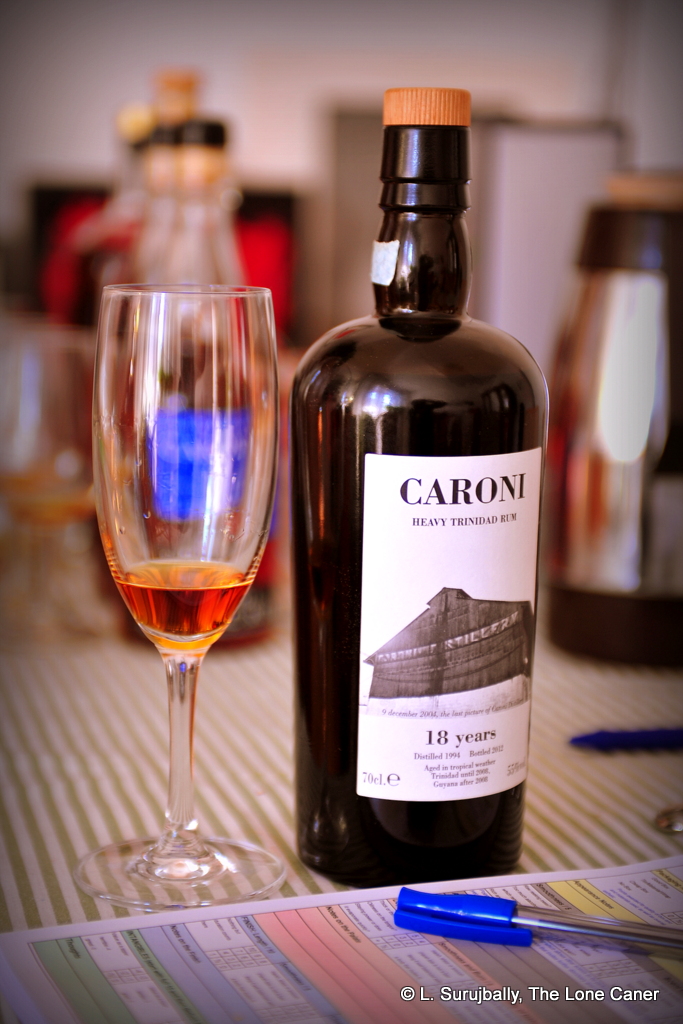 As we drink this powerful shot, we come to grips with a certain essential toughness of the maker, an unsubtle reminder of a man who makes no small rums, but feral, mean, blasting caps that glance with indifference at the more soothing exemplars which pepper all the festivals and tasting events. It's big, blunt, intimidating and seemingly impervious to dilution (I can only imagine what the stronger version is like). This Caroni is not subtle but then, Velier doesn't really do milquetoast, preferring bold in-your-face statements to understated points of please-don't-hurt-me diffidence.  So I'd suggest that it's not a rum for everyone…but in its elemental power of proof lies its appeal: to those who are willing to brave it, and to those who enjoy an occasional walk on the wild side with a rum as fascinating and excellent as this one.
(#211. 87/100)
---
Other notes
Look again at the outturn for that year and that strength: just shy of 7,000 bottles from 23 casks.  And that's only 1994. When you consider the sheer range of the Caronis Velier has already put out the door, and the sadly slim pickings (thus far) from other craft makers, you begin to get an inkling of exactly how much stock Velier has managed to pick up.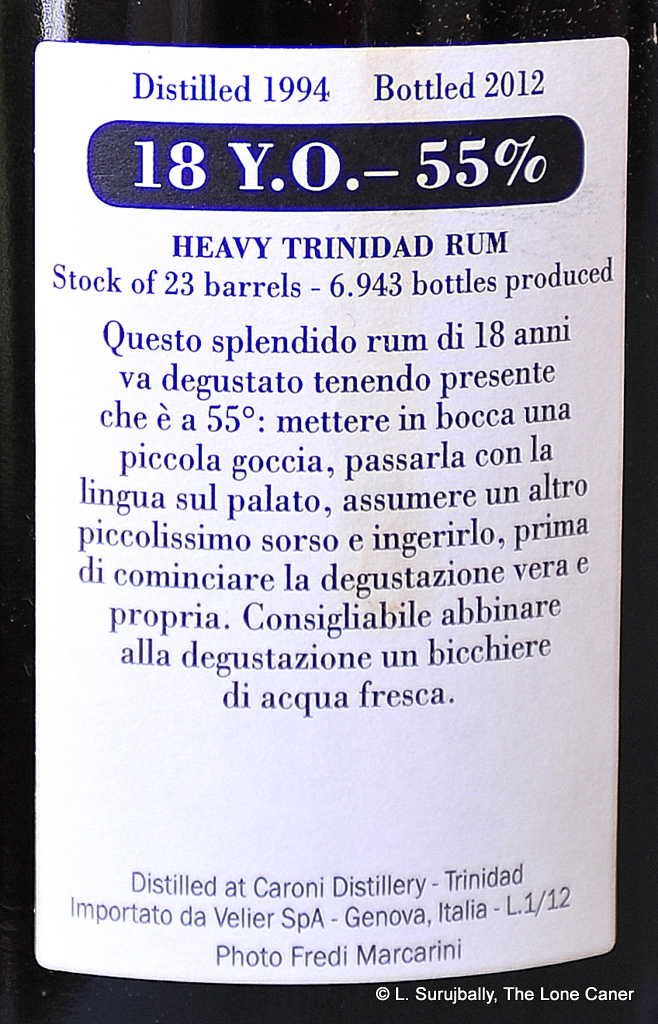 Addendum (August 2015)
This included, I've looked at eight Caronis, most sourced in 2014. They are: