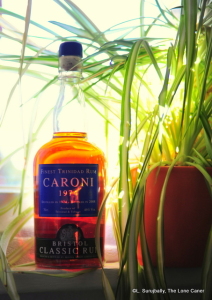 This is the first review in a set of about six which deals with Caroni rums.  I'm unabashedly starting with the oldest, which is a top-notch rum with few disappointments and flashes of greatness underpinning a rock solid performance. 
Even before heading to Europe in October 2014, I resolved to sample what I could from the now-defunct Caroni distillery in Trinidad which regrettably closed in 2002.  Part of this is simply curiosity, mixed with a collector's avarice…but also the high opinion I formed years ago when I tried the A.D. Rattray 1997 edition, and was an instant convert.  Alas, in these hard times, the only place one can get a Caroni is from boutique bottlers, most of whom are in Europe…and that'll cost you.  I can't actually remember a single example of the line I ever saw in Calgary, aside from the aforementioned ADR.
Bristol Spirits is one of the craft makers whose products are usually worth a try — remember the awesome PM 1980 that even the Maltmonster liked, much to his everlasting embarrassment? They have a series spanning many islands and lands, and so who can blame me for buying not only an impressively aged rum, but one from a distillery whose auctioned-off stocks diminish with each passing year.
It must be said I enjoy – no other words suffices – the labelling of Bristol Spirits' beefy barroom bottles. That cheerfully psychedelic colour scheme they use is just too funky for words (as an example, note the fire engine red of the PM 1980). This rum may be one of the oldest Caronis remaining in the world still available for sale, joining Velier's similarly aged full proof version from the same year.  And as with that company's products, Bristol maintains that it was entirely aged in the tropics. It was a mahogany rum, shot with hints of red, quite attractive in a glass.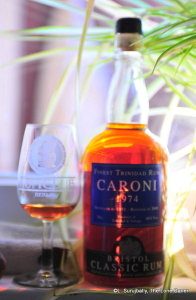 In crude terms of overall profile, Bajans can be said to have their bananas, Guyanese licorice and dried fruit, Jamaicans citrus peel;  and Caronis too are noted for a subtly defining characteristic in their rums: tar.  This was apparent right upon opening the bottle (plastic tipped cork on a two hundred euro purchase…oh well) – it wasn't just some unripe guavas, tobacco and softer floral aromas, but an accompanying undertone of said tar that was a (fortunately unobtrusive) mixture of brown cigarette residue and the way a road smells in really hot weather after having been freshly done with hot top by the road crew.  After opening up for several minutes, while this core remained (and it was far from unpleasant, really), it was replaced by an overarching toffee and nougat background.  A very pleasant nose, with not enough wood influence to mar it.
On the plate, superb.  Smooth and pleasant, some spiciness there, mostly warm and inviting – it didn't try to ignite your tonsils. BS issued this at a we're-more-reasonable-than-Velier strength of 46% which seems to be a happy medium for the Scots when making rum – but strong enough, and quite a bit darker and more intense than the Bristol Spirits 1989 version I had on hand. Salty, tarry, licorice and burnt sugar. Black olives. More tar – yeah, a lot more like hottop, but not intrusive at all. About as thick as some of the Port Mourants and Enmores I've tried recently.  As with other Caroni rums I sampled in tandem that day, while a lot more seemed to happen on the nose, it was actually the overall taste and mouthfeel that carried the show. After the initial tastes moved on, I added some water and made notes on caramel and crackers, dried raisins, and a little nuttiness I'd have liked more of. Perhaps a little unexceptional exit, after the good stuff that preceded it: it took its time, giving back more of that caramel and nutty aftertaste I enjoyed. Honestly, overall? – a lovely sipping experience.
Every now and then, I run across a rum that for its maker, its age, its provenance, and my feeling (or hope) for its quality, I just gotta have, sometimes beyond all reason.  The first was the English Harbour 1981 25 year old. The near legendary Skeldon 1973 comes to mind, and the G&M Longpond 58 year old was another. This one, from 1974 and with only 1500 bottles made, from a distillery I remembered with appreciation?  Oh yeah.  ("I'm just off to the online store, honey…") And I'm glad I shut my eyes and dived right in…because even costing what it does, even rare as it is, this rum has the kind of profile that pushes a man to be better than he was born being, just so he can deserve to drink it.
(#186 / 90/100)
---
Addendum (August 2015)
This included, I've looked at eight Caronis, most sourced in 2014. They are: