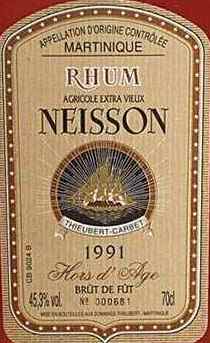 Rumaniacs Review #067 | 0476
Neisson out of Martinique must have had a particularly good year in 1991, because there's no shortage of rhums bearing that number, up to and including the Armada Millesime and the 1991-2001 edition, both of which are rarer than hen's teeth and fetch four figure prices.  Matters are confused somewhat by the various editions being of similar strength (45.3% in this case) and not always being clear (on the bottle label at least) as to which year it was bottled, leaving the specific edition and true age somewhat in doubt. This one, according to my Rumaniacs'derived sample, is from 1997, making it a 6 year old rhum.
For a quick recap, Neisson is not only  the smallest distillery in Martinique, and possibly the last remaining truly independent one, but also one of the most distinctive, something I've remarked on before with all the rums I've been fortunate enough to try so far. Let's see if a few more can add some data to the oeuvre.
Colour – Amber-gold
Strength – 45.3%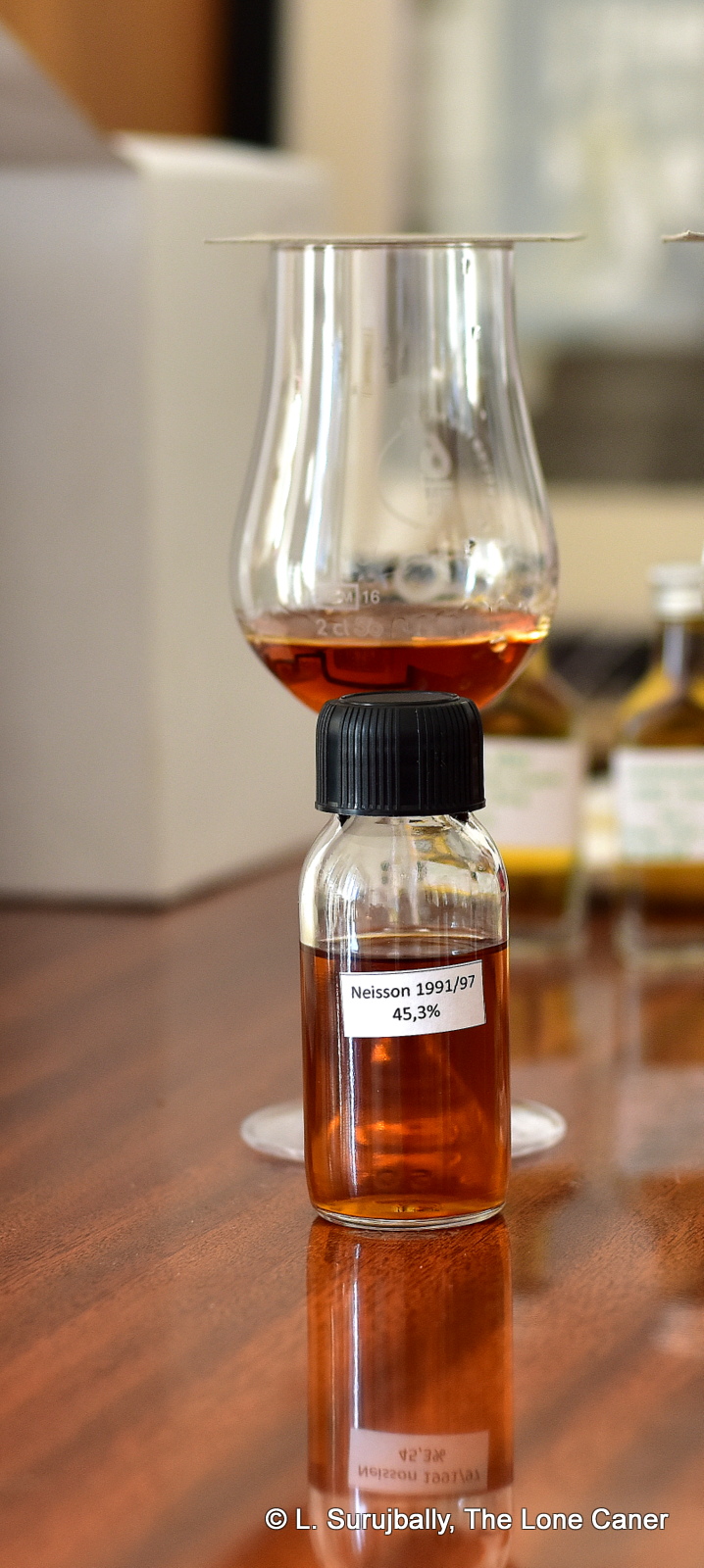 Nose – Starts easy, yet with enough bite to announce itself.  Salty pecans, licorice, caramel and raisins (not really the opening I was expecting from an agricole, to be honest).  It's also light with florals, some nuttiness and a blade of pungent crushed lime leaves running through it. Grasses and herbs stay well back, and it morphs nicely into a sort of fanta-orange juice blend, combining snap with tastiness.
Palate – Pleasingly light and quite crisp, the agricole origins are more clear here, more forcefully expressed. Orange peel, coffee, bitter chocolate, brine and some oak.  There's less salt here than others I've tried, and a background of coca-cola and peaches in cream that don't integrate as well…yet, somehow, it all still works
Finish – Grasses, cane juice, brine, white pepper and still a vague memory of lime leaves remains to tease and promise. Nice!
Thoughts – It's sort of surprising that the salty-oily tequila notes I've commented on before are very subdued here, but I'm not complaining, because for a six year old to present this well, is a pleasant experience.  I started my first session by rating it at 83, but it grew on me and I revised that score upwards. Though given that Neisson is adhering to the AOC standards and doesn't mess around with additives and continues to make excellent rhums year in and year out, perhaps I shouldn't have expected any less.
(85/100)
---
Since we all got our samples together but Serge is faster on the draw, WhiskyFun took a gander at a bunch of Neissons a few months back (same as I'll be doling out over the next weeks) in a multi-rum session, here. All the Rumaniacs reviews of the Neissons will be posted here.