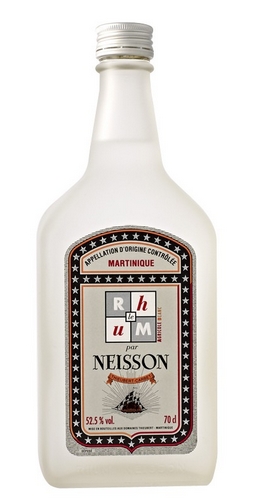 Rumaniacs Review #053 | 0453
Another Neisson in the series, one to leave a drinker scratching his head in bafflement.  It's not a bad rum, just an odd one, exhibiting some of  the characteristics of other unaged whites, then going off to check out some side roads…not always to its advantage
Colour – White
Strength – 52.5%
Nose – Hello Sajous…I mean Neisson, sorry. Whew, quite a bite here – salty, briny, and then…labneh, or fresh yoghurt. And sugar, so weird, like sucking tea through a white sugar cube. Some tar, herbals, iodine and medicine, and light (very light) florals and fruit. Somehow it barely hangs together.
Palate – Okay, so yes, I do like my jagged unaged pot-or-creole still whites, but this isn't quite one of those.  For one thing, it tastes of sugar, unambiguously so.  This markedly impacts the tastes — of rose water, anise, a few fruits, pears, an olive or two, even some herbal, grassy notes — but not in a good way.  Some of the promise of that yummy nose is lost here.
Finish – Iodine, sugar water, brine, maybe a slug of mixed and overdiluted fruit juice
Thoughts – So…a rather strange white rhum from Martinique, and I wonder whether this slightly lower-horsepower model shares any of the same chassis or DNA with the L'Esprit 70%…I would suggest not.  It's strange because it veers away from expectations, and though fiercely individualistic whites are great when made with bravado, here it seems like a different – and lesser – rhum altogether, in spite of the firm strength.  It's that palate, I think – the nose entices, the taste drives away.  Not a failure, just not my speed.
(79/100)
As always, other reviews of this white can be found on the Rumaniacs site.