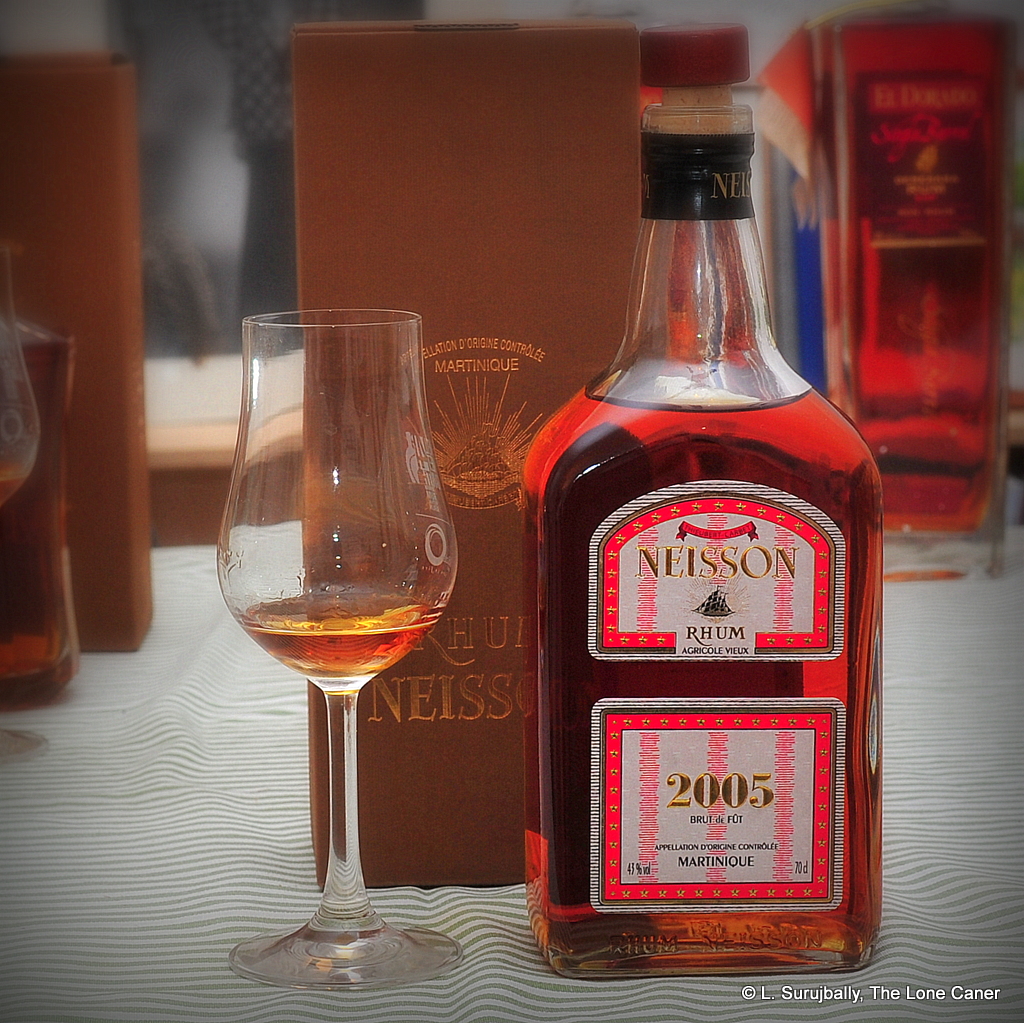 There are few (if any) weaknesses here: conversely, not many stellar individual components either.  It's just an all-round solidly assembled product that missed being greater by a whisker.
(#273 / 86/100)
***
So here we are, gradually inching up the scale of the Neissons, with a rum I felt was slightly better than the Tatanka I looked at some weeks ago.  Now, that one had a bright, colourful label to catch the eye (Cyril from DuRhum did a review of the lineup, here), and yet appearance aside, this one was, in my estimation, a smidgen better. It's a subtle kind of thing, having to do with texture, taste, aroma and a quiet kind of X-factor that can't be quite precisely quantified, merely sensed and noted.  But yes, I felt it was better.  In fact, it was the second best of the raft of Neissons I tried in tandem, and only the XO exceeded it.
Issued at a sturdy if uninspiring 43%, the Neisson Rhum Agricole Vieux 2005 is a nine year old rhum, an amber-red liquid sloshing around the standard slope-shouldered rectangular bottle which came in a sturdy, nicely done cardboard box. As with all Neisson products, it was AOC certified, self-evidently and agricole, and like its siblings up and down the ladder, had its own take on the way a rhum should be put together.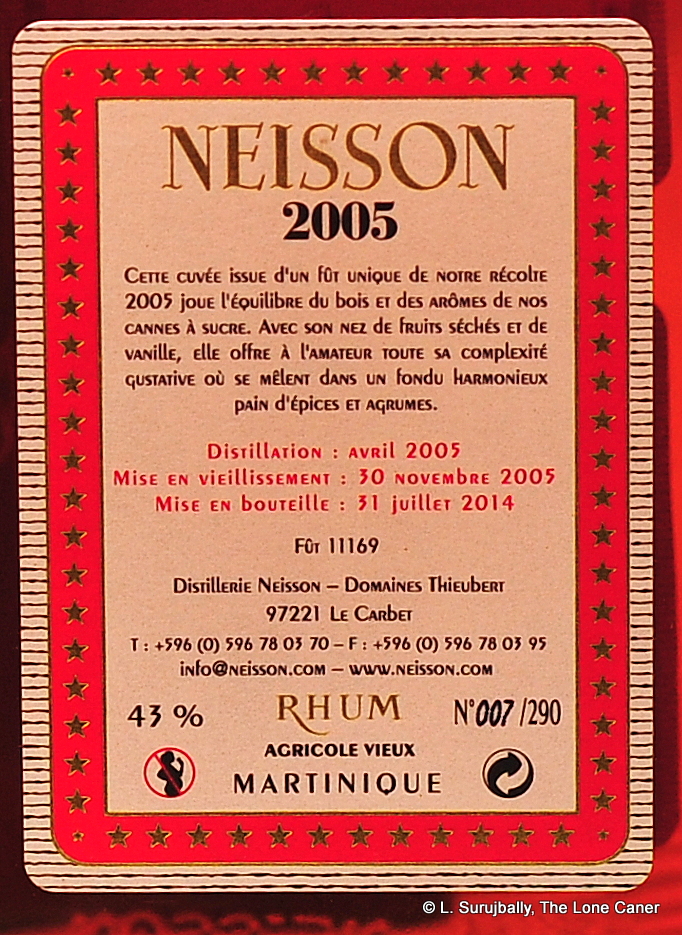 I speak of course of that oily, sweet salt tequila note that I've noted on all Neissons so far.  What made this one a standout in its own way was the manner in which that portion of the profile was dialled down and restrained on the nose – the 43% made it an easy sniff, rich and warm, redolent of apples, pears,and watermelons…and that was just the beginning.  As the rhum opened up, the fleshier fruits came forward (apricots, ripe red cherries, pears, papayas, rosemary, fennel, attar of roses) and I noted with some surprise the way more traditional herbal and grassy sugar cane sap notes really took a backseat – it didn't make it a bad rhum in any way, just a different one, somewhat at right angles to what one might have expected.
I had few complaints about the way it tasted.  Again the strength made it an easy sipping experience, very smooth and warm and oily.  One thing that I always look for in a rhum is points of difference and originality, a divergence between smell and taste, for example, and the way one blends seamlessly into the other, with some elements disappearing, new ones appearing, and the way they dance together over time — the Neisson 2005 was very nice on that score, presenting as dry, yet also luscious, and just sweet enough.  In fact, that teriyaki style profile had almost totally been subsumed into a tangy, tart texture wound about with half-ripe yellow mangoes, lemon peel, the creaminess of salt butter on dark peasant bread, more fruits, nuts, florals, and some white guavas.  And all of that segued pleasantly into a medium length, velvety fade that gave up last notes of peaches, pecans, and more of that tartness I enjoyed.
There's very little I disliked here – the texture might have been better, the strength might have been greater (Rhum Rhum Liberation 2012 Integrale did the job exceedingly well, for example though the Neisson really felt thicker to me in comparison).  Nothing major. What it did not do was excite any real passion aside from a rather clinical series of observations on my voluminous notes, like "Good!" and "Nice!" and "Tastes of…" and "Balance well handled" and so on.  I liked it and I would recommend it to you, no sweat, and my essay here provides all the technical notes one might require for an evaluation of its merits.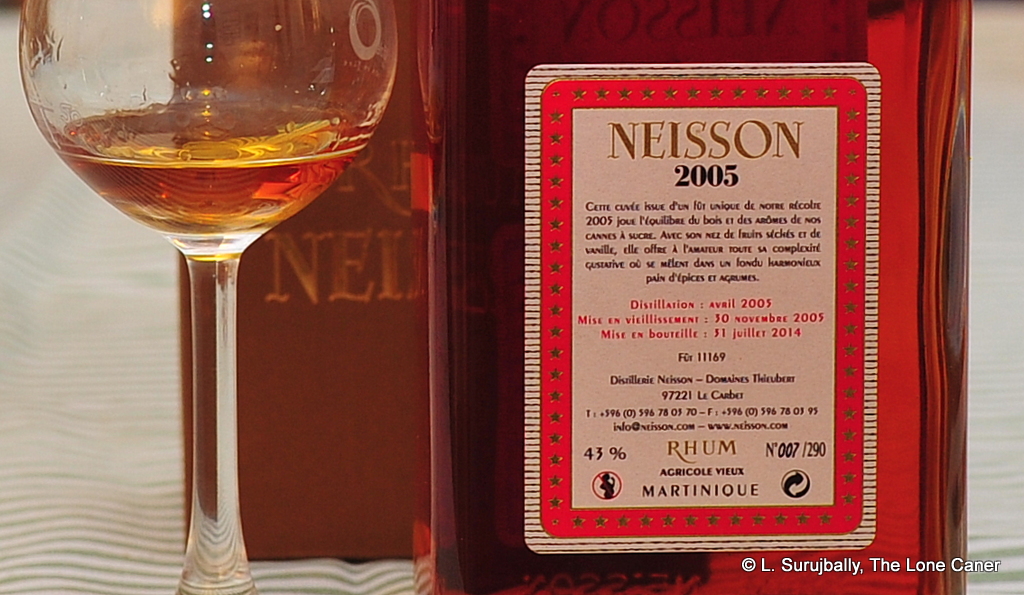 But I also didn't get much in the way of wonder, of amazement, of excitement…something that would enthuse me so much that I couldn't wait to write this and share my discovery.  That doesn't make it a bad rhum at all (as stated, I thought it was damned good on its own merits, and my score reflects that)…on the other hand, it hardly makes you drop the wife off to her favourite sale and rush out to the nearest shop, now, does it?
Other notes
290 bottle outturn
Cyril wrote a much more positive 92-point review of the same rhum (in French), so you can compare his point of view and mine.