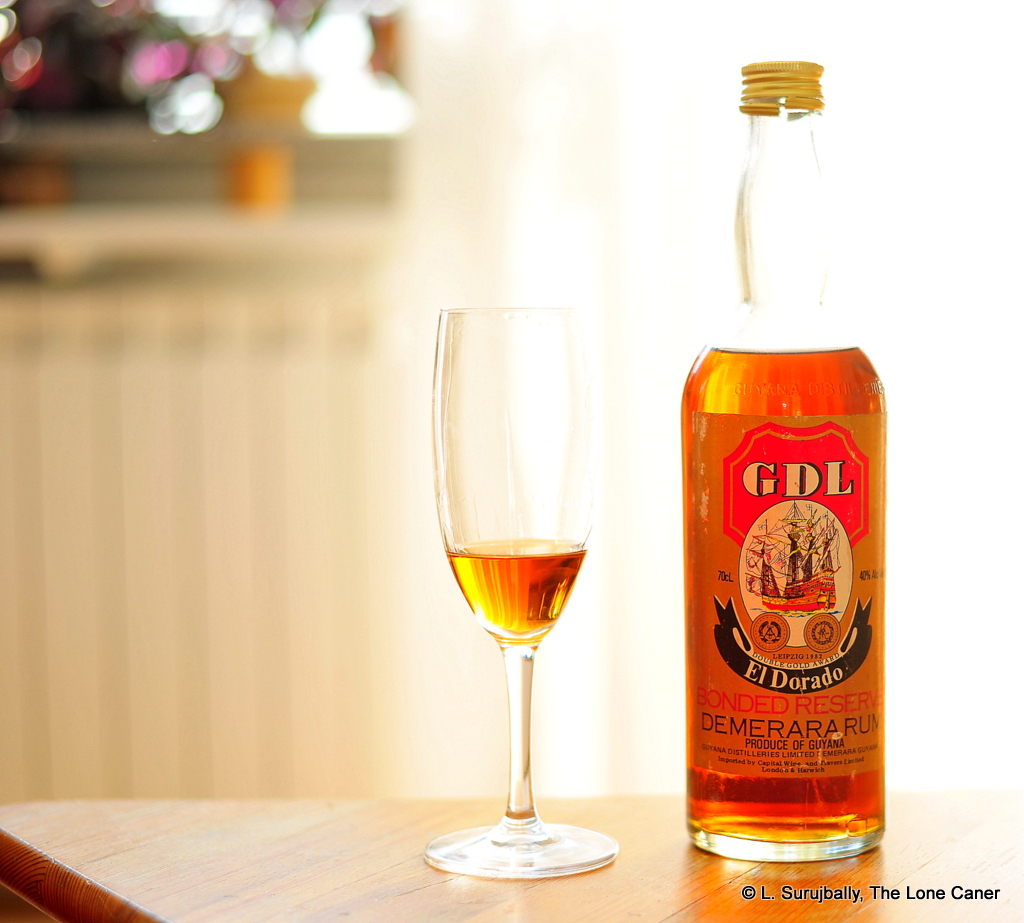 A rum from Ago.  Perhaps only a Guyanese or a retired British Navy man could truly love it.
(#269. 77/100)
***
For the most part, over the last months I've concentrated on fairly well known rums, made by bottlers with whom we're all reasonably familiar. Today, I'm going to reach into the past a bit, to the Guyana Distillers El Dorado Bonded Reserve. Sorry, what? I can hear you say, You mean DDL don't you, Mr. Caner? Yeah…and no.  This rum was made in the early 1980s before DDL changed its name, and in it was one of those hooches like the King of Diamonds, now long gone and out of production…in it, we can see what local rum was like before El Dorado was launched to the overseas market in 1992.  
Sampling this rum pulled back a curtain of the mind. As a young man, I had had it years ago, before DDL became what it now is, before craft rums and independent bottlers were up to their current stature, and way before the El Dorado line had established itself as one of the baselines of the rum world. You're not going into the extreme past like with the G&M Longpond 1941, St Andrea 1939 or even the St James 1885, no…but the Bonded Reserve does demonstrate how fast the rum world has in fact evolved since those days – because I cannot remember trying anything quite like it in recent memory.
It was an old bottle.  The label was faded and old fashioned, the tinfoil cap spoke to different days.  Even the bottle glass looked worn and tired. Within it was a 40% rum that decanted a golden rum into the glass.  It smelled thin and dusty, with not much going on at the inception – some smoke and leather and vanilla, a touch of caramel and grapes, raisins, with some cumin and molasses to round things out, all quite subdued and tepid.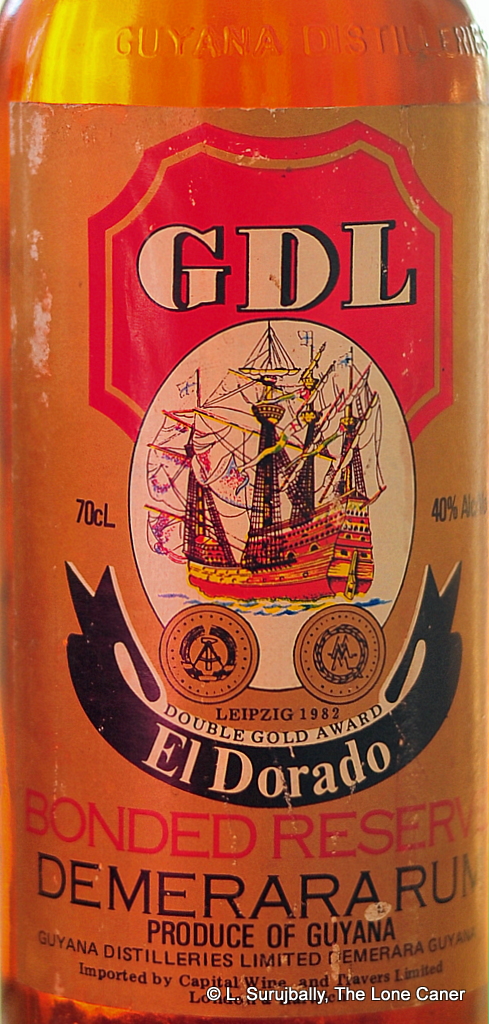 Tasting the Bonded Reserve raised all sorts of questions, and for anyone into Mudland rums, the first one had to be the one you're all thinking of: from which still did it come?  I didn't think it was any of the wooden ones – there was none of that licorice or fruity intensity here that so distinguishes them. It was medium to light bodied in texture, very feebly sweet, and presented initially as dry – I'd suggest it was a column still product. Prunes, coffee, some burnt sugar, nougat and caramel, more of that faint leather and smoke background, all rounded out with the distant, almost imperceptible murmuring of citrus and crushed walnuts, nothing special. The finish just continued on these muted notes of light raisins and molasses and toffee, but too little of everything or anything to excite interest beyond the historical.
To be honest, the rum was so divergent from the firm, crisp, well-known profiles of todays' Demeraras that it suggested an almost entirely different product altogether.  It could just as easily have been a Trini or Bajan rum, or even (with some imagination) a softer spanish-style product.  Given that it won a double gold medal in Leipzig in 1982, one can only hazard that the competition that year was feeble, and the rum rennaissance through which we fortunate beings are currently living through had yet to gather a head of steam.
In fine, then, it's almost, but not quite, an historical artifact.  It's no longer for sale, isn't being made, and it was by mere happenstance that I saw this on the Whisky Exchange in 2014 and had some spare cash left over . Rating it might do it an injustice, because you'll look long and hard to ever find its twin…I might have bought the last one.  
So, how do I put this? Well, let's see – it's a rum, contains alcohol, and that's nice; it's not entirely bad, or undrinkable.  It will do good things to your cocktail, and there's my recommendation for it, I guess, because at the end, assuming you ever see a bottle, you probably won't ever enjoy it any other way.  
Other notes
Peter's Rum Labels in Czech Republic have this exact label on file, but noted as being made by DDL. DDL was formed in 1983 when Diamond Liquors (Sandbach-Parker's company) and Guyana Distillers (Booker McConnell's) were merged.  So this rum had to be made between the time of the medal it won in 1982 and the creation of DDL in 1983.  That would explain how I was able to still find it to drink in 1985 in many shops in Georgetown and the countryside.
Guyana Distillers was based out of Uitvlugt, which goes a long way to clarifying the lack of a characteristic or familiar profile, since their still was a four column French Savalle still, producing several different kinds of rum. Based on my tasting, I'd suggest the rum is less than five years old…maybe three or so.