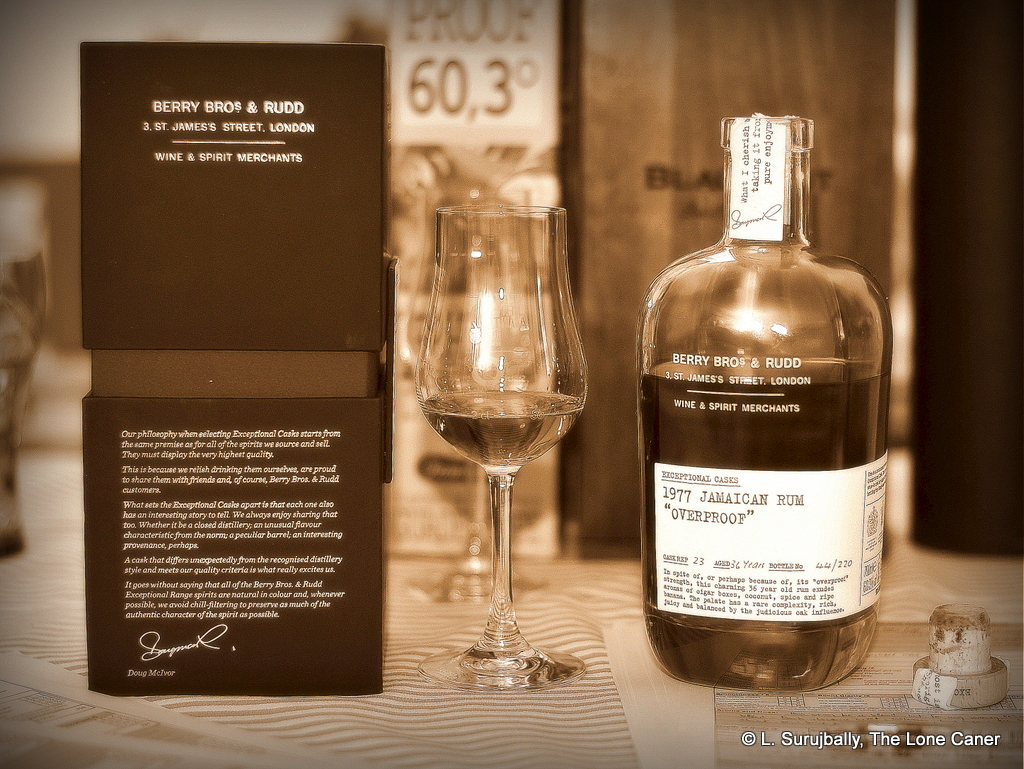 BBR have made a rum that has all the fidelity and quality of the rums from times gone by, without compromise….a 60% velociraptor that really does get you and chomp you down.
It's Christmas, so let's get another one of the pricier, rarer bottlings out of the way just in case someone sees it and wants one for his grandfather. In all honestly, with just 220 bottles of the Jamaica 1977 in circulation, and at the price point it retails for, one could be forgiven for wondering why I am reviewing a rum that very few people will ever try or buy.  And that's a fair question.  Blame it on the fire that The Sage lit under my tail in April 2015 when we founded the Rumaniacs – the opportunity to try (and share) very old, very rare, and yes, rather expensive rums, whose like we shall not see again.
Berry Brothers & Rudd requires no introduction except insofar as to mention that this 36 year old rum is part of their "Exceptional Cask" series which I first heard about last year.  Jamaican rums of that age being as rare as hen's teeth, and having a few quid squirrelled away, I rushed online to buy myself a bottle, prayed it wouldn't be an expensive misfire, and then waited a year to open the thing.  BBR as usual are very tight lipped about the rum and from which plantation it originates, which strikes me as maddeningly and pointlessly obscure.  But anyway.
I enjoyed the presentation a lot.  A stiff black cardboard box, enclosing the stubby bottle you see in the picture, and a label that takes simplicity to a whole different level…the only extraneous thing about it is the tasting notes.  They should have put in the provenance, and left the notes out — because fans and connoisseurs won't need those, and well-heeled Wall Street derivative traders who buy three or four of these, won't care.
Let's begin with how it poured.  Rich, dark orange, thick and almost oily in the glass.  Scents acted like they were in a hurry to reach the open, and billowed out immediately.  I had to be a little cautious with 60.3% so I let it open and then sighed happily: strong, pungent and estery notes led out immediately. It was hot to handle initially until it settled down, yet I detected very little real sharpness – it was powerfully firm to nose. As it developed, vanilla, coconut,  some light bananas, aromatic tobacco and a whole lot less oak than I was expecting all came out to join the party, without displacing the sharper citrus and fruity notes that had started things rolling.

And the taste, well…wow! Amazingly deep and pungent.  It didn't start out with a bang or a tantaraa of trumpets, wasn't over-oaked, and indeed I thought that the nose was all there was.  But observe – it developed from simple initial starting points: spices, esters, light tannins and some vanilla, some dusty cardboard; and these pleasant but almost standard flavours hung around like those shy gawky boys on the dance floor who want to ask the girls to "tek a wine" but can't…and then, slowly, other richer components evolved. Cumin, hay, tobacco leaves, some tar, caramels, sharper mangos and citrus peel leavened by softer coconut and bananas.  It was barely sweet, a little briny and spicy and deep on the tongue, yet it displayed a very rich profile that made it a pleasure to savour and come back to over a very long time. More to the point, these complexities were well balanced and not competing with each other.
And thankfully, the finish carried things away with a flourish too, and the rum didn't choke at the back end: it was a long, finish, leaving memories of cedar, dust, a heretofore-unnocticed bit of pot-still wax and salt, some more light caramel and cinnamon, and frankly I thought that between the heat and the length, that fade was just short of epic.
I felt that the Jamaica 1977 was extraordinarily well constructed – it shed the extraneous frippery and maintained only the vital…and it pulled off an interesting bait-and-switch by seeming to be a lot less than it actually was.  It started out by seeming to be one of the simplest, most straightforward rums out there – full out Jamaican, if you will – and developed into one of the more complex profiles I've had from the stables of the island.  I think Berry Bros. & Rudd have made an astonishingly brave and great rum here. Trying to come up with precise rationales, I am unable to make my reasons clear without resorting to meaningless generalizations that you've read a hundred times before, so let's see if I can put it another way.
One thing I really admired about my father (without ever telling him so — heaven forbid, an actual compliment between us?) was that trick he had, to shed his cloak of intellectual ability and professional achievement, put on a pair of ratty jeans and sockless flats, and go playing dominos with a cheapass rum and a bowl 'ice down by the GT ghetto with old squaddies; where he would cuss up and get on and mek plenty plenty noise, his modulated tones giving way to "nuff suck teet" and the objurgatory roughness of loutish street creole.  This rum reminded me somewhat of him: tough and uncompromising and not easy to get along with, a paradoxically cultured product that managed to hearken back to brawny working class boys who "get some educatement" without shame or apology; which blended artistry, crudity and power into a cohesive, complex, drinkable whole.  When you think about it, that's actually a rather remarkable feat for anyone or anything to pull off.  And if you can follow that line of reasoning, that's why I thought this rum was a pretty damned good, near-brilliant, piece of work.
(#245. 90/100)
---
Other notes
No, I don't think I'll recommend you drop this much money on a rum, any rum, even this one, unless you really can spare it. Get a taste if you can. If Jamaicans are your thing, you'll love it.
Bottle #44 of 220