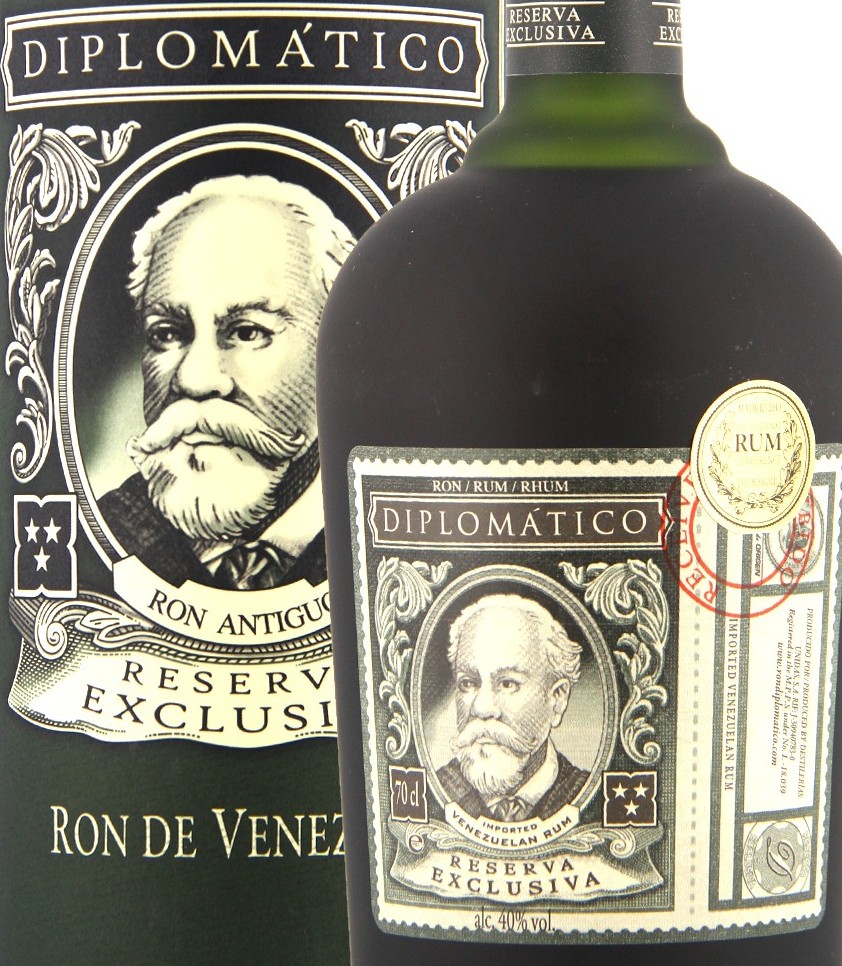 First posted 9th March 2010 on Liquorature.
For some reason, the Last Hippie was absolutely enthralled by the label design* of this Venezuelan import when Pat trotted it out for the February 2010 get-together, rhapsodically comparing it to a postage stamp, nearly swooning over the originality of it all. It was the first time I ever saw a label nearly bring a Peathead over to the Light and have a shot of the good stuff, but it fell just short of the mark, alas and perhaps embarrassed by his untoward display of emotion, he retreated to the other Scottish brews for the rest of the night.
Diplomatica Exclusiva Reserva is a premium aged rum – indeed, the top of the line – made by the Venezuelan firm of Destilerias Unidas…which is now privately held, and a major supplier of raw spirit stock to Seagram.  The research is unclear: either one of the original owners, or Seagram, built a factory in the small town of la Miel, close to the Columbian border, in the 1950s, was for many years the only factor in northern SA and the Caribbean to make both cane and grain based spirits: even now,  this one factory makes whiskeys, vodkas, liqueurs, gin…and Smirnoff Ice.  (Looking at the location on the map, one wonders why it had to be so remote…I mean, this town is really far away from  anything).
Interestingly, the blend is made from a combination of heavy pot-still rum (80%) and column still rum (20%).  The rums are separately aged in white-oak barrels and then blended together to produce the final product which is a rich and textured dark rum of admirable complexity and taste for the modest price. The website also makes tangential mention of flavouring additives ("Only … rich aromas and flavours are used to manufacture rums…") which statement I include for completeness, and to contrast it against the majority of rum producers who couldn't be bothered (to their detriment, I think).
The nearly opaque bottle effectively disguises a copper-brown coloured rum that is medium-heavy bodied and of middle density, and with a distinctive taste.  The caramel and vanilla notes on the nose mellow gently into a very nice taste of burnt sugar, sweet molasses (not much), perhaps cream soda and…butterscotch.  And yet, it's not overly sweet either. Very slightly 'oily', leading to a long, semi-sweet finish that everyone who tried liked.  Definitely top tier stuff, and fully deserving to be had without embellishment of any kind.  Which is not to say it can't be used as a mixer but it doesn't need to be.
And quite frankly, I don't think it should be
(#017)(Unscored)
---
Other Notes
The label is a portrait of Mr. Don Juancho Nieto Melendez de Hacienda Botucal, a famous Venezuelan historical personage (and of impeccably ancient Iberian lineage) who acted as an ambassador for Venezuelan spirits in the 19th century, and noted as a collector of top-shelf liquors of all kinds. If my translation of the spanish web page is right, it was he who encouraged the making of spirits from the area around la Miel, because of the naturally filtered water, and the high quality of sugar cane grown there.
In 2018, after a re-tasting and re-evaluation, I called the Diplo Res Ex one of the Key Rums of the World. That review probably has better tasting notes than the brief ones here.