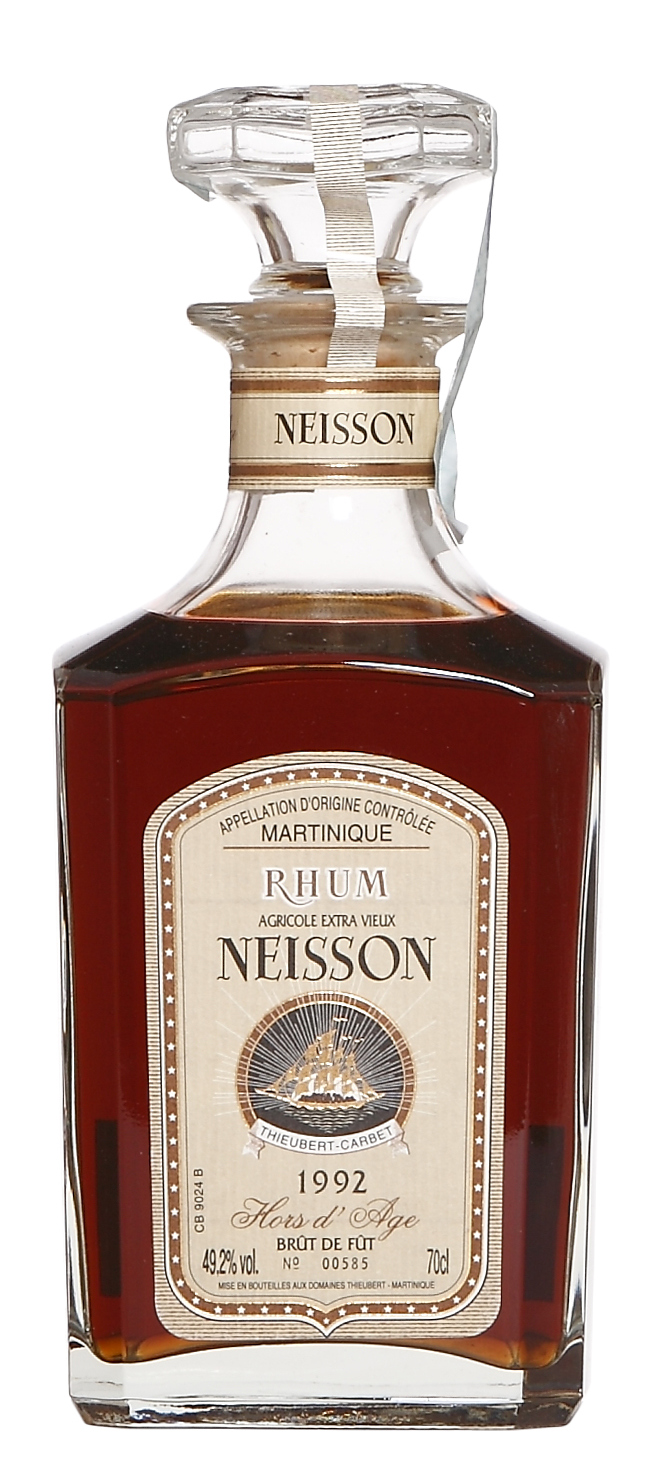 Rumaniacs Review #068 | 0478
As I've observed before, agricoles come into their own at a younger age than the industrielles, so a very good one can always be found in the 5-10 year old range with minimal trawling, and they're usually sub-50% ABV, which also allows them to find a greater audience…but to find rhums ten years old and older, and from the 1990s and earlier, now that takes a little more effort.  Rest assured, the search for such agricoles is often worth it, though for a handsome decanter like this one comes in — which perhaps says something for the esteem in which Neisson hold this edition —  you are going to be set back quite a pretty penny as well.
Colour – Amber Gold
Strength – 49.2%
Nose – Somewhat startlingly, the rhum opens with a medicinal, bitter, quinine aroma that's quite unmistakeable (and after all the years I spent getting dosed with the stuff and getting malaria umpteen times nevertheless, I know whereof I speak) but thankfully it doesn't last long and tart fruits, flowers, caramel, brine and light citrus emerge from hiding.  There's a richness to the nose that's impressive, adding coffee grounds, nuts and at the last some (unappreciated) camphor and light quinine notes.  Although I can't say I was entirely won over by it, the sumptuousness of the nose can't be gainsaid.
Palate – No bad, overall, with brine, olives pecans and caramel leading the charge, supported by medicinals I can't say enthused me.  The tequila-ish Neisson profile is represented in fine style, with sweet held way back in reserve, to which is added herbs, dill, unripe green mangoes, bell peppers and a good miso soup with sweet soya and a dash of lemons.
Finish – Long and fragrant, really nice denouement. Lemons, licorice, more pecans (or was that salty cashew nuts?), some sweet, caramel, bitter chocolate and coffee grounds and tequila.  Absolutely no fault to be found here. A lovely piece of work.
Thoughts – A very crisp and almost definitive Neisson, with not a year of the ageing wasted.  Only the bitterness of the quinine mar the experience for me, which says a lot about how smells really can release  less pleasant memories sometimes, and these creep into one's unconscious ideas of "good" and bad".  Beyond that?  A lovely piece of work.
(84/100)
---
WhiskyFun took a gander at a bunch of Neissons a few months back (same as I'll be doling out over the next weeks) in a multi-rum session, here….he scored this one at 92. All the Rumaniacs reviews of the Neissons will be posted here. Also, my good friend Laurent from that most imaginatively named of all rum sites "The Rhums of the Man with a Stroller", gave it a French language, unscored review which is well worth a read.