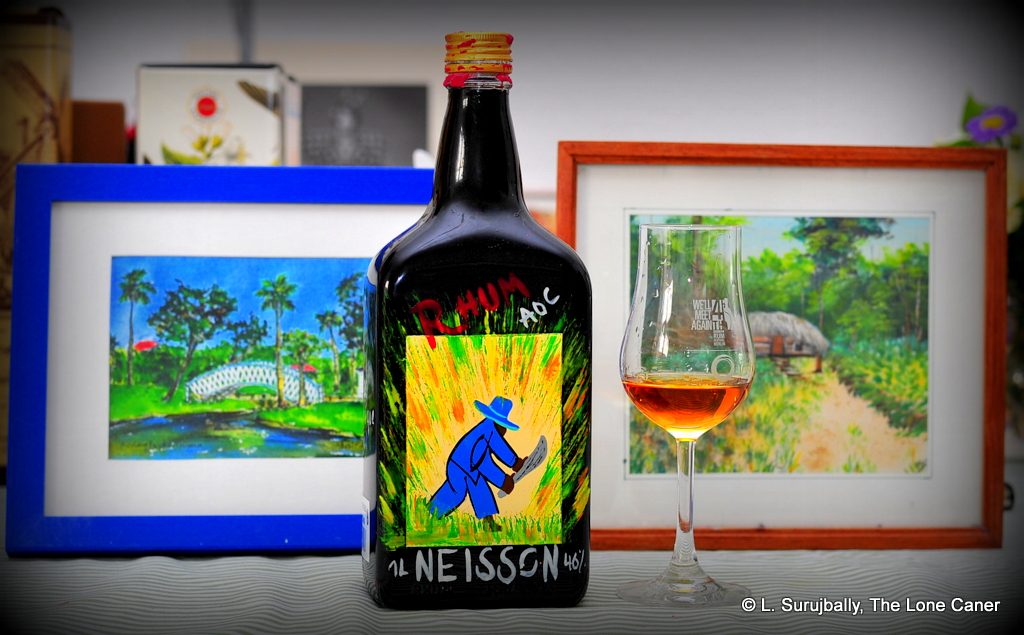 A youngish agricole with slightly loopy tastes that makes one intrigued enough to take another sip….and another two or three after that.
(#263 / 83.5/100)
***
Cheap tinfoil cap aside, this may truly be one of the most original and striking bottle labels I've ever seen.  Painted right on, colourful, bright, lovely, and if I was still scoring such things, it would be tempting to add an extra point or two just to show how much it appeals.  The bottle shape was the same as the Extra Vieux I wrote about some months back, but man, the design was as jazzed up as the Tokyo downtown at rush hour, and it's not alone: there are others in the company lineup sporting this kind of chirpy west indian vibe — Le Corsaire, Le Carbet, Le Galion, L'Amarreuse, and La Distilerie — all appear to be special editions of one kind or another.
This rhum was one of four Neissons I tried alongside each other (the Extra Vieux, the Vieux and the Cuvee 3me Millesime were the others), with two Rhum Rhum Liberations and a CDI Guadeloupe as additional controls; what struck me more than anything else about them was the overall consistency the Neissons shared.  And here's the thing: though (barely) recognizable as an agricole, the rhum didn't seem to be entirely sure it wanted to be one, something I already noted with the previous iteration.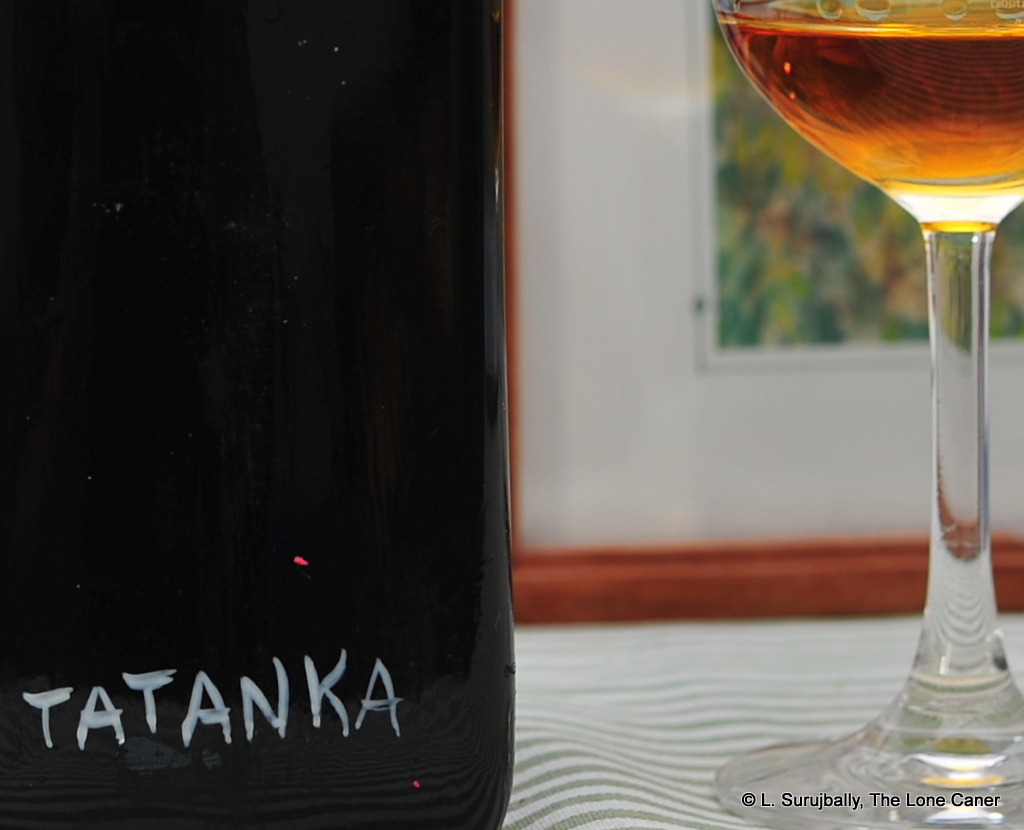 Okay, I jest a little, but consider the nose on the 46% orange-gold spirit.  It displayed that same spicy, musky and almost meaty scent of salt butter and olives and tequila doing some bodacious ragtime, sweat and stale eau-de-vie going off in all directions.  It was thick and warm to smell, mellowing out into more fleshy, overripe (almost going bad) mangoes and papayas and pineapples, just not so sweet.  Spices, maybe cardamon, and some wet coffee grounds. At the back end, after a while, it was possible to detect the leather and smoke and slight bitter whisper of some wood tannins hinting at some unspecified ageing, but where was the crisp, clear aroma of an agricole? The grasses and herbaceous lightness that so characterizes the style?  I honestly couldn't smell it clearly, could barely sense it – so, points for originality, not so much for recognition (though admittedly, that was just me, and your own mileage may vary; mon ami Cyril of DuRhum, for example, is probably shaking his head in disgust, since I know he likes these a lot…it was a conversation we had last year on the subject of Neisson agricoles that made me run out and buy it for us).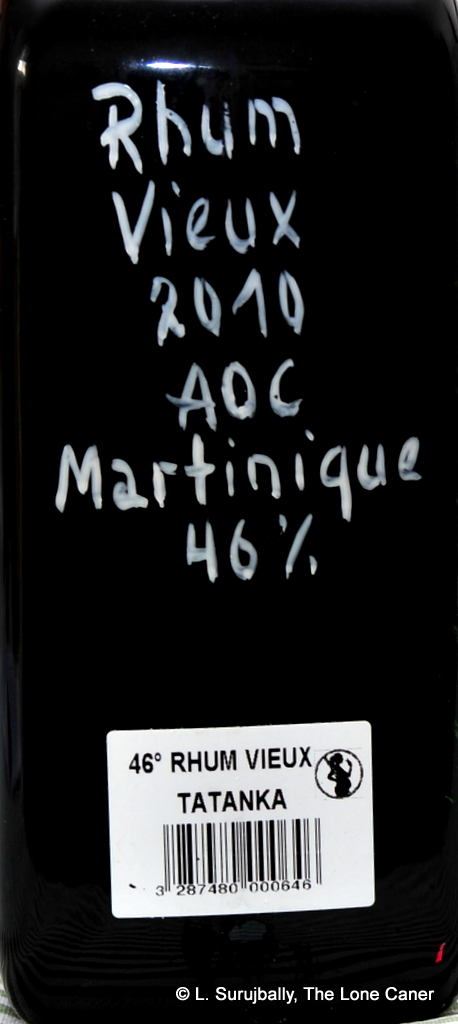 Still, there was little to find fault with once I actually got around to tasting the medium-going-on-heavy rhum.  Once one got past the briny, slightly bitter initial profile, things warmed up, and it got interesting in a hurry. Green olives, peppers, some spice and bite, sure, but there was softer stuff coiling underneath too: peaches, apricots, overripe cherries (on the verge of going bad); salt beef and butter again (the concommitant creaminess was quite appealing), and I dunno, a chutney of some kind, stuffed with dill and sage.  Like I said, really interesting – it was quite a unique taste profile. And the finish followed along from there – soft and warm and lasting, with sweet and salt and dusty hay mixing well – I am not reaching when I say it reminded me of the mingled dusty scents of a small cornershop in Guyana, where jars of sweets and medicines and noodles and dried veggies were on open display, and my brother and I would go to buy nibbles and maybe try to sneak into the pool hall next door.
Anyway, clearing away the cutlery: the Tatanka "Le Coupeur" is a limited edition, like all the other similarly designed products Neisson put out (it was distilled in 2010), and had an outturn of a mere 120 bottles, which explains something of the price differential with more standard rhums made by the company.  Aged in a single 190 liter bourbon barrel, Le Coupeur had a fascinating aroma, original taste, and is absolutely a rhum to experience when there is time on one's hands.  I felt there was not that much difference between this rhum and the Extra Vieux, and my delight at its appearance aside, that one appealed a smidgen more. It's a subtle kind of thing, having to do with texture, complexity, the way the tastes sidled up, had their moment and then crept away. There's a great rhum in here someplace, and while it showcased potential more than true over-the-top quality, I'd suggest you can still take it to your best friend's house for a special occasion without shame, because trust me, this is a five-year old that might just set his johnson on fire.
Other notes
Exclusive bottling for La Maison du Whisky

Age is unknown but given I bought mine in early 2015, it isn't more than a five year old

Some background to the company is given in the write up of the Extra Vieux

This is an AOC rhum, conforming to all the regs required by the designation

Some have noted it is a whisky-like rhum, but I think it's actually closer to a rhum-like tequila.