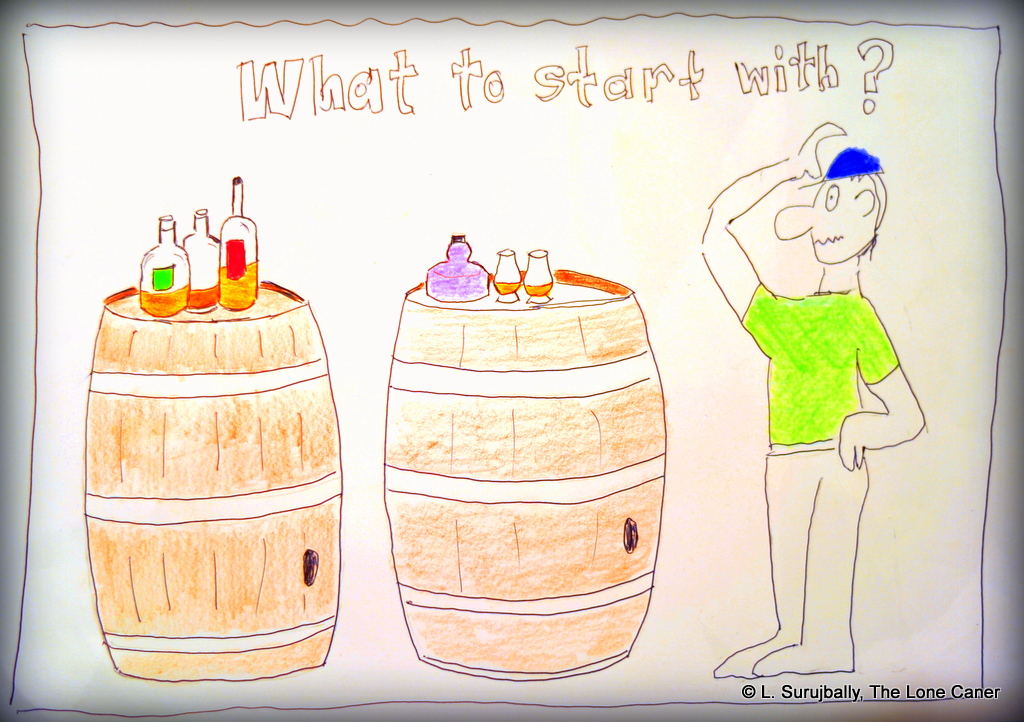 Part 4 – Which rums to start with
In conceptual and generalized terms, this series has so far covered the startup philosophy, the website and postings, and added pointers on sampling and reviewing.  Today I move into more familiar territory.
I have a feeling quite a few people were waiting for this post.  Alas, no, this isn't entirely what you thought it would be, because making such a list is a tricky, even controversial, subject to opinions varying as widely as the Pacific.
I'd suggest that you begin with what's available to you easily and at a relatively low cost – those that open a new site not unnaturally tend to begin with what's already in the cabinet, for example, and it seems that one really great rum is usually what kickstarts the inspiration process.  Now yes, this will relegate you to reviewing the old standby rums everyone knows about and which have been written on by many before you…but it also provides you with a solid base from which to start, good writing experience, and a sense of the their relative characteristics, one to the other. More, if you begin from the low end then you'll appreciate better, older rums more as and when they cross your path – you have a good basis for comparison.  And you can calibrate better – by seeing what others have written on the same rum, you see what you may have missed (or what they have), and gain additional perspective and confidence. It helps even more with rare or limited editions that have no precedent: try finding reviews of the SMWS rum bottlings, for example…what on earth can they reasonably be compared to, if you have 'em right off the bat?
What this is about then, is getting a firm grounding in the core rums of the world and what they taste like, and how they differ: El Dorado, Flor de Cana, Appleton, Mount Gay, FourSquare, Havana Club, Bacardi (yes, Bacardi), Clemente, Abuelo, Goslings, Diplomatico, Barbancourt, St. James, as well as standard mixers like Lamb's, Meyer's, Trader Vic's, and so on (this listing is merely illustrative).  It also introduces you to the various styles upon which some place enormous emphasis – Demerara, Jamaican, Latin/Spanish/Cuban, Bajan, Agricoles and what have you (the FatRumPirate has a good section on his website devoted to this kind of stratification). If the subject and the act of reviewing is at all important to you, you kinda have to know this stuff. Rum 101, folks. You cannot be a reviewer with street cred, demanding respect, if you don't have the basics down.
I thought long and hard before deciding against providing  detailed list of rums one could begin with because no matter how extensive, I'll either leave something out, or include one that others disagree with; and have compromised by providing a list of companies making rums that are well known, mostly available, reasonably well-regarded (at least they're not hated) and fairly representative.  It's up to you to decide what your palate and your wallet can stand, and which ones in the value chain to get.
So, the rums made by the companies below are not a listing of rums with which to start your reviewing life, or a rum bar – although you could do worse –  simply ones that gives a reasonably broad base of styles and makes.  They therefore comprise a key component of a reviewer's mental arsenal for evaluating rums. (Note I am deliberately leaving out specific rums from the eastern hemisphere, and independent bottlers. This is not to imply that they are somehow less, however.)
Bacardi (no matter what you think of them, they make decent rums)
Angostura (Trinidad)
El Dorado (Guyana)
Appleton (Jamaica)
Flor de Caña (Nicaragua)
Mount Gay (Barbados)
R.L.Seale / 4-Square (Barbados)
Havana Club (Cuba)
Matusalem (Dominican Republic)
Diplomatico (Venezuela)
Brugal, Barcelo and Bermudez (Dominican Republic)
Travellers (Belize)
Goslings (Bermuda)
Cockspur (Barbados)
Pusser's (BVI)
Abuelo (Panama)
Agricoles – Barbancourt, St James, Neisson, HSE, Karukera, J. Bally, Clemente, Karukera, are examples…there are many others
Soleras like Zafra, Dictador, Zacapa, Santa Teresa
Spiced Rums like Captain Morgan, Sailor Jerry's, Kraken and so on
Overpoofs like the various 151 rums made by Appleton, Bacardi, Lemon Hart et al
Non Caribbean rums from anywhere (Australia, Thailand, India, Phillipines, Fiji, etc), even if they may not strictly be rums according to general accepted convention. The constant arguments of what constitutes a "true" rum is unlikely to be solved anytime soon, so you should also understand why the Phillipine Tanduay, Czech Tuzemak or Thai Mekhong raise the blood pressure of the puritans.
I tell all people asking me about what to begin with, to start the journey with one or two fantastic examples to show what rum can be, but then concentrate on writing initially about the low end of the market and work up. And I would strongly advise the prospective reviewer against going for, and writing about, the top end, oldest, most prestigious and/or most expensive rums right away, or those from independent bottlers who make rums that are often off the scale.  Even if you can afford them or your friends press them upon you, put them away for analysis and review later.  I know this sounds totally bat-bleep-crazy, but until you get your basics down and understand the rank and file of commercially available commonality, know your own tastes and how good sub-ten-year-olds can be, you will not be able to properly rate, appreciate or score a premium (or conversely, you may score it too enthusiastically).
Worse, it will colour all your perceptions of the good and commonly available rums forever, and this will be reflected in your writing. Buying top-end aged rums from their makers, or sourcing quality hooch from outfits like Rum Nation, Cadenhead, AD Rattray, Samaroli, Silver Seal or Velier and skipping entry-level grog altogether, is something of a one-way bridge; in comparison, more affordable and younger offerings will seem less, when in fact they really aren't, just different, and are often good markers of their styles. From my own experience, I can freely admit that I should never have bought the Appleton 30 so quickly; or, much as I have always loved it, the English Harbour 1981.
Tomorrow – Keeping things going, and a wrap up