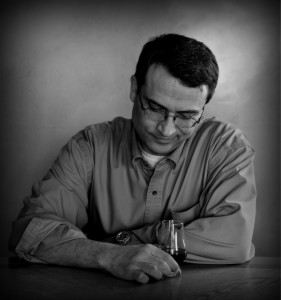 The Lone Caner is a sad island of rum appreciation in an otherwise obdurate ocean of whisky.
Being referred to as the 'Caner is a wry commentary on the rabid whisky aficionados inhabiting  the province, if not the country, in which I lived and the utter paucity of selections in the country I now call home; it found its origin in the Liquorature Collective, where I loudly and cheerfully bugled my preference for the extract of the cane right from the get go in 2009. After sampling, reviewing and writing about rums on and for Liquorature for almost four years, I decided to open up The Lone Caner as a website in its own right in March 2013.
I'm not a bartender, cocktail expert, mixologist, oenologist, or -ologist of any kind. I'm not an XP panelist, nor do I take part in judging, or contests (this may be pure laziness on my part). In fact, I just happen to like rums, reading about 'em, and writing . I'm in the fortunate position to have access to more rums than most.
The site is about rum reviews and tastings and essays on producers, as well as whatever news of the rum world I feel like commenting on. Nothing more, though I have brought other areas of my interest into it here and there – the 'Caner is, after all, a single person's work. However, this site is primarily geared towards rums and their makers.
Scoring systems are a personal pet bugbear, and mine, while creaky and out of step with many others, is at least consistent – I started assigning ratings to rums some time after the 50th review, which is why earlier work often has no score at all. In my system, a product scoring between 50-60 is average, while 85 is a top-of-the-line, almost-walk-on-water rum – nothing has ever scored a ninety with me. I justify this by saying it leaves me more room for the excellent products to come but maybe I'm just trying to avoid going back to over so very many reviews and rescoring the lot. Opinions differ. (I was a lot harsher in the earlier reviews than I later became and actually scored some rums in the 40s, which one day will have to be re-tasted and re-scored since even I know that's a little insane). As an aside, if you wish to convert my score to a more recognizable points system in use by, for example, whisky reviewers, divide my score by 2 and add the result to 50.
Note that in an Iphone and twitter age, I write for desktop sized screens. I'm not brief, and write what I feel – only 20-30% of my verbiage is ever about tasting notes, and throw in any observation that seems relevant. This includes as much information about the distillery or producing company as I can find in order to provide as complete a picture of the product as possible.  Not everyone agrees with this idea (or my flowery language), but I'm done apologizing for that.  It is what it is.
A few other points:
I buy just about everything, and take no freebies except from my friends, who know of my passion, or the occasional formal tasting…I found that I simply didn't believe in my own impartiality when agents and makers sent me samples, and so I deliberately eschewed the practice years back. I relax the rule if I have already written about and reviewed many products from a given company.  I never solicit industry, but beg my friends a lot.
I have a day job, studies, other interests, and a family.  Sometimes that interferes with the frequency of updates. It happens.
What you are getting is an educated, informed opinion – mine, to be exact.  That opinion is influenced by the amount of rums I've tried, my background and my personal palate.  My favouritism exists, and is earned, not bestowed or bought. You are welcome to disagree, as long as you concede that my opinion may also have validity.
Any errors of fact are entirely my own, made in all innocence during the course of my research.  When pointed out, I'll correct them.
If you want to send an email, thelonecaner@gmail.com will find me; or, drop a comment here on this page.  I usually check in once or twice a day unless I'm on holiday somewhere.
All the best
Lance
"Ruminsky van Drunkenberg"