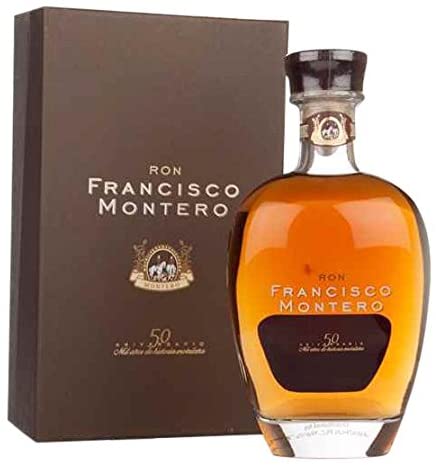 Francisco Montero is, unusually enough, a Spanish rum making concern, and the website has the standard founding myth of one man wanting to make rum and going after his dream and establishing a company in Granada to do so in 1963. Initially the company used sugar from cane (!!) grown around southern Spain to make their rums, but over time this supply dried up and now in the 21st century they source molasses from a number of different locations around the world, which they distill and age into various rums in their portfolio. Francisco Montero continues operations to this day, and in 2013 celebrated their 50th Anniversary with a supposedly special bottling to mark the occasion.
I say "supposedly" because after tasting, I must confess to wondering what exactly was so special about it. The nose itself started off well – mostly caramel, molasses, raisins, a dollop of vanilla ice cream, with hints of coffee and citrus, flowers and some delicate sweet, and some odd funkiness lurking in the background…shoes, rotting vegetables, some wood (it reminds me somewhat of the Dos Maderas 5+3).
But afterwards, things didn't capitalize on that strong open or proceed with any kind of further originality. It tasted wispy and commercially anonymous, that was the problem, and gave over little beyond what was already in the nose. Molasses, caramel, some fruit – all that odd stuff vanished, and it became dry, unimpressive. Okay after ten minutes, it turned a tad creamy, and grudgingly gave up a green apple or two, toast, and some walnuts. But really? That was it? Big yawn. Finish was short, bland, faintly dry, a hint of dried fruits, caramel, brown sugar.
So what was this? Well, it's a 40% ABV solera rum with differing accounts of whether the oldest component is five or ten years – but even if we're generous and accept ten, there's just not enough going on here to impress, to deserve the word "special" or even justify "anniversary".
Reading around, you only get two different opinions – the cautiously positive ones from any of those that sell it, and the harshly negative from those who tried it. That's practically unheard of for a premium ron that marks an event (50th anniversary, remember) and is of limited provenance (7000 bottles, not particularly rare, but somewhat "limited", so ok). Most of the time people whinge about price and availability, but nobody really seems to care enough to make it a cause. Even the the ones who disliked it just spoke to taste, not cost. "Turpentine" growled one observer. "Quite disappointed," wrote another, and the coup de grace was offered by a third "Who in their right mind has been buying this stuff for 50 years?!" Ouch.
I'm not that harsh, just indifferent — and while I accept that the rum was made specifically for palates sharing a preference for sherries, soleras and lighter ron profiles (e.g. locals, tourists and cruise ships, not the more exacting rumistas who hang around FB rum clubs), I still believe Montero could have done better. It's too weak, too young, too expensive, and not interesting enough. If this is what the descendants of the great Spanish ron makers who birthed Bacardi and the "Spanish style" have come to when they want to make a special edition to showcase their craft, they should stop trying. The nose is all that makes me score this thing above 75, and for me, that's almost like damning it with faint praise.
(#736)(76/100)
---
Other notes
Master Quill

,

that sterling gent who was the source of the sample

,

scored it

78

and provided details of the production methodology

.

Not much else for the company has been reviewed except by the FRP

,

who reviewed the Gran Reserva

back in

2017