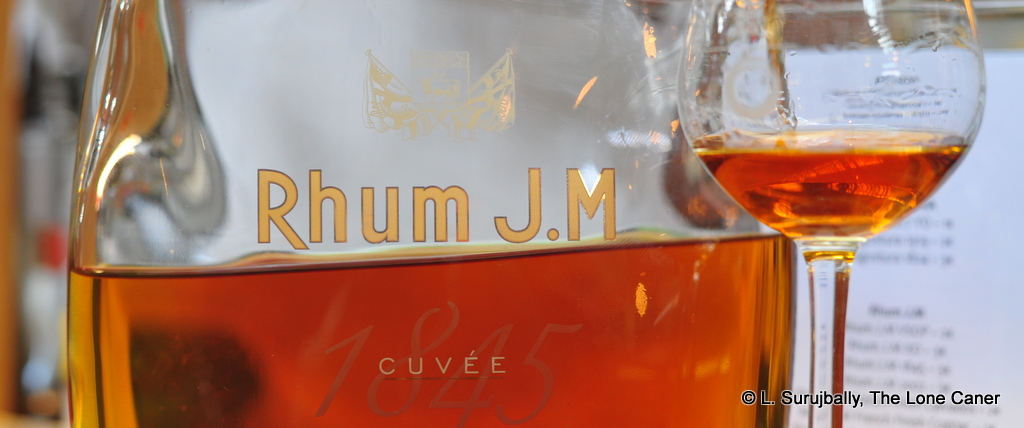 After a tough day at work, the Cuvée 1845 is a balm to the exhausted mind.
Even at 42% ABV, The Rhum J.M. Cuvée makes a statement for agricoles that is worth listening to. It finds a balance between body, mouthfeel, taste, spiciness and warmth in a way that reminds us that agricoles should not be taken as merely a small subset of the greater rumworld, but should hold a place in the pantheon second to none. While these days my preferences run mostly towards stronger, full proof rums, I must say that there's nothing about this lovely product that makes me want to ask for it to be dialled up. It's excellent as it is.
Issued as an anniversary edition for the 170th year of production on the plantation in 2015 (which was when I tried it), the Cuvée is a rhum aged at least ten years in oak barrels, gold in colour, and housed in a handsome gold etched flagon of admirable simplicity. J.M. is, of course, the old house on Martinique which issued the haunting 1995 15 year old, as well as the equally memorable 2002 Millesime 10 year old, but I think this one is just a shade better. J.M. as a plantation has been in existence for longer than 170 years – Pere Labat founded the sugar refinery as far back as the 1700s, and it is clear that the current owners have forgotten nothing about what it means to make a top notch rhum.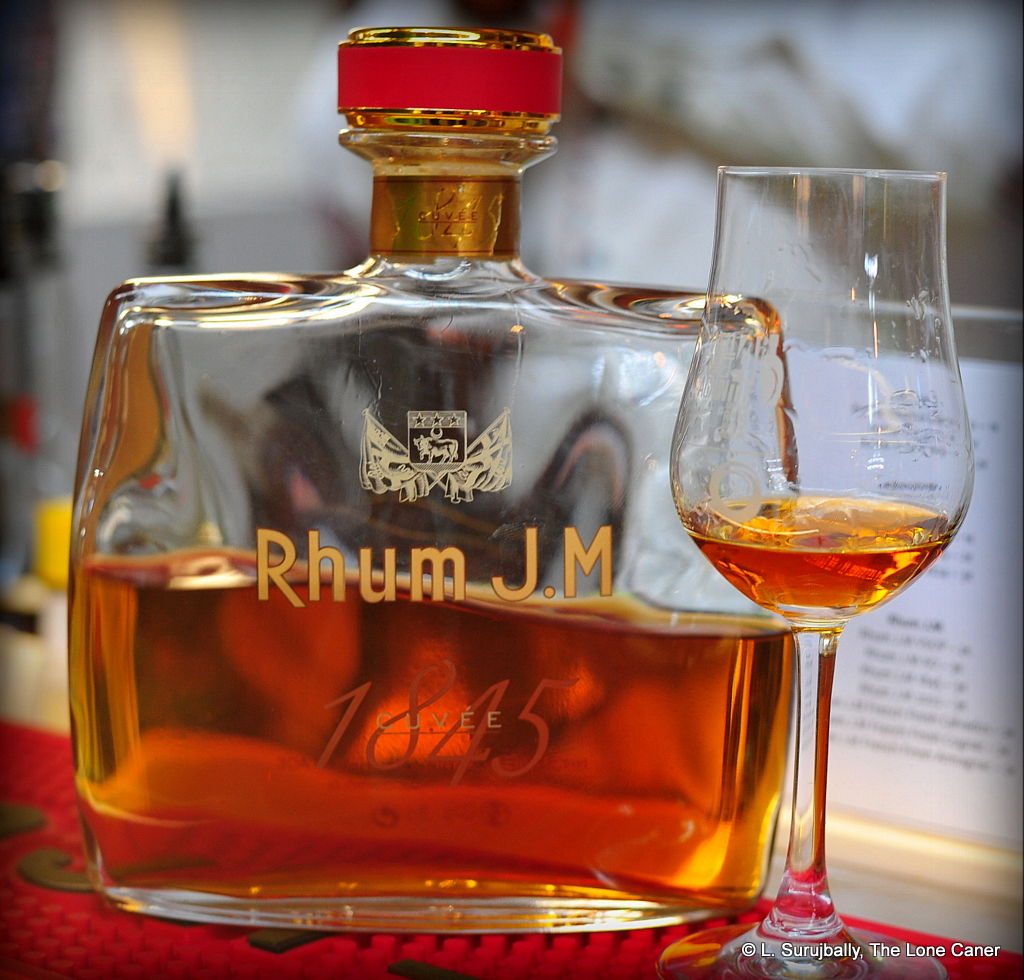 There was a certain tartness in the nose that started things off, something like ginnip and soursop, the crisp and firm ripeness of a green apple. It was not sharp or spicy, just heated and well controlled in a way that made smelling it a joy rather than an exercise in pain management – I didn't have to set it aside to chill out and breathe, but could dive right in. Once it opened a bit, it softened up, providing additional easy-going scents of vanilla, gingerbread cookies, unsweetened yoghurt and just a dash of pepper and cumin (which is not as odd as it may sound).
It was the taste that elevated the rhum above its 1995 and 2002 compatriots. What sinks an agricole in the minds of many molasses rum lovers is both the clarity and sharpness, whatever the tastes might be. Nothing of the kind happened here. In fact, it displayed the sort of originality and balance of crispness and softness which many rums these days seem to shy away from in an effort not to piss anyone off. The feel body was medium, soft, and had the instantly recognizable herbaceous background which marked it as a cane juice product. Over a period of time, spices, black pepper, vanilla, light citrus and flowers emerged, surrounded by woody notes from the oak barrels where it has rested. These oaky notes were held in check, providing a background of tannins that did not overwhelm, but enhanced further notes of ginger snaps, orange zest, ripe apples, and created a lovely mix of clear, light softness redolent of these many flavours all at once. And the finish was equally high-grade – sweet, smooth, warm, tasty (nothing new added here, alas); perhaps a bit too short…more a summing up of the whole experience than any effort to go off the reservation by presenting anything new.
There's was something almost sensuous about the whole experience. The 1845, and indeed the rest of the rhums from this company, lacked that peculiar sense of individualism that marked out the Neisson line, yet in their own way are as distinct as any other, and with a quality not to be sneezed at. This is a rhum so well made that sipping it neat is almost mandatory – mixing it might be a punishable offense in some places, and I certainly wouldn't. Admittedly, the only J.M. rhums I've tried have been fairly high end ones – when you can carry only one and buy only one, you tend to chose from the better end of the spectrum – but even among those I've sampled, this one stands out. It's a remarkable, tasty, solid accomplishment from one of the last single-domaine, family-owned houses still in existence on Martinique. And a feather in its cap by any definition.
(#294)(88/100)
---
Other notes
Blend of rhums aged a minimum of ten years in 200-liter oak barrels

A brief bio of J.M is provided in the

1995

review