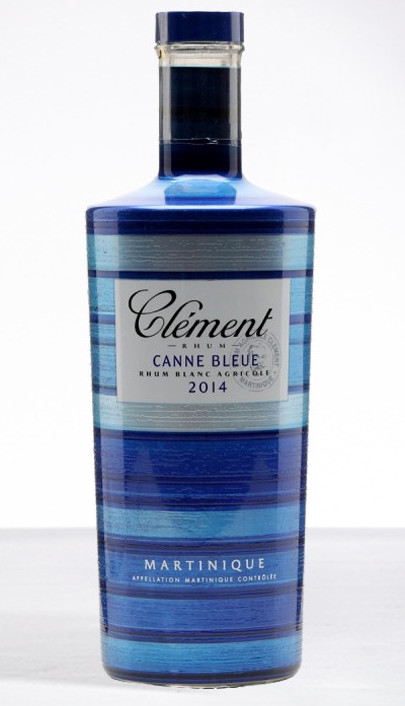 In an ever more competitive market – and that includes French island agricoles – every chance is used to create a niche that can be exploited with first-mover advantages. Some of the agricole makers, I've been told, chafe under the strict limitations of the AOC which they privately complain limits their innovation, but I chose to doubt this: not only there some amazing rhums coming out the French West Indies within the appellation, but they are completely free to move outside it (as Saint James did with their pot still white) – they just can't put that "AOC" stamp of conformance on their bottle, and making one rum outside the system does not invalidate all the others they can and do make within it.
This particular rhum illustrates the point nicely. It's an AOC rhum made from a very specific variety of cane coloured gray-purple (don't ask me how that got translated to 'blue') which is apparently due to an abundance of wax on the stem. It's been used by Habitation Clément since 1977 and supposedly has great aromatics and is richer than usual in sugar, and is completely AOC-approved.
Clément has been releasing the canne bleue varietal rhums in various annual editions since about 2000. Its signature bottle has gone through several iterations and the ice blue design has become, while not precisely iconic, at least recognizable – you see it and you know it's a Clément rhum of that kind you're getting. Curiously, for all that fancy look, the rum retails for relative peanuts – €40 or less. Maybe because it's not aged, or the makers feared it wouldn't sell at a higher price point. Maybe they're still not completely sold on the whole unaged white rhum thing, even if the clairins are doing great business, and unaged blancs have gotten a respect of late (especially in the bar and cocktail circuit), which they never enjoyed before
What other types of cane Habitation Clément uses is unknown to me. They have focused on this one type to build a small sub-brand around and it's hard to fault them for the choice, because starting just with the nose, it's a lovely white rum, clocking in at a robust 50% ABV. What I particularly liked about it is its freshness and clarity: it reminds me a lot of of Neisson's 2004 Single Cask (which costs several times as much), just a little lighter. Salty wax notes meld nicely with brine and tart Turkish olives to start. Then the crisp peppiness of green apples and yoghurt, sugar water, soursop and vinegar-soaked cucumber with a wiri-wiri pepper chopped into it. The mix of salt and sour and sweet and hot is really not bad.
It's sharp on the initial tasting – that levels down quickly. It remains spicy-warm from there on in, and is mostly redolent of fresh, sweet and watery fruit: so, pears, ripe green apples, white guavas. There are notes of papaya, florals, loads of swank, avocados, some salt, all infused with lemon grass, ginger and white pepper. The clarity and crispness of the nose is tempered somewhat as the tasting goes on, allowing softer and less aggressive flavours to emerge, though they do stay on the edges and add background rather than hogging the whole stage. The finish is delicate and precise; short, which is somewhat surprising, yet flavourful – slight lemon notes, apricots, cinnamon and a touch of unsweetened yoghurt.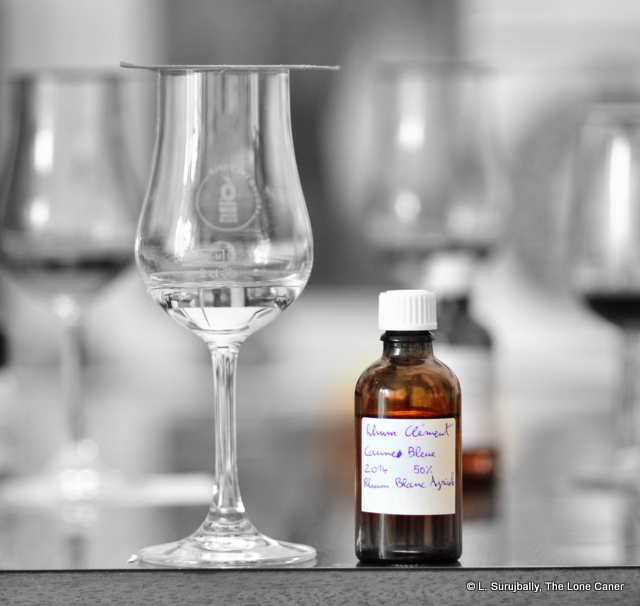 So, what to make of this econo-budget white rhum? Well, I think it's really quite good. The Neisson I refer to above was carefully aged, more exclusive, cost more…and yet scored the same — though it was for different aspects of its profile, and admittedly its purpose for being is also not the same as this one. I like this unaged blanc because of its sparkling vivacity, its perkiness, its rough and uncompromising nature which masks an unsuspected complexity and quality. There are just so many interesting tastes here, jostling around what is ostensibly a starter product (based on price if nothing else) — this thing can spruce up a mixed drink with no problem, a ti-punch for starters, and maybe a daiquiri for kicks.
I don't know what aspects of its profile derive from that bleue cane specifically because so far in my sojourn through The Land of Blanc I've experienced so many fantastic rhums and each has its own peculiar distinctiveness. All I can say is that the low pricing here suggests a rhum that lives and dies at the bottom of the scale…but you know, it really shouldn't be seen that way. It's far too good for that.
(#796)(85/100)
---
Other Notes
Production is limited to between

10,000

and

20,000

bottles a year

,

depending on the harvest

.

Not precisely a limited edition but for sure something unique to each year

.

Thanks to Etienne Sortais

,

who provided me with the sample

,

insisting I try the thing

.

He was certainly right about that

.