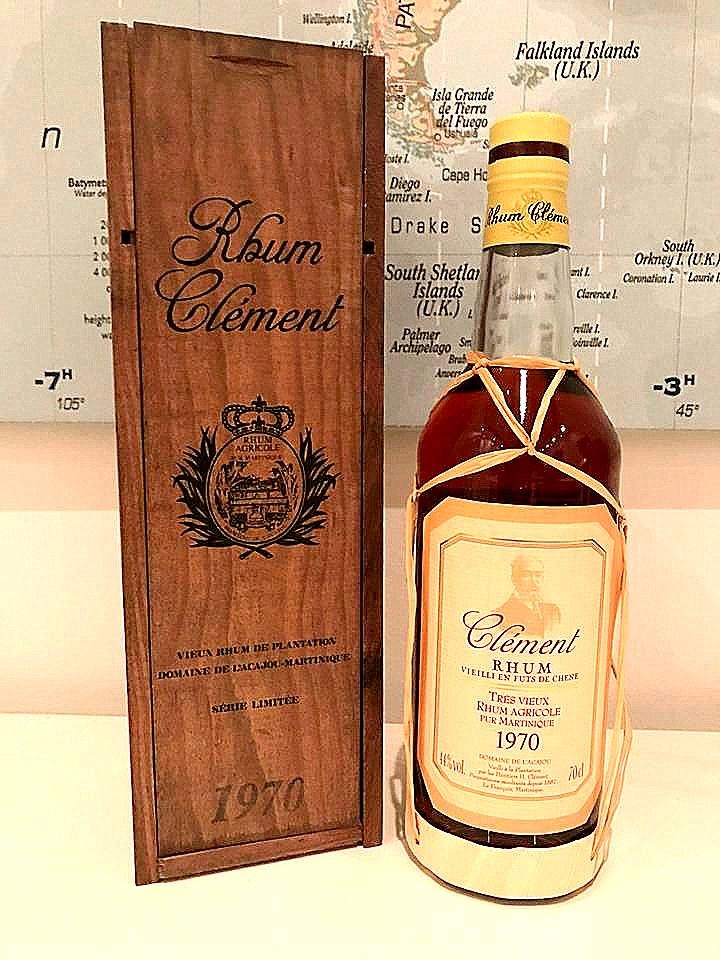 Rumaniacs Review #104 | 0677
Unsurprisingly, the 1976 Clément Trés Vieux we looked at a few days ago sells for around €500 or more these days, which to me is a complete steal, because any Velier from that far back is going for multiple thousands, easy. This, the second-oldest component of the XO sells for quite a bit more – north of €700 (though you can find it for much less in any store that is out of stock, and that's most of them). And I think that one is also remarkably undervalued, especially since it's a really good rhum. How it can still be available nearly half a century after being made, is a mystery.
That aside, the rhum does come with questions. For example, there's a discrepancy in accounts about how old it is. The author of that great rum book Les Silencieux, Cyril of DuRhum, noted in his 2016 recap of some of Clement's older rhums, that it was fifteen years old, aged in 200 liter barrels and then bottled in 1985. But that's not what Fine Drams said – in their listing they state it was indeed aged for 15 years in this way, but it was then decanted into smaller French oak casks and matured a further six years until 1991 (no other online seller I was able to find makes mention of the age at all). And Dave Russell of the Rum Gallery, who tried it in 2017, also said it was a 21 YO, making no mention of a secondary maturation. Olivier Scars, who reviewed it as part of his tasting experience with the Clement Trio, didn't comment on it either, and neither Clement's own site or their US page speak to the matter. (I'm going with the longer age for reasons I'll make clear below, at least until the queries sent out start getting answered).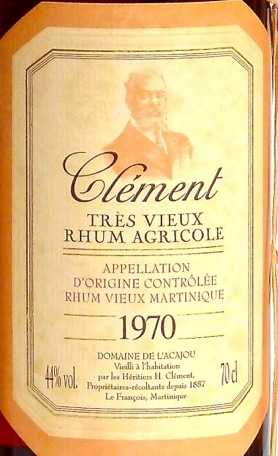 Another peculiarity of the rhum is the "AOC" on the label. Since the AOC came into effect only in 1996, and even at its oldest this rhum was done ageing in 1991, how did that happen? Cyril told me it had been validated by the AOC after it was finalized, which makes sense (and probably applies to the 1976 edition as well), but then, was there a pre-1996 edition with one label and a post-1996 edition with another one? (the two different boxes it comes in suggests the possibility). Or, was the entire 1970 vintage aged to 1991, then held in inert containers (or bottled) and left to gather dust for some reason? Is either 1991 or 1985 even real? — after all, it's entirely possible that the trio (of 1976, 1970 and 1952, whose labels are all alike) was released as a special millesime series in the late 1990s / early 2000s. Which brings us back to the original question – how old is the rhum?
Colour – Amber Gold
Strength – 44%
Nose – Not a standard agricole opening – there's more than a touch of Jamaican here with off-notes of rotting fruit, bananas and gooseberries, quite pungent. But also smoke, leather and more than a touch of brown sugar, even some salty vegetable soup stuffed with too much lemongrass. It does settle down after some minutes, and then we get the herbals, the grassiness, tobacco, spices, and bags of dark fruit like raisins and prunes bringing up the rear.
Palate – Hmmm, quite a bit going on here. Initially a tad sharp and bitter, with raw tobacco, pimento-infused unsweetened chocolate and anise. Sweet and salt, soya, more of that soup, brown sugar, a touch of molasses (what was that doing here?), almonds, tequila and olive oil. And more prunes, black grapes, raisins, providing a thick background around which all the other flavours – salt or sharp – swirled restlessly.
Finish – Medium long. Warm, fragant, with lots of sugar cane sap, sugar water, papaya, squash (!!), watermelon and a pear or two. It's really strange that the heavier and salty and musky flavours seemed to vanish completely after a while.
Thoughts – Well, I dunno. It really is not at all like an aged agricole of the kind I'm used to getting from Martinique. The fruitiness pointed to that secondary maturation noted by Fine Drams, and overall I liked it quite a bit, more than the 1976. It's well rounded, flavourful to a fault, maintains a good balance between age and youth, and the only hesitation I have is in pronouncing on how old it actually is, or whether it is a true AOC given the divergence from a standard/modern profile of such rums. More cannot be said at this stage until some answers roll in, and in the meantime, I have to concede that even if the background details remain elusive or questionable, this is one fine rhum from Ago.
(#677 | R104)(86/100)