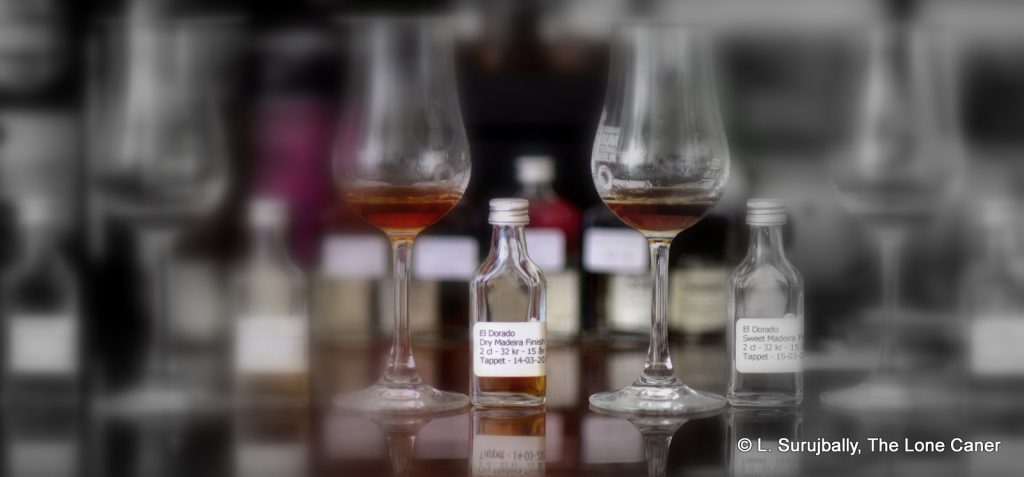 This is the fourth short form review of the six "finished" variations of the 15 year old El Dorado rums. The 15 year old is the core of it all, and so I'll be briefer than usual in my descriptions, rather than provide an essay in each case; and then wrap them all up with a summary on the last day.
The rums were all tasted together, blind, in a four-hour session, using the original (retasted) El Dorado 15 with a non-blind score of 82, as a control baseline. All point scores relate to that rum.
---
As for all these finished El Dorados, the basic component is the 15 year old, and an additional 18-24 months of finishing is done, which is edging close to a double maturation territory rather than just a finish, but I'm not a total pedant in this matter, so it's just noted for completeness. In this case, the finish is accomplished in French oak casks which once held (or were "previously seasoned with") a dry madeira wine from an unnamed estate on the Portuguese island of Madeira – which, as an aside, is getting its own quiet rep for some interesting rums these days.
Colour – Amber
Strength as labelled – 43%
Strength as measured (RumShopBoy) – 40.5%
Nose – By far the best nose of the six, really liked this one a lot: sawdust and biting dark fruit undertones of plums, juicy pears, raisins, black grapes. Leavened with ripe orange peel, peaches and olives before muskier aromas of toffee and chocolate take over (as they do in all of these rums, eventually).
Palate – Very smooth, but some of the sharp citrus-y element of the nose disappears. Salted butter and caramel drizzled over vanilla ice cream. Softer fruits here, not sharper ones – bananas, kiwi fruit, oranges gone off. Oh, and some spices – cinnamon and cloves. Nice, but weak (which is something all these rums seem to have in common).
Finish – Peanut butter and soya linger alongside toffee and chocolate orange fumes, quite short.
Thoughts – Certainly the best nose, and very nice depth and complexity, though writing this, I wonder where the tartness supposedly characteristic of a dry Madeira went and hid itself (such wines are not quite the same as the red wine, ruby port or white port – they tend to be somewhat sweet, quite dry and have a somewhat tart, or acidic, profile). I also felt that even the taste, for all its complexity, let it down somewhat by — again — being just too delicate. In a mix of any kind, the subtleties of those flavours would all disappear almost completely, and I personally prefer something more distinct or forceful when sipped neat (as this one absolutely can be). Nevertheless, a good rum by any standard for its strength.
(#532)(80/100)
---
Links to other rums in the "additional finish" series:
0532

El Dorado

15

Year Old

–

Dry Madeira Finish