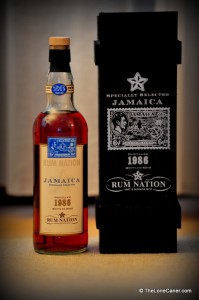 Rich sipping rum of remarkable complexity and flavour, one of the best I've ever had out of Jamaica.
Rum Nation's Supreme Lord VI (the Jamaican 26 year old 2012 edition by any other name) is as good as its 2010 brother, if not actually surpassing it. It shows what can be done with an aged rum if time and care and patience – and some artistry – is brought to bear. I loved the Supreme Lord V, which I reviewed a while back – and I must say, the VI does dial it up a few notches. (Full disclosure – Fabio Rossi, the man behind Rum Nation, was having so many troubles working out the complications of me buying a single bottle from him, that he finally just lost patience, sent me the one, and said it was on the house. So this one was a freebie, which happens rarely enough these days, but a fact of which you as a reader should be aware).
Like its predecessor, this rum was dark red-amber in hue, and gave evidence of good viscosity, what with its chubby legs slowly draining back into the glass. It was also richly pungent to a fault: when I opened that bottle and decanted into my glass the aromas were all over the room in no time: a fragrant nuttiness with a faint tawny, perhaps herbal tinge, and cloves and nutmeg, a little pepper, vanilla, cherries. I noted in my review of the 2011 edition that there was that slight turpentine, plastic tinge to it – none of that was in evidence here. This rum has esters flexing their biceps all over the place.
The feel and taste on the palate was similarly excellent. There was a sense of fruit teetering on the edge of over-ripeness, without actually falling over. Leather, and the dry mustiness of a closed stable full of tack. Aromatic tobaccos mixed it up with (I kid you not) a freshly opened packet of loose black tea. Even at 45%, it was smooth and easy, with a peaches and cream texture on the tongue that quite subdued the normally sharp citrus tinge Jamaican rums have. And after adding a smidgen of water and waiting a while, there was even a tease of unsweetened dark chocolate and molasses winding its way through there – I just loved this rum, honestly.
And like the nose and the arrival, the exit was warm, a little aggressive, not too long, not too sharp and quite satisfying – one might even say it was chirpily easy-going, sauntering out the door with the casual insouciance of a person who knows he doesn't have to tout his ability. That last twitch of molasses, orange zest and nutmeg was just heavenly. The Supreme Lord VI was quite a step up the evolutionary ladder from the last one I tried, I think (though I still love that one as well, don't get me wrong – it had an aggro I found pleasing, in its own way). All in all, this may have been one of the best Jamaican rums I've ever tried, and speaks volumes about why I'm a fanboy of Rum Nation.
When asked, Fabio noted to me that he produced 760 bottles of this nectar. It was distilled in a pot still out of Long Pond (home of the rampaging rhino that is the SMWS 81.3%) back in 1986, aged in ex-bourbon American oak barrels, but also finished for another eight years in Oloroso sherry butts – that would be where the amazing panoply of flavours got a helping hand, I'd say. Rums like this one explain something of why I am prepared pay the extra coin for small batch creations – it's a bit hit and miss, I concede…but not here.
Occasionally I go on a real multi-hour bender (usually out of boredom) – these days somewhat more rarely, of course. Still, with most rums I polished off a standard bottle in a few hours…this one is so smooth, so tasty, so complex — so good — that the experience (were I ever to perpetrate such a discourtesy with such a gem) would take half the night, yet feel like it's over in five minutes. There are some words I always hesitate to use in a review because it sounds so much like mindless genuflection or commercial shilling, but here I have to be honest and say, from the heart, that I think this rum is exquisite.
(#182. 90/100)
**