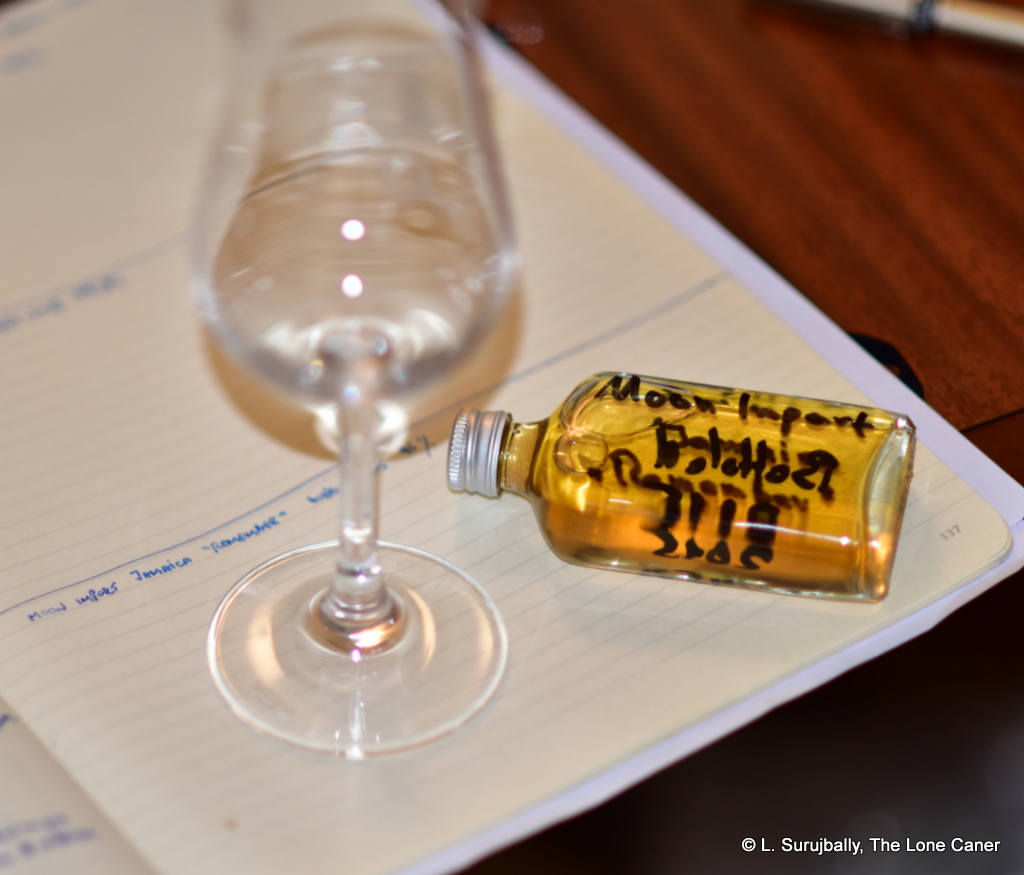 In 2015, Moon Imports, one of the well known if somewhat second-tier Italian independent bottlers which was founded in 1980, released a new collection of rums called "Remember", which at the time comprised of four rums – one each from Jamaica, Barbados, Trinidad and Guyana. With the exception of the agricole makers, Cuba and St. Lucia, then, the initial line represented the big guns of the Caribbean rum world. What exactly was to be "remembered" was another matter, mind you, since the rums were too recent and relatively young to commemorate anything or represent any kind of old tradition. But it was evocative, no question, and the aura was and remains enhanced by the lovely artwork and design ethos, which company legend has it was inspired by drawings from an old 18th century German encyclopaedia, as redone by a contemporary artist Nadia Pini.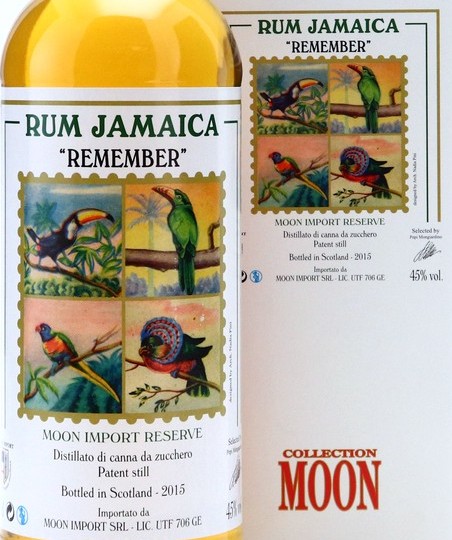 Moon Imports makes a thing on its website about sourcing its barrels in the Caribbean, but we must take that with a pinch of salt since wherever they were found, they were subsequently aged in Scotland and then released — so whatever their original tropical nature might have been, they would fail the Gargano test of (in situ) authenticity. That doesn't particularly bother me, since as I've mentioned before, there are enough continentally aged rums out there that compete handily with tropically aged ones.
What does bother me is why Moon Imports bothered with the wimpy 45% ABV — as they have with almost all rums they have produced — and why the information on the label of this first edition was so scanty. I mean, it was sweetly designed, but to say it was distilled in Jamaica (wherever on the island that might have been), on a patent still (another term for a continuous column still) and then go right ahead and exclude whether it was single barrel or blend, distilled in what year, aged how long, can only lead to annoyance frustration…and this might be why to this day the rum still sells (primarily on whisky sites) for under a hundred bucks. If I couldn't tell the provenance or the age of a rum from a respected casa like Moon, I would probably pass on it too.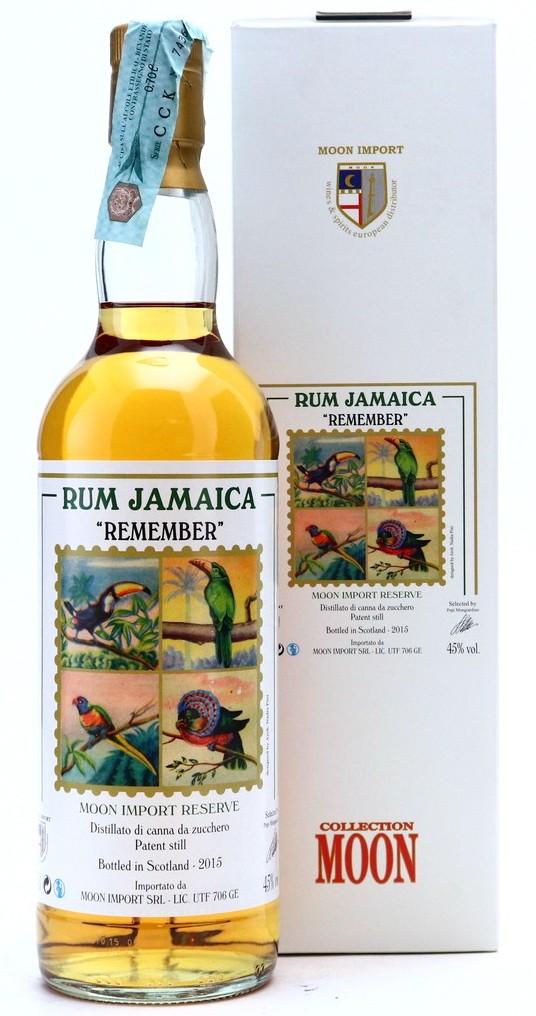 So we know it's a 45% Jamaican rum bottled by Moon Import in 2015 after ageing in Scotland, and yet we're clueless as to age, exact still-type, estate/marque, distillation date, single cask or blend, or outturn. Wonderful.
Let's see if solace is to be found at the bottom of the glass: there may be redemption in hiding. Nose first – not bad. There's a fair amount going on here – tobacco, glue, fresh sawdust, furniture polish and linseed oil (the sort you used to oil your cricket bat with, back when you thought you were the next Sobers). There's some brine and olives and gherkins in vinegar there, gentling down to a smorgasbord of tart yellow fruit…mangoes, ginnips, pineapples, red grapefruit, that kind of thing, channeling something of a good dry white wine, though ultimately somewhat uneventful. New Jamaicans may have spoiled our noses for this kind of subtler aroma.
Once tasted it's clear to see it is a real Jamaican, because a certain funk comes quickly to the fore: thick fruity tastes of pineapple, strawberries, bubble gum, rotting oranges and gooseberries, bananas beginning to go. An interesting amalgam of sharper light fruits and cream cheese and salted butter on a very yeasty bread. It's decent enough, just a touch unbalanced and not particularly earthshaking and the finish closes things off with a snap of light lemony crispness, a touch of tart funk, though it is a bit dry and rough and doesn't last long enough.
It's a completely decent-tasting, competently-made rum, this, even if you don't know much about it. The truth is, I really don't care what it is — I've had better, I've had stronger, I've had tastier, and a week from now I'd be hard put to recall anything particularly special about this one aside from the fact that it was a 'good 'nuff Jamaican made by Moon.' That's both a recommendation and an indictment, and I'm surprised that an independent bottler dating back forty years would release something so indifferently for us to try. Especially with a name like "Remember", which it certainly doesn't rate high enough to deserve.
(#832)(82/100)
---
Opinion
The rum is a good reminder that proud indie houses don't always move with the times or understand the desires of consumers, and that you could say a whole lot of something but end up communicating nothing…and that ultimately, it's the rum under the label and inside the bottle that matters, and not all such rums are good just because Sylvano's disciple selected them.
Points aren't deducted for a lack of informational provision – the rum is scored honestly based on how it sampled – but I really must confess to my irritation at not being entirely sure what it was I was scoring. Even if made six years ago, this should not be something I still have to complain about. I particularly dislike that the company's website doesn't see the need to provide any background on the rums it has released. It's not an ancient maison dating back centuries, it was formed in my lifetime, it should have its damned records straight so we can tell what it was we're buying.