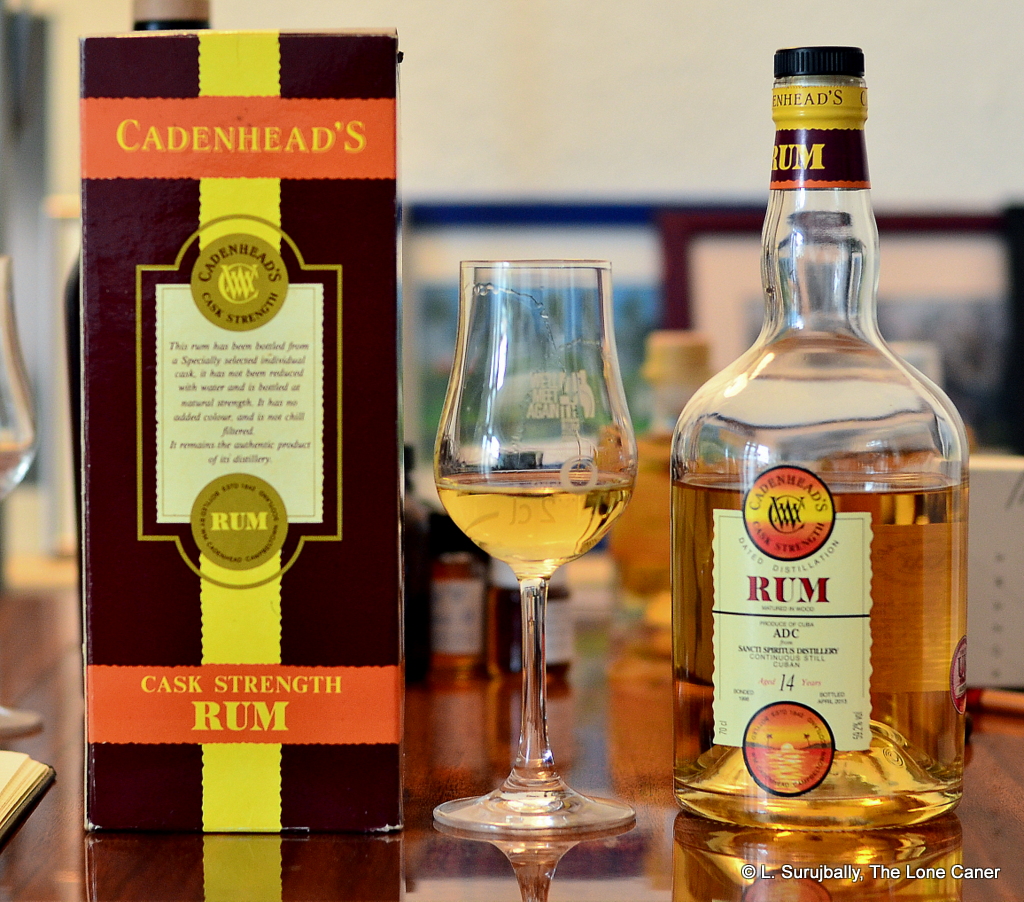 #361
The Sancti Spiritus distillery in Central Cuba, also known as Paraiso, has been making rums since 1946, and other than its history (see "other notes" below) there is remarkably little hard information about its operations, its size, volume or exports on hand. Aside from what must be substantial local production which we don't see, they may be better known for the relatively new Ron Paraiso brand, as well as from the labels of independent bottlers like Compagnie des Indes, Kill Divil, Bristol Spirits, the Whisky Agency, and, here, W.M.Cadenhead. Based on what one sees for sale online, barrels seem to have begun hitting Europe somewhere around the mid 1990s, with the one I'm looking at today coming off the (columnar) still in 1998 and bottled at a firm 59.2% in 2013. Cadenhead, as usual, have amused themselves with putting the abbreviation "ADC" on the label, which could mean variously "Aroma de Cuba," or "Acerca de caña" or, in my patois, "All Done Cook" – any of these could be used, since Cadenhead never discloses – or doesn't know itself – what the initials denote, and I'm tired of asking and getting "Ahhhh…duuuuh….Cuba?" in response.
A number of people who like the heavier, thrumming British West Indian rums (from Jamaica, Guyana, and Barbados for example) have sniffed disparagingly to me about Spanish rons recently, especially the column still ones, which are most of them. I suspect this has to do with their despite for Bacardi and the light Panamanian stuff that's been slipping in the ratings of late. Nothing wrong with that, but my own feeling is that they're casting too wide a net, and if one throws out an entire region's worth of bathwater based on a few sampled rums, then one misses the baby that washed out the door as well. Maybe it's the occasional lack of verifiable ageing, maybe it's the lightness, maybe it's the palate of the drinker. Don't know. But this Cuban ron does deserve a closer look.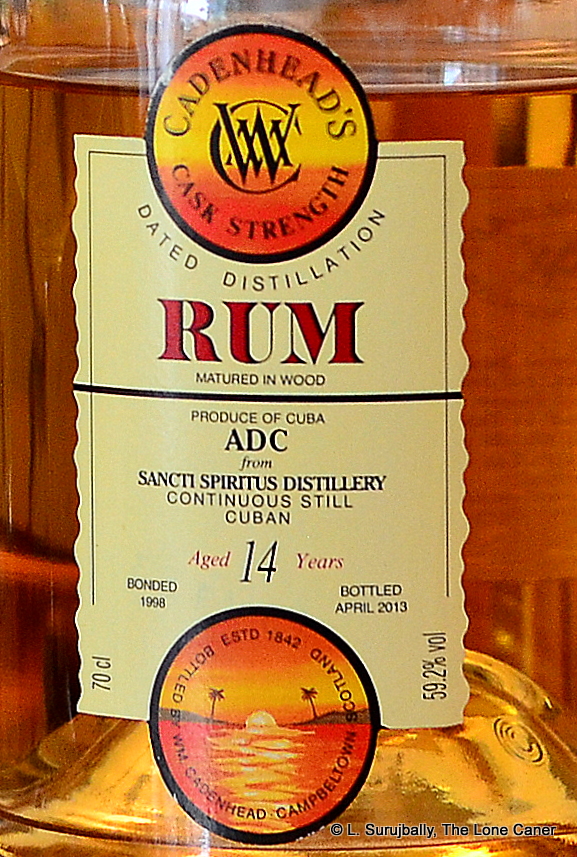 Consider first the nose on the pale yellow ron: it was a sparkling, light dose of crisp, clean aromas, starting off with rubbery, sweet acetones all at once. In its own way it was also quite tart, reminding me of gooseberries, pickled gherkins, cucumbers and lots of sugar water, stopping just short of presenting an agricole profile. I don't think I could have sipped it blind and known immediately it was from Cuba. At a whisker shy of 60% it attacked strongly, but was too well made to be sharply malicious, and was simply and forcefully intense, which was to its credit and made the experience of smelling it a very good one, especially once some soursop, citrus and baking spices were coaxed out of hiding a few minutes later.
The taste fell down somewhat – there was dry wood, a lot of strange and almost-bitter tannins at the start; which was fortunately not a disqualification, because these tastes balanced off what might otherwise have been an overabundance of light sweetness represented by watermelon and papaya and Anjou pears. Gradually it unfolded like a flower at dawn, producing additional faint notes of orange zest, almost-ripe yellow mangoes and apricots, balanced by iodine, menthol (!!), tumeric and some strong black tea, all of which led to a conclusion that was suitably long, clear and spicy, closing off the show with nutmeg, more of that tartness, and a flirt of orange zest.
Briefly, Cadenhead's ADC stacked up well against a raft of agricoles, Spanish and Surinamese rums that were on the table that day. It did make me think, though: reading around others experiences with Cuban rums generally, one thing that strikes me as consistent is that the demonstrably older a Cuban rum is, the more commonly it is scored high. Now pot still rums made with some skill can be good right out of the gate, and creole column-still juice out of the French islands prove all the time that higher age does not necessarily confer higher praise (or scores). But with column still rums made in the Cuban/Spanish style, the usual easy 40% young stuff or blended rons of some age just don't have that sizzle which Cadenhead somehow extracted out of their barrel here. In other words, for such traditionally light rums, additional ageing is a better deal, it would seem.
So, in fine, I believe that this rum is better than the Havana Club Barrel Proof (and the Seleccion de Maestros that succeeded it), better than the Renegade 11 year old (but maybe I should retaste since I tried that one ages ago); it edges out the Santiago de Cuba 12 year old, though is perhaps not quite as good as the CDI Sancti Spiritus (also from 1998). Those dour Scots took the sunshine of the tropics, doused it with some cold salt sea-spray and foam-lashed rocks, and produced an amalgam of both that's better than either, and just falls short of remarkable – it's worth a try by anyone, if it can still be found.
(86.5/100)
Other notes
A few words on the distillery history: called variously the Paraiso or Sancti Spiritus distillery, the founding family, the Riondas, began their sugar business in 1891 with a company called the Tuinucú Sugar Company in the province of Sancti Spiritus (which was also near to the original Bacardi distillery). In 1946 the Paraiso Distillery was created and in 1951, the Tuinucú Sugar Company was consolidated into both plantation and distillery operations. Since the revolution, the Government took over the entire operation not long after and has run the show ever since.