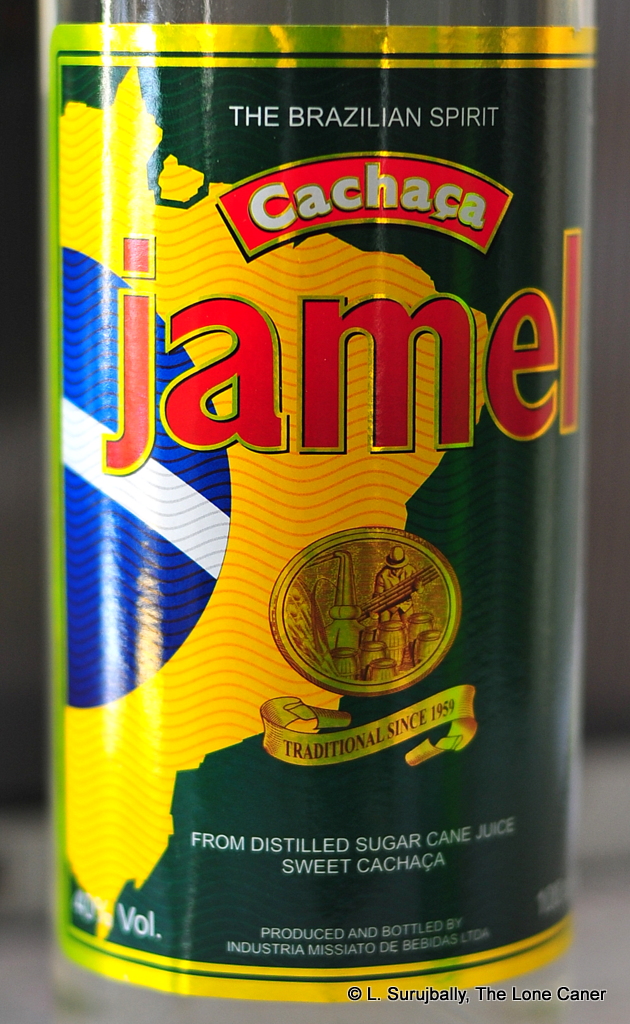 Original enough to make it worth buying just to experience it. Nose is startling, taste a lot better.
(#289 / 81/100)
***
In trying the Jamel, Leblon and Sagatiba cachaças together this one stood out quite markedly, even more so when ranked against the German company Delicana's three local-wood-aged variants that I've also tried. The L'Esprit Brazilian rum might have set the bar high and remains the one I prefer the most (so far) but if you stick with it, this one is pretty damned good too…and this is one of those times that if they did add something in, it was probably the right decision to make for anyone who has the courage to take cachaças neat. What it also does is showcase some of the divergences of these rums from the norm, which goes a far way explaining the lack of acceptance of cachaças worldwide.
The unaged white 40% rum is made by Indústria Missiato de Bebidas Ltda formed in 1958 in Santa Rita do Passa Quatro (in the state of Sao Paolo). Armando Missiato and his brothers started the ball rolling by being general spirits merchants in wholesale and retail, and in 1961 diversified to producing their own cachaça (the "61"). The success allowed the company to build a modernized plant in the 1970s and they have gone the route of major liquor local companies in other countries, producing a number of spirits (including vodkas, energy drinks and cachaças). Unsurprisingly, little of this ever emerged to trouble the minds of rummies anywhere outside the country and likely they are still best known in Brazil. The company continues to be held and run as a family business, and has expanded not only into other states of the country, but to the North and South American, and European, export market.
So, moving on, I said it was a pretty nifty drink and wasn't joking…but one has to stick with it, and at the end, when jotting down all the notes, I realized it had become a lot more enjoyable out of sheer perseverance. Take the nose, for example – it had the heated, tart, spicy, almost-sweetness of apple cider with a few overripe apples still inside, plus brine, wax, and nuts. Unimpressed, I put it aside to work on the others, yet ten minutes later, perhaps in violation of the laws of the rum universe, it actually smelled worse – it moved to rotting vegetation in humid tropical rain, dead leaves, wet cardboard and (I shudder at the memory), yes, wet dog. There was some rubber and other phenolic stuff rounding things off, but let's just say it did nothing to impress me and I wondered whether I had made a mistake jumping into this jungle of undiscovered rums…right up to the point where I actually tasted it.
Wow! Where did all the unpleasantness go? This was like an utterly different rum. Warm, a little spicy and a shade less than medium bodied, it was an altogether remarkable turnaround. Sugar water, light and sweet with citrus peel, crisp white-fruit notes, it was sparkling and clear and joyously young. There were some faint ashy textures to it which were in no way excessive (a hint was all), melding well into a sort of easy creaminess of a delicately flavoured yoghurt, with an emphatic exclamation point of wood and smoke closing it off. It was sprightly, it was a little off-kilter, but miles better than the initial entrance had suggested. Even on the finish this odd quality persisted, giving up individual points of swank, some weird tree-sap (reminiscent of dripping capadullah vines and the Rum Nation pot still white Jamaican), and a last flirt of sweet lemon pop.
Overall, nose aside, it was quite a pleasing drink to have on its own. Key to my emergent appreciation was the fact that taste-wise it didn't go wildly off on a tangent, and some effort appeared to have been made to ensure its appeal to a broader, maybe more international, consumer base by tamping down the wilder olfactory excesses of cheerful Brazilian energy, while losing little of the character that makes it distinctive. So far, my sojourn into the Amazon has been too brief, and not provided the excellence I'm sure lurks under their green canopy. But this cachaça suggests the potential, and convinces me that bigger, better, bolder and badder is is out there, somewhere. I just have to keep trying, and the Jamel points the way.
---
Other notes
The label

,

miles away from the cool modernist detachment of the Leblon or Sagatiba

,

channeling some of the bright power of the artworks of Milhazes or Carybé

(

worth looking up

),

does raise a question

–

why is it termed a "sweet" cachaça

?

Under Brazilian law sugar can be added to cachaças

,

and I have no particular beef with it one way or the other

(

as long as it is disclosed

),

it's just that there is no such notation either on this label

,

or the website

.

So I make mention of it for the curious

,

but will leave it there

.