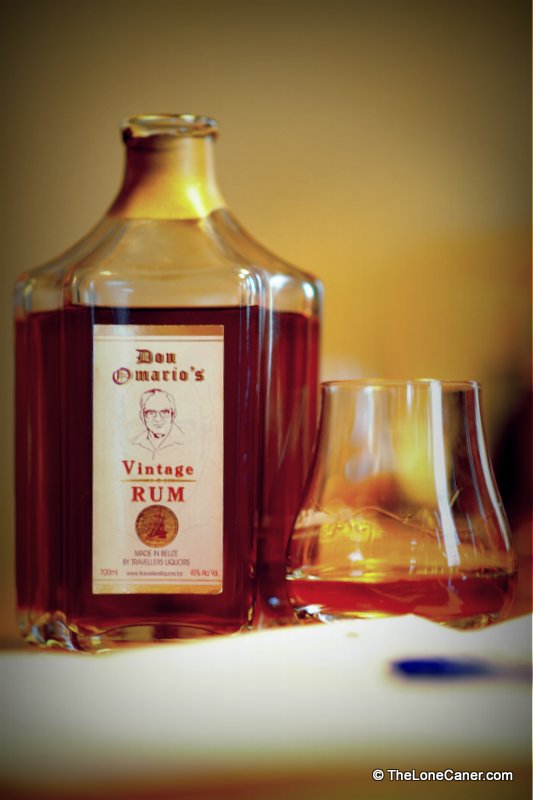 Sedate, but not quite docile. Urbane with just a hint of bad boy. An excellent fifteen year old out of Belize.
The humourist in me likes to think that Travellers – that excellent rum house out of Belize which also makes the 1-barrel, 3-barrel and 5-barrel rums – has a resident Irishman on the payroll, and he changed his name, and was instrumental in making a left field product with his name on it (I had a similar feeling when I ran into an Irish pub in Kazakhstan many years ago). The reality is different, of course, but it tickled me mightily. Anyway, all that aside, I was otherwise enthused by the vintage rum called Don Omario's Vintage which "Rum Balls" Tony brought over. He is, you will remember, the guy who has now put me under the table on several occasions with the rums he brings for me to try (while cheerfully pilfering my own vintage stocks).
Traveller's has been in business since the 1950s, founded by Omario Perdomo (yeah, that's the guy), after whom this rum is named: the company derived its moniker from its origin in serving the various travellers in and out of Belize City. Like many other national companies (DDL and Tanduay spring to mind), they produce a wide range of spirit products for both the domestic and export market, and thus far, the only previous rum from their range which I had tried was a very pleasant 1-barrel (and I now have the 3- and 5- barrel variations to check out if I can ever get around to them).
There's a certain retro aspect to this bottle that's quite unique…in fact, it may be one of the most unusual designs I've seen in recent memory: it is shaped roughly like a six pointed star when seen from above (too bad that's not the way it'll appear on the shelves, isn't it?). Good cork, so-so labelling, all-over faux-1970s design. Inside was a copper mahogany liquid that poured out along the sides of the glass with the slow plump legs of a chubby baby.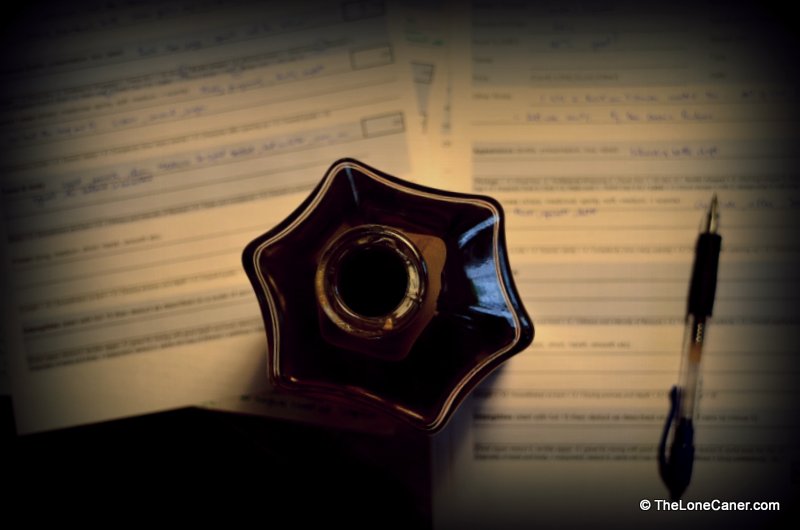 I should confess that the nose on this rum was something a few orders of magnitude ahead of the 1 Barrel I was sampling alongside it. Luscious in depth, it reminded me a lot of the Dictador 20: earthy background, coffee, chocolate, fleshy non-acidic fruits – prunes, dried apricots, even dates. The smell advanced past this to mild white pepper notes, caramel and burnt sugar, and came together really, really well.
As for the taste, no complaints from me there. Medium to heavy bodied on the tongue, bottled at an excellent 45%…my research suggests it was double distilled from molasses. Smooth and pleasant, with initial warm notes of well humidified tobacco leading off, handing over to chocolate and caramel notes, limmed with burnt sugar and a lovely background of coffee and roasted nuts. The nose hadn't lied either, because fruity scents hadn't disappeared, and were a shade more intense than previously promised: peaches freshly cut and still oozing sap, prunes and that flirt of apricots. Good stuff. I should point out that it displayed a few discordant notes here and there – mostly some sharpish oak and a tad of dry astringency – as I went back and forth, and I suggest to you that this gives it a nice character, a little bit of bullyism to the palate, something that makes it more than just another rum that pleases.
The finish is about the weakest thing about an otherwise sterling product: dry, short and straightforward, and I'm not damning it for that, by the way, because for all its minimal length, it was soft and billowy, giving up closing aromas of nuts and coffee grounds faintly mixed up with toffee and butterscotch. The close may be too rapid for some, but given what had come before it, I muted my bitch button and simply accepted it as a very pleasant fifteen year old rum, one I would say nice things about to anyone who asked. The 5-barrel I've heard so much about would really have to be spectacular to beat it, I think.
So where does this leave me? Well pretty happy, all in all. Traveller's have made an interesting, professional fifteen year old, smooth, silky, tasty and good for sipping on a cold Calgary night. It is at this point not for sale here, but I will have fond memories of my experience with it, and recommend it as an excellent all-round rum bottled at precisely the right strength for what it attempts, which is to make you savour the visit of a squaddie like Tony who'll bring it with him for you to try.
(#167. 85/100)
---
Other Notes
Originally I named this a ten year old based on some online background pages I read

,

though the literature is inconsistent about the matter

:

some mention it as being ten years old

,

some as fifteen

.

I have emailed Traveller's to see if they can clear up the matter

.

Tony himself confirmed that when he bought it in Belize

,

it was specifically sold to him as being a fifteen year old

,

and so I have retitled my post

.