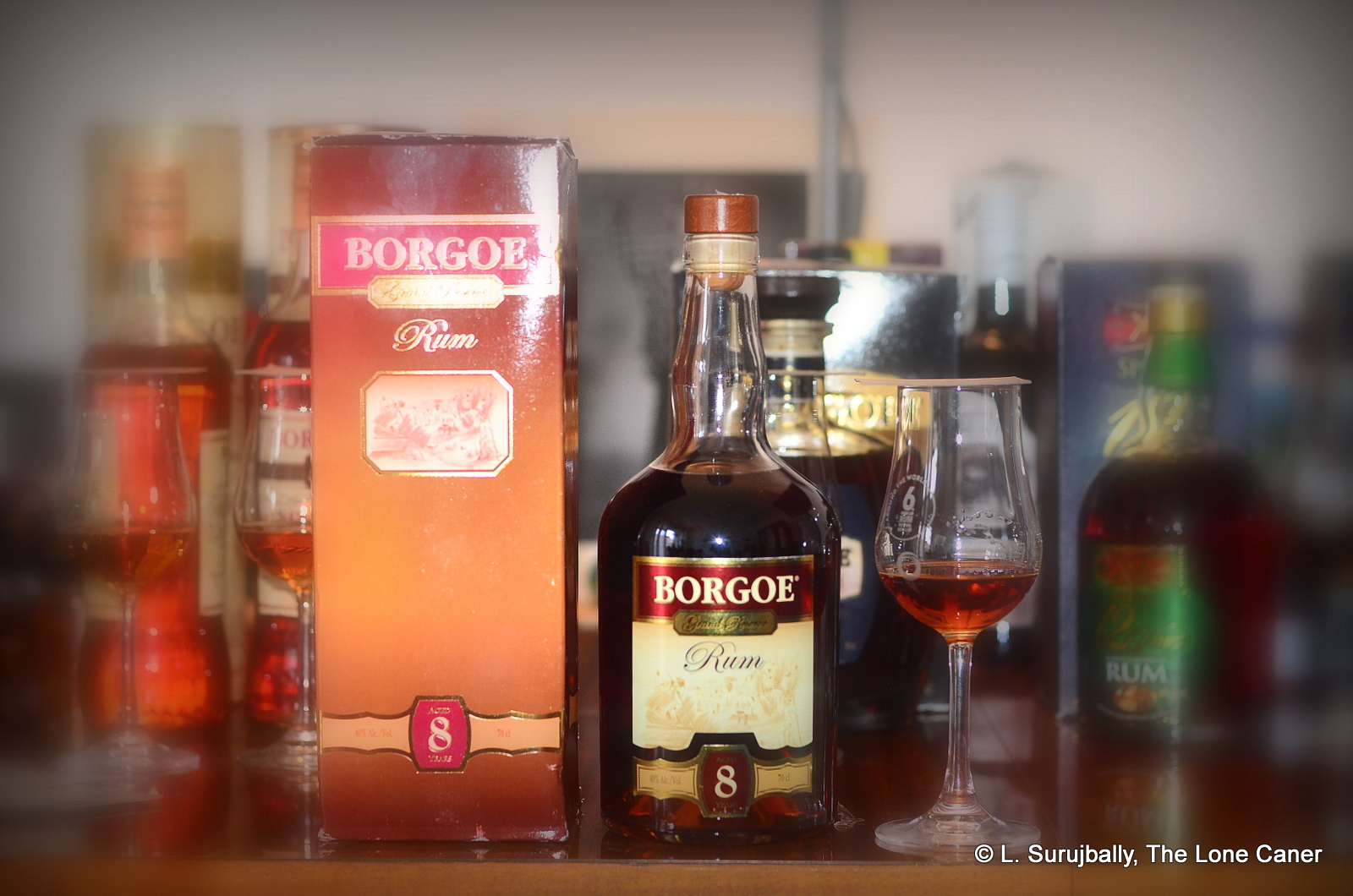 #370
SAB is a Surinamese conglomerate that is very much like Banks DIH and DDL in Guyana – they have several different kinds of businesses in the portfolio, including various spirits, mostly sold on the local market. Rums are among the few of its offerings which are exported, primarily to Holland, which comes as no surprise given their historical affiliation with the Netherlands. At the time when I bought these bottles I was unaware of their availablity in Europe (which says rather more about my miserable googling skills than their advertising) and bought the entire line straight out of Suriname: to this day I'm still wondering how the Marienburg 90% made it past customs in Germany when the rather more tame ~55% Nasyonal from Mascoso nearly caused them a conniption fit.
Anyway, after the uncomplicated and placid experience that was the Borgoe Extra and 5 Year Old, I am happy to report that the 8 year old is an emphatic step up the quality ladder. This is a rum aged a mere three years more than the five, but tastes and smells like a totally different product. Even at 40%, which readers are probably tired of hearing me whinge about, the Grand Reserve manages to produce a complex little tap dance that had me hastening back to all the other glasses to see if it was just me. To say that about a standard proof product these days is making a rather interesting statement about what it delivers.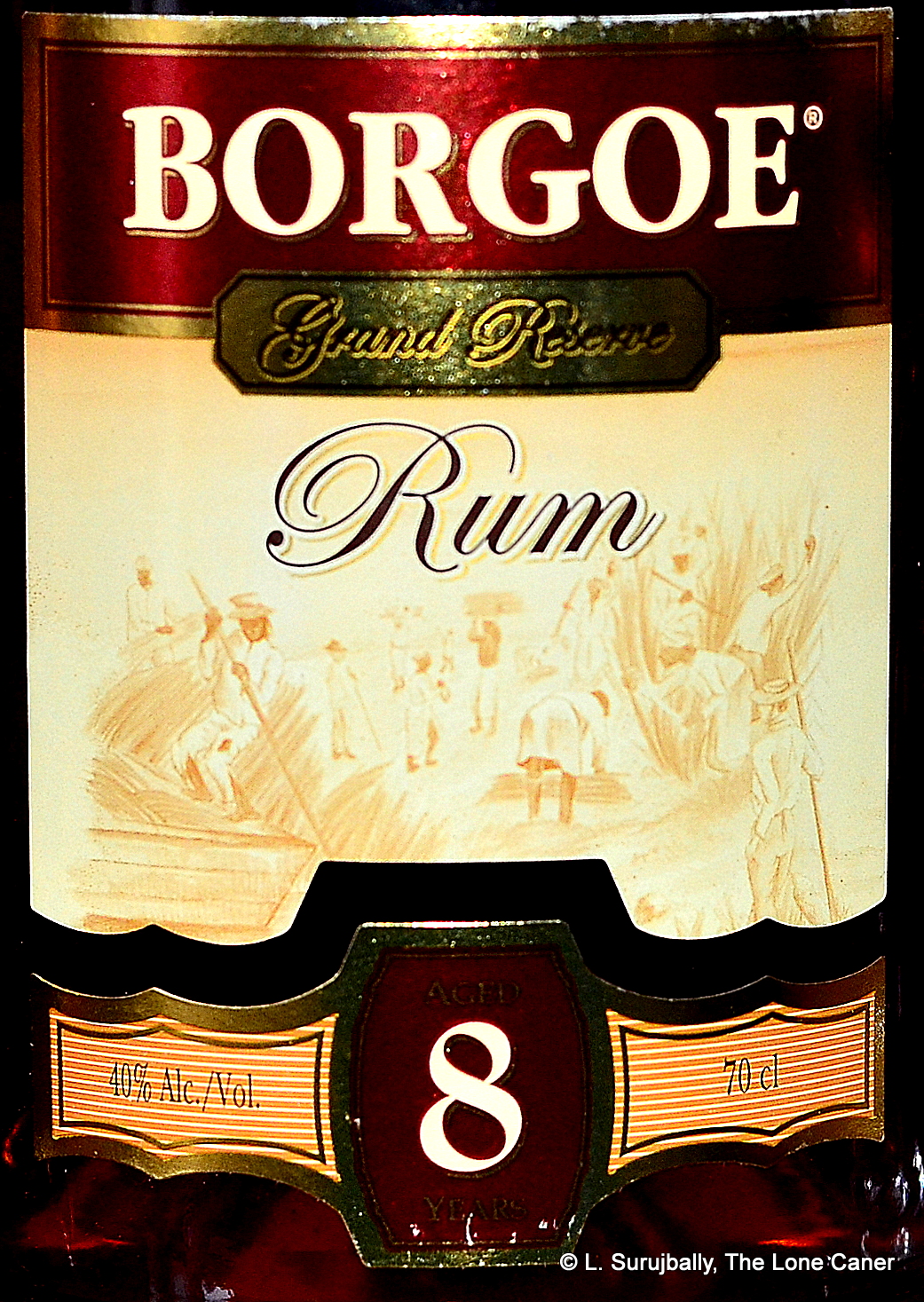 Take first the nose, which alleviated many of my issues with the previous rums from the company. It started off warm and spicy, offering salty caramel ice cream, molasses, raisins, and bananas just starting to go off. It didn't burst out of the bottle to overwhelm and cudgel you in the face – it wasn't that kind of drink; it more like tip-toed out, to slyly coil its way around the nose, gentle and easy, but each note initially distinct, before melting into a pleasant mélange. It also developed well, because after some minutes, one could sense a thin line of citrus-like tartness, like gooseberries, unripe mangos leavened with some nuts, perhaps some vanilla, and smoke and leather.
This all took some time and concentration, to be sure, because its very mildness required some effort. The palate was somewhat more assertive and less difficult to analyze. First there were waves of caramel and candied oranges, more pronounced molasses, plus a musky background of cumin and masala spices which were not overwhelming but simply stayed in the background with an occasional wave to show they were still there. With water (not really required, but it's part of the system, so I tried it anyway), cherries, dark chocolate, some cloves and orange peel were noticeable, and after maybe half an hour the molasses was very much a part of the profile. It also finished well, being remarkably dry, warm, with mostly citrus, leather and caramel winding up the show.
Trying to come to grips with the 8 year old was hindered by the very gentleness and kinks that made it interesting. I wouldn't go so far as to say it was a massively sophisticated sub-ten-year-old (I believe that that particular crown belongs for the most part to agricoles), and it certainly did not have the rough-hewn elemental brutality of a cask strength bruiser, but it was a nice, easy drink, soft enough to please, with just enough edge on it to provide a slightly askew drinking experience. Dave Russell of the Rum Gallery (who tried it at least three times), remarked in his review that it had a "soft polite touch", and I think he pretty much called it as it was — so rather than indulge my windy vocabulary, I think I'll let this write-up rest with that pithy and appropriate conclusion.
(83/100)
Other notes
Column still blend

,

aged in American white oak ex-bourbon barrels

.

I remarked in the review of the

5

year old that there's a pot still floating around SAB's premises

,

and I can't rid myself of the feeling that there's some of that in this rum

.

It's just an opinion

,

though

.

Adheres to the Authentic Caribbean Rum

(

ACR

)

standard

,

so we can assume no colouring

,

additives or sugar

.

I'll wrap things up for Borgoe line with the

15

year old next week

.